"Everything starts with an idea." That inspiration came to sisters Isabella and Sophia Rosero, age 11 and 10, respectively. The girls are 6th and 4th grade students at Marymount School of New York, and budding entrepreneurs.
According to Isabella: "One day Sophia and I were talking, and I asked her what she wanted to be. She said, 'Architect." Isabella herself was interested in engineering and interior design. Since they had separate interests, but still wanted to work together, IDEA was born. It stands for Interior Design Engineering and Architecture, and it's the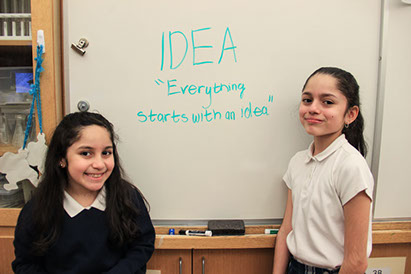 name of the company the two enterprising Ecuadorian American sisters have already started.
Sophia has a natural curiosity that leans towards the sciences. Her interest in architecture and design grew at an early age when she helped code her first video game entitled, "When Pigs Fly."   Now she has moved on to Minecraft, a video game which allows you to build houses and design virtual communities. Sophia worked for over two months on a house with a large, open first floor, five bedrooms, a wrap-around porch, and a swimming pool. Her older sister purchased an app to do interior design. "I just don't want to decorate houses for family and friends, I want to inspire and contribute," Isabella said, "go beyond what they want."
They were also encouraged by Jane Bell, Divisional Head, Lower Middle School Director of Testing & Learning Resources at Marymount. The school has an impressive program to promote STEAM (Science, Technology, Engineering, Arts, and Mathematics) in which students can "dare to create," according to Bell.
In her science class, Isabella was working on a project to use balsa wood to withstand the stress of an earthquake. Isabella is a problem solver, tinkering with objects and trying to figure out what makes them work and how to make them better. "We want to work with builders to help them design kid friendly features that are fun and different."
The Rosero sisters have purchased and registered their domain for their new company, IDEAofficial.com, and the logo is their own concept and original design. If successful, they will be part of a growing trend boosting the U.S. economy.  Since 1997, the total number of Latino-owned businesses has grown by 82%, and Latinos are creating businesses at 15 times the national rate. And of the 1.4 million businesses owned by women of color, Latinas own 39 %. They account for a substantial portion of the total $1.7 trillion of Latino purchasing power in the U.S.
"I always wanted to own my own business," said Sophia. "Now that we have an idea, our minds are set." Isabella added, "If you believe and work hard, it can happen." She and her sister both hope to study engineering.