Where and when the "sleeping giant" idiom was first applied to the electoral impact of the U.S Hispanic community is a bit of a mystery, but it's a narrative which is now perennially woven into the political predictions and assessments made by researchers, advocates and the media. Today, it is the go-to metaphor for the political headlines we have come to expect as part of the election season: "Will the 'sleeping giant' wake and vote this November?"
I want to disagree with the characterization of the U.S. Latino community as an electorally under-engaged group,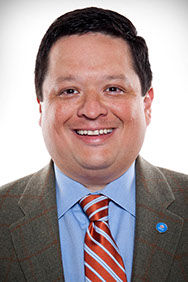 but it's hard to argue with history and facts.
Exactly how Latinos voted in the 2016 presidential election is an ongoing subject of debate with estimates of Latino support for Donald Trump ranging from 18% to 28%. The accuracy of national exit polls and other election eve polling as reflections of the Latino voter community is critically important and merits continued debate.
However, the fact remains that in 2016, 4 million more Hispanic voters were eligible to vote than in 2012 when Latinos made up 11% (according to exit polls) of the electorate and President Obama secured 71% of the Latino vote. In 2016, despite the substantial increase in eligible voters and record turnout, the Latino share of the electorate remained at 11%.
The facts are the facts in mid-term elections as well. A Pew Research Center-Hispanic Trends report found 6.8 million Hispanics voted in the 2014 congressional elections. While it was a record high turnout number, the Hispanic turnout rate fell to a record low of just 27%. To put this fact into greater perspective, Pew notes that of the 18 million eligible Hispanic voters in the last midterm, non-voters outnumbered Hispanics who voted by a nearly 3 to 1 margin.
It's difficult to challenge the sleeping giant narrative when so many data points appear to validate it. But shifting the data lens from elections to a more holistic overview of the U.S. Hispanic population offers a different perspective. Last year, a Latino Donor Collaborative data analysis and report projected U.S. Latinos – who are growing in numbers, relatively young and increasingly educated, connected and entrepreneurial, employed and upwardly mobile – could be responsible for powering a full quarter of the U.S. economy by 2020.
I note this report because I believe it underlies a larger shift being driven by the U.S. Hispanic population. Latinos are entering a new era of citizen and consumer empowerment where not only are they contributing to the changing face of politics and representation, but where Latinos are also shaping the national macro-environment. This is truly a transformational period for the American Latino.
Given the potential for Latinos to impact the outcome of 2018 mid-term elections at the state and federal level, our firm recently conducted an online survey of 1,000 Hispanic voters across the country to better understand how this diverse group is positioned for the upcoming election. What we found gave us hope.
In the face of the rapidly shifting political environment, a toxic immigration narrative being pushed by the Trump Administration, as well as Administration-led efforts which are perceived as attacking or ignoring key issues, Latinos are far from dormant. Latino interest in politics is on the rise with 62% of respondents saying their interest in political events has increased considerably since President Trump took office---this was consistent across all demographics.
Another positive indicator: over three-quarters (83%) of Latino registered voters said they were likely to vote in the upcoming midterm elections. However, as has historically been the case, intention is directly correlated with age. Younger Latinos were significantly less likely to vote (18-24 years: 46%) than the older generation (45+ years: 71%). This highlights a critically important engagement need for Hispanic community advocates and political campaigns alike.
On the issues front, there were clear contrasts between the Trump agenda priorities and those of Latino voters. In terms of the issues considered to be most important to them and their families, survey participants identified Healthcare (66%), Education (65%) and the Economy (58%) as the top issues with Civil Rights and the Environment also in the top five. By contrast, Electoral Issues and Border Security, two of President Trump's top priorities, were at the bottom of the list for Latinos.
The Trump Effect is palpable among Hispanic voters. Half of the Latinos surveyed believe that President Trump is doing an extremely bad job and taking the country in a very negative direction---also true for 55% of those very likely to vote in the midterm elections. 65% of respondents were also critical of President Trump handling of Puerto Rico hurricane recovery efforts last year.
All this has created an environment where Latinos are much more willing to engage politically than perhaps they have been in the past. As an indicator of future intentions, nearly half of the survey participants said they are willing to join a march or protest, over half are willing to contact their Congressman or Senator, and three-quarters are sharing their political opinions online with friends and family.
Admittedly, this survey was only a snapshot of current Latino attitudes and perceptions. That said, these positive indicators for increased Latino electoral participation in 2018 are reasons for hope. But we all know hope doesn't win elections…except when it does.
Adrian Saenz is the founder of Mosaic Media Strategy Group. He was the National Latino Vote Director on the 2012 Obama-Biden campaign and served as Senior Advisor for White House Intergovernmental Affairs where he managed President Barack Obama's relationships with Governors, legislators, and other state elected officials. A veteran of three presidential campaigns, Adrian was also the national field director for the Democratic Congressional Campaign Committee during the historic 2006 election cycle.