ABOUT US |
From April 12 through May 13, 2018, GALA Hispanic Theatre will stage the story of the Mirabal sisters and their role to end the reign of terror in the Dominican Republic by dictator General Rafael Trujillo. But why recount the tale more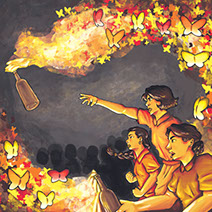 than 50 years later? Simply because it is as relevant today as it was then, when you consider regimes in Venezuela, North Korea, and Cuba, among others, that continue to violate basic human rights and where women continue to speak up and battle against injustice.
Because of its literary acclaim and resonance today, GALA Hispanic Theatre will produce En el tiempo de las Mariposas (In the Time of the Butterflies), a play by Caridad Svich based on the novel by Julia Álvarez, that is directed by José Zayas, of Puerto Rican and Dominican descent.
Zayas explained that he had been part of the creative team of the world premiere production in New York and had been interested in the story for some time. His family used to speak of the Mirabals in urgent whispers and shared jokes, but "they never shared the past with me --- perhaps because it was too dark, too risky to go there." After reading Alvarez's novel, he wanted to tell the story as a way "to talk to my family about the past. It was a way to engage with my history and to introduce a completely new audience to the miraculous story of the Mirabals."
This play is a feminist manifesto that reveals how the Mirabal sisters became involved in the struggles of their country, how they became aware of the horrors around them, and how they persevered and successfully helped bring about the end of the reign of a monstrous dictator. As women continue to fight for equality and respect today, it is timely that the story of the Mirabal sisters be brought to life on stage. En el tiempo de las Mariposas will remind us of the sisters' heroic strength and courage in the face of danger and adversity.
The GALA production will be a visual feast with projections and period costumes. The sisters' journey will be heartbreaking and beautiful as it unfolds over a 40 year period. "A 100-minute dream that intertwines past, present and future, the production will grip the audience tightly and not let go until the final moment," says Zayas. "In En el tiempo de las Mariposas as today," he concludes, "no voice is too quiet, and no action too small to affect change in a political system."
For more information and tickets, call 202-234-7174 or visit www.galatheatre.org.
As soon as I walked into the Springdale Station Event Hall in Austin, Texas I knew it would be the perfect place to showcase the work of Mexican contemporary artist Lucía Valencia. A historic train station moved to East Austin in the 1980's, this beautiful historical gem with gorgeous vintage light fixtures and creamy-white colored walls provide a beautiful background for artwork to be displayed.
My curatorial instincts also put our show right in the middle of the East Austin Studio Tour, how fortunate is that?
Lucía's work first caught my eye in México City, I was lucky to first experience it in a completely sold-out show at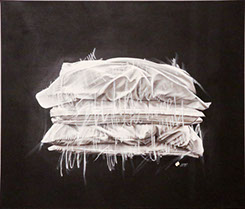 the prestigious "Terreno Baldío Arte" Gallery in the Colonia Roma Norte, and needless to say I was mesmerized! I knew I had to share it with the USA.
Lucía Valencia's pieces might be simple to describe but it really is the subtext that touches our soul's core with a sense of provocative serenity. Monochromatic images that beckon to be created and translated to the viewer's memories they might not recall.
Lucía is inspired primarily by the ordinary of the daily world around her. She paints what she sees, feels and experiences relating to the viewer her love and admiration for the inherent beauty of simplicity and the audacity of the conversation between her brush and the canvas facing her in the studio.
An old school artist, Lucia does not aid her designs with technology, she starts her work by thinking of a dramatic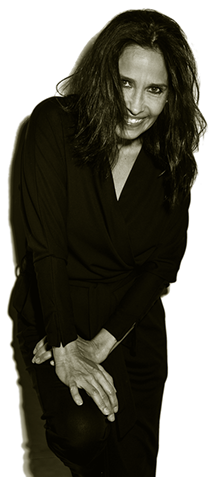 location with well-directed lighting meant to enhance the monochromatic tones that enhance the subject matter. Her aim is to give the piece the emotional substance that will direct the viewers to imagine and relate themselves to the rendered subject on the canvas. As an artist, Lucia is not merely trying to replicate an image with her brushwork; her desire is to create a moment of intimacy that murmurs between the pieces and the audience. Lucia's work absorbs one into forgetting the world around you and transports you into moments of your daily life.
Lucía Valencia's intention is to touch each one of her viewer's memories. Flashing your own life right in front of each one her paintings are the daily pieces of the puzzle of your life, each person interpreting in their own way, experiencing the piece with their individual point of view.
Lucía's challenge, as that of any artist throughout the ages, is that the piece expresses her feelings and ideas at the same time that it uncovers the extremely strong relationship between perception and expression, which when tangled together, create the essence of each one of us as viewers and individuals as we experience the piece.
My humble opinion as a Curator is that a great piece of Art, stays with you, it makes you think, it challenges your view of the world and makes you ponder and reassess your own point of view. An even bigger test to a piece that withstands the test of time is to be faced with an artwork and question yourself: why did I not think of that? Or an even bigger dilemma is: how was this artist so brave as to depict that? Lucía's work does just that. It makes you question how you missed that detail, that part, that moment of your daily life…it commands you to pay attention.
With an almost sold-out show, many great collectors in the capital of Texas are now enjoying a piece by Lucía Valencia's work in their own homes. Filling a piece of the puzzle of their daily lives, they are reminded to pay attention to the details that surround them, to understand that we are here on this adventure day by day and that the stories of our lives are woven by the small pieces of the memories that create the web of our daily life. Let Lucía Valencia's work guide and cherish the details of your daily life!
Janine Schirmacher is an Artist/Curator in Austin, TX.