While former President Barack Obama's policy of rapprochement is over, few believe U.S. relations with Cuba are heading for the cold, dark place where they have been many times before. That view is widely held even as the Trump administration implemented new restrictions on individual travel to Cuba and trade with a number of Cuban companies that are run by the island's military. But most of the Obama-era changes in policy were kept intact, including the most important one – the re-establishment of diplomatic relations between Washington D.C. and Havana. And most observers believe Donald Trump is "done" with Cuba and won't take additional punitive steps.
"Mr. Trump's intentions to reverse Mr. Obama's changes are mostly rhetoric," said Sebastian Arcos, Associate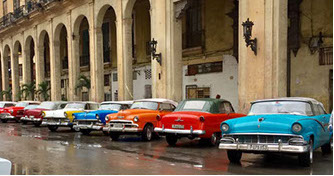 Director of the Cuban Research Institute at Florida International University. "He said he was turning back the clock, but the clock hasn't turned back."
The clock definitely stopped, however, when President Trump gave an antagonistic speech in Miami last June, in which the president announced he would be restricting U.S. travel and commerce with Cuba. But Treasury and State Department officials took more than five months to make those restrictions official, giving U.S. businesses like John Deere and a Caterpillar dealership in Puerto Rico a chance to make last-minute deals with Cuban companies that are now on the a of forbidden entities because of their ties to the Cuban military.
Individuals who want to travel to Cuba also face new restrictions
Trump reversed a step Obama took at the end of 2016 to allow Americans to take "self-directed" educational trips to Cuba. That meant people could travel to Cuba without seeking Treasury Department permission if they could document their trips had an educational purpose and "people-to-people" contacts with ordinary Cubans. That is now gone, but there are still ways Americans can visit Cuba.
They can take trips on authorized group tours, on cruises or individually under the "support for the Cuban people" category. Staying in a casa particular, or private home that can be found through Airbnb would satisfy part of the conditions that would make an individual traveler eligible. But it's not enough. To travel under the "support for the Cuban people" authorization, which was established to undercut the Cuban government, travelers must "engage in a full-time schedule of activities that enhance contact with the Cuban people, support civil society in Cuba, or promote the Cuban people's independence from Cuban authorities and that result in meaningful interactions with individuals in Cuba."
Travelers must document that they spent at least six hours a day on these activities and could be audited on their return. But few are expected to be audited. According to JetBlue, nothing in their procedure has changed despite the new regulations and passengers to Cuba can self-declare the category they are traveling under in an affidavit that is part to the ticketing process."JetBlue is committed to continuing air service between the United States and Cuba,"
said JetBlue spokesman Philip Stewart. "We plan to operate in full compliance with the president's new policy."
In all, there are 12 categories of Americans who can travel to Cuba under the embargo rules, including amateur athletes, religious groups, academic visitors and those attending professional conferences. Visits of Cuban Americans, who make up more than half of U.S. travel to Cuba, will remain unaffected. Also, Trump is not requiring Americans who take cruises to Cuba to abide by the new restrictions, and that business is booming. The three largest U.S.-based cruise lines, Norwegian Cruise Line, Carnival Corporation and Royal Caribbean, announced big increases in their trips to Cuba for the rest of this year, and for 2018 and 2019.
Other travelers must abide by a lengthy list of hotels across Cuba that U.S. travelers will now be barred from. An exception was made for the Four Points by Sheraton in Havana, which was developed in conjunction with GAESA, which is owned by the Cuban military.
Despite this, the heart of Obama's Cuba policy remains, including the establishment of embassies and ambassadors, Cuba's removal from the list of state-sponsored terrorists and the elimination of Bush-era restrictions on Cuban family visits and remittances. Trump has also failed to reverse one of Obama's last acts in office, the elimination of the so-called "wet-foot, dry-foot" policy that allowed Cubans that reached the United States to obtain legal status. The Cuban government has long protested the policy encouraged migration to the United States and first came to public notice with the Elian Gonzalez saga.
Washington D.C. attorney Robert Muse, who specializes in Cuba issues, said Trump gave mixed messages during his campaign for the White House, saying both he wanted to repeal all of Obama's moves to normalize relations, and perhaps paradoxically, that he would have taken the same steps but "gotten a better deal" from the Cubans in return. "It was startling how limiting the president's actions were and how little impact they are likely to have," Muse said.
Ana Radelat