March for Our Lives was an epic demonstration that took place on the streets of Washington, DC on March 24 that called to the end of mass shootings and gun-related violence. Cuban American high school student Emma Gonzalez, 18, was one of the many young people responsible for March for Our Lives, whose peaceful advocacy was born from violence that took place a month earlier.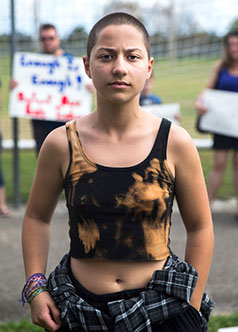 On Valentine's Day, a mass shooting at Marjory Stoneman Douglas High School in Parkland, Florida left 17 of her schoolmates and faculty members dead and 15 others injured. The accused gunman, Nikolas Cruz, 19, an emotionally disturbed former student, was legally able to purchase an AR-15 military-style semi-automatic rifle from a local gun store.
The next day, Gonzalez and 20 other of her classmate survivors created the #NeverAgainMSD, a gun violence prevention advocacy organization working to make sure school shootings become a thing of the past. They also created #InOurLifeTime that will work with and fight for those who have been victimized by gun-related violence.
"We are children who are being expected to act like adults, while the adults are proving themselves to behave like children," Gonzalez wrote in Harper's Bazaar at the angry, vicious outrage gun rights groups like the National Rifle Association (NRA) have expressed simply because students like Gonzalez want to be able to do something simple their parents once did: go to school without the fear that they may be murdered by a crazed shooter.
"At the end of the day, we don't want people to have their guns taken away," wrote Gonzalez. "We just want the people to be more responsible. We want civilians to have to go through more rolls of red tape to get [the gun] they want, because if any of that tape can stop those who shouldn't own a gun from owning a gun, then our government [would] have done something right."
Gonzalez, who expects to graduate on June 3 and attend the New College of Florida in Sarasota, never expected that she would be at the forefront of a movement that wants to make sure that the violence she and her classmates experienced never happens to anyone else again. She was raised in Parkland, Florida. Her mother is a math tutor and her Cuban-born father is an attorney whose family immigrated to the United States in 1968.
Gonzalez is president of her high school's gay-straight alliance, was the tracking team leader on a school weather balloon, and is active on social media (follow her on Twitter @Emma4Change). She gained national attention during an anti-gun-related violence rally in Fort Lauderdale on February 17 when she went up to the podium and gave a dynamic speech that was broadcast on TV and radio stations around the world.
"Politicians who sit in their gilded House and Senate seats funded by the NRA telling us nothing could have been done to prevent this, we call BS!" Gonzalez said in her speech. "They say tougher guns laws do not decrease gun violence. We call BS! They say a good guy with a gun stops a bad guy with a gun. We call BS! They say guns are just tools like knives and are as dangerous as cars. We call BS! They say no laws could have prevented the hundreds of senseless tragedies that have occurred. We call BS! That us kids don't know what we're talking about, that we're too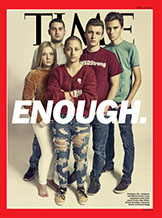 young to understand how the government works. We call BS!"
Gonzalez and her #NeverAgainMSD and #InOurLifeTime partners and supporters are now targeting the mid-term elections of November 6, 2018 to make sure that elected officials who support the NRA are voted out of office.
On March 9, 2018 the NRA immediately filed a lawsuit against the state of Florida for signing into law that day a school safety bill that, among other things, prevents anyone under the age of 21 from purchasing an AR-15 rifle, bans "bump stocks" which allow semi-automatic rifles to operate like machine guns, and imposes a three-day waiting period on all gun sales.
"To the students of Marjory Stoneman Douglas High School: You made your voices heard, you didn't let up and you fought until there was change," Florida Governor Rick Scott, who broke with the NRA in signing the bill, told media outlets. "You helped change our state, you made a difference and you should be proud."
The NRA, which relentlessly contributes to political campaigns and lobbies elected officials to fight all gun control measures, claims that the new Florida law is a punishes law-abiding gun owners. "Instead of looking to the root cause of this premeditated violence, the gun-control provisions in this law wrongly blame millions of Floridians who safely and responsibly exercise their right to self-defense," Chris Cox, executive director of the NRA's Institute for Legislative Action told media outlets.
Gonzalez disagrees, strongly. "We're trying to make sure those elected officials that are being supported by the NRA are not elected in the upcoming midterm elections," Gonzalez told People Magazine. "That is one of the strongest mission statements we have right now. We don't want these people in charge of us anymore."
Roberto Santiago