Nearly 30 years ago, when Maria Castellon arrived in Silicon Valley from Guadalajara, Mexico, she had only a high school education and had yet to learn English. Now she is the CEO of Bench-Tek Solutions, a family-owned, $6 million firm that designs and manufactures workbenches and laboratory stations for use in production and cleanroom environments. Bench-Tek Solutions counts tech giants Apple, Google, PG&E, Nvidia, Sandia Labs and Tesla among its client roster.
Maria is an Emprendedora, a Latina entrepreneur. Over the last 10-15 years, Latinos have been creating new businesses at 2-3 times the pace of the general market. Yet only a small fraction, about 2% of that ecosystem, is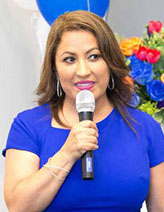 scaling. "There's a paradox when you realize that so many startups are Latino, and only 2% gross over a million in annual gross revenues," says Mark Madrid, the CEO of the Latin Business Action Network (LBAN), which collaborates with Stanford to support the Stanford Latino Entrepreneurship Initiative (SLEI).
To meet this challenge, LBAN funds Stanford research and education-impact program, including the Stanford Latino Entrepreneurship Initiative-Education Scaling Program, an intensive seven-week program combining on-line and in-person seminars to provide Latino business owners with the mentorship, access to capital resources and the mindset needed to scale their businesses, and—in some cases—double the size of their company. "There are few ideas that come along that can have a sustainable impact on a community and our nation. This is one of those ideas!", exclaims Chairman Victor Arias, Jr.
Maria was a graduate of LBAN's fourth cohort. The path that led to Maria's phenomenal success is equally extraordinary. She had been going from job to job before landing a position as a receptionist in a manufacturing firm. Maria's dedication caught the attention of her boss, Tom Clark, and he quickly began mentoring her. He encouraged her to start taking businesses classes, and over the next decade, Maria built her business acumen. "He was preparing me and my brother to someday take over the business after he retired," says Castellon.
Neither expected that moment would come as suddenly as it did. In 2002, the dotcoms crashed, and like so many Silicon Valley companies, the business was forced to close overnight. "I didn't even have the time to think about obstacles to opening a business," says Castellon. "Even though he was closing the doors he told me, 'now it's your time, now you're ready.'"
One of the after-effects of the dotcom bust is that the overhead for starting a new business was incredibly low. Maria was able to find a space for her business at bargain basement prices. Additionally, many companies were off-loading their workbench inventory, enabling Bench-Tek Solutions to open its doors with product already in stock.
There was only one problem, that no one knew who they were. "I would hear the word no eight out of ten times,"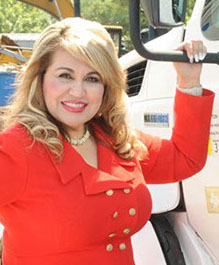 says Castellon. "I would go into a building, walk into the lobby, the receptionist would look me up and down, hear my accent, and say, 'no.' I felt like I couldn't even speak, but I still had to do it. The no's kept me on my toes. I'm glad it's part of my journey." Fortunately, there was another small business in town that did not mind Bench-Tek was just getting its start. What mattered is that they could deliver. And deliver they have, for more than ten years, to the company that isn't small anymore, Tesla.
Maria accredits LBAN and the Stanford program for enabling her to "start being a CEO, not just a manager." She spends more time now evaluating Bench-Tek's manufacturing process and where to innovate. And she now has a comprehensive understanding of how to utilize her relationship with the bank if they need new capital. This is one of LBAN's main goals, to provide program graduates the ability to cultivate relationships with banks and investors.
Equally as important to Maria as innovating her manufacturing process is making sure Bench-Tek's employees are continually training up. "If they start in painting, we make sure they train to program machine. We want to guarantee their work through workforce development. Our goal is to give them the skills to always have more opportunity," say Maria.
Another Emprendedora is Maria Rios, CEO and Founder of Nation Waste, Inc (NWI). Two decades ago, she founded her waste management company with two trucks and a big vision. She credits her father with her visionary mindset: "My father, who is no longer with us, taught me to always dream big and not to dwell on limitations. This was my inspiration for becoming an entrepreneur and I have never looked back."
Indeed, it's been nothing but forward for Rios. Among a long list of accolades, she's been named one of Fortune's Most Powerful Women Entrepreneurs, and recognized as a top international businesswoman by the International Women's Entrepreneurial Challenge.
The seeds for founding Nation Waste were planted at the early age of 20. Having emigrated from El Salvador with her family only a few years earlier, Maria was attending college at the University of Houston and working at a waste management company. During her time at the company, she noticed that a majority of workers were people of color, yet not a single person of color comprised part of the company's leadership team. Shortly after receiving her bachelor's degree, she launched the first woman and minority-owned waste management business in U.S. history, one of many firsts for Maria. Now Nation Waste, Inc., is a full-service "demolition, commercial, and industrial non-hazardous waste removal and recycling company." And last year, NWI had the distinction of being the exclusive portable toilet provider for the Super Bowl in Houston.
Maria joined other business owners like herself in LBAN's second cohort. "The most profound breakthrough was the nurturing of a scaling and growth mindset, understanding your terrain and being strategic about capital access," she says. This scaling mindset has propelled Nation Waste to become one of the most innovative companies in its industry. Her advice to other suppliers is jump on the opportunity to continue their education. "Our education must be ongoing--to build business capacity, to acquire capital and to become more efficient and innovative," says Rios.
But not all Emprendedoras are named Maria. Some might describe Elizabeth Alegria's circumstances growing up as humble. For Elizabeth, however, living on ranchito outside of Laredo provided the perfect setting for this budding scientist. "I didn't have the distractions of city-life. I was surrounded by nature, and as a result, I developed an interest in science."
Elizabeth went on to study biology at the University of Texas at Austin and received two degrees in psychological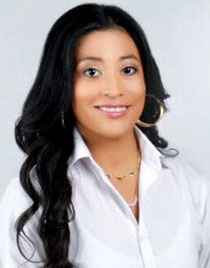 counseling from Colombia University. Once in the workforce working as a counselor, she noticed many service gaps in the way companies were delivering behavioral care. "Particularly among Latinos, there is a great need for mental health services in our community and engagement can be challenging." The need to reach Hispanic and multicultural communities is what motivated Elizabeth to found Gramercy Clinic, a professional counseling practice. "I designed a company that would remove barriers so that people could have access to excellent behavioral healthcare services." Those barriers centered around money, transportation, language and time. "If our clients can't come to our clinics, we send therapists to their homes, their schools, wherever they are, we go to them. If the client is unemployed or truly does not have the ability to pay, we give our services away. If the client speaks Spanish and is not able to procure counseling from a traditional provider, our services are bilingual."
And now, after graduating from the fourth cohort of LBAN's program, Elizabeth has even more tools at her disposal to serve hard to reach communities. "Before the program, scaling was not really something that we had considered. Now, we are in the process of actively expanding the company and we're doing so through telehealth." Gramercy recently purchased an app which allows them to deliver mental health services across Texas and potentially into other states. "Clients can have access to care from their computer, phone or tablet," says Elizabeth.
For Elizabeth, another invaluable part of the LBAN and Stanford program was being placed with a mentor to coach her through different funding opportunities. "Prior to LBAN, I didn't understand credit lines or the value of a relationship with a lender. I didn't even know that there was funding out there for initiatives such as mine." Through LBAN, Elizabeth has been able to navigate how to acquire additional financial contributions in the future. "I'm now reducing my risk and seizing the opportunity to open additional clinics," says Alegria.
According to the SLEI State of Latino Entrepreneurship research report, the U.S. economy will leave $1.47 trillion (i.e., the difference between the average annual revenues of Latino vs. non-Latino owned firms) on the table unless Latino-owned businesses scale. To help close this opportunity gap, LBAN is on the path to achieve its goal is to double the number of $10M, $100M and $1B Latina- and Latino-owned firms in the U.S. by 2025. Mark Madrid is confident and energized about the spirit of fearlessness and resilience embodied by Hispanic businesses across the country: "The ability to scale is a journey that requires capital, strategy, strategic partnerships, trusted networks and a growth mindset. We are in the best position to create economic velocity, as we are the top entrepreneurial institute of scaled Latina and Latino-owned firms in the United States. As well, our existence is substantiated with our Latinx entrepreneurial research—the most robust in the country—from the Stanford Graduate School of Business."
Madrid describes LBAN as an "American economic imperative" which cannot be achieved without the success of Latina-owned businesses. Thus far, five cohorts--comprising 350 alumni--have completed the program. Combined annual gross revenues for this group is north of $1.2 billion. "In this last cohort we had an over 30% representation of Latinas and we're striving to advance that number to above 50%. We will get there," he says.
As for these three Emprendedoras, "these are exceptional business women who are living examples of the American dream. They are the best of the best and are driving our nation's new mainstream economy. Maria Castellon, Maria Rios and Elizabeth Alegria are the future of our country and our Latino community," concludes Arias.