LATINO Magazine presented a GUSTO event last fall in New York. GUSTO is a series of networking receptions around the country sponsored by Hilton Worldwide,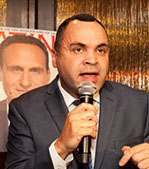 American Egg Board, Morgan Stanley, NBCUniversal Telemundo and others, celebrating the diversity of Latino culture through its cuisine. Nonprofit partners include the American Heart Association (AHA) and local organizations in each city.
This GUSTO event took place in the New York Hilton Midtown located just a few blocks from Times Square. Courtesy of the American Egg Board. Guests enjoyed heart-healthy egg recipes recommended by the AHA and prepared by the Hilton kitchen. Recipes included Guacamole Deviled Eggs and Turkey Bacon and Spinach Quiche with Sweet Potato Crust. Anne Alonzo, President and CEO of the American Egg Board, welcomed attendees, together with Orietta De Luque, star of the Telemundo 47 show Acceso Total; José Calderon, Hispanic Federation; and Andrea Richardson, Hilton's Director of Multicultural Marketing.