The genius of several of Latin America's most influential composers of the 20th Century is explored on two exceptional digital video releases – Tango Under the Stars, featuring conductor Gustavo Dudamel and the Los Angeles Philharmonic in both DVD and Blu-Ray formats, and Jobim – Orchestra & Guests, a DVD and CD package featuring an all-star ensemble of Brazil's best symphonic musicians. The visual appeal of these two productions, in addition to the singular music traditions they explore, make them particularly attractive.
 The title Tango Under the Stars on the Cmajor label doesn't do justice to the ambitious program of Argentine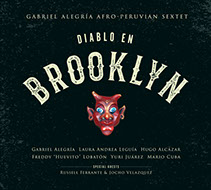 music conducted by the flamboyant Venezuelan maestro. The tango portion features several of Ástor Piazzola's most memorable creations, including "Libertango" and "Oblivion." Also featured are two symphonic works by the famed pianist and movie soundtrack composer Boris "Lalo" Schifrin – the world premiere of his "Concierto de la Amistad" and "Concierto for Guitar and Orchestra," showcasing classical guitarist Ángel Romero. A highlight is the spirited performance of four dances from composer Alberto Ginastera's "Estancia Suite" – rhythmically intense and melodically beguiling works that stand as some of the most compelling music of their era.
 Although Brazilian composer Antônio Carlos Jobim passed away in 1994, the father of the bossa nova movement remains an indispensable point of reference in the world of sophisticated, classical-influenced popular music. Jobim is the brainchild of his musician son, Paulo Jobim, and composer, arranger, guitarist and singer Mario Adnet. The two, also producers of the session, adroitly chose a 13-song program that includes some well-known standards – "Águas de Março" and "Desafinado" among them – as well as several compositions that have received scant attention. One is "Um Certo Capitão Rodrigo," a song included in the soundtrack of O Tempo e o Vento, a 1985 Brazilian telenovela, and seldom recorded. Guitarist Yamandu Costa is spectacular in his reading of this regal-sounding melody with its distinctive Spanish air – an anomaly for Jobim. Other gems are "Chovendo na Roseira," a delicately-swinging jazz waltz with a luscious melody, and the evocative "Bôto," a dramatic elegy that celebrates the existence of Brazil's freshwater dolphin. The symphonic-style orchestrations and vocals by a bevy of young singers, plus the revealing commentary that's a feature of the DVD, make Jobim worth discovering again.
 From the earthy vibe and surging, rock-influenced pulse that drive the opening track of Diablo en Brooklyn, it's clear that the New York City borough just might be the party capital of the world. Trumpeter, composer and arranger Gabriel Alegria, a Lima native but Brooklynite for a dozen years, pushes the lilting style of his native land into a raucous new stylistic frontier. His ensemble's horn section often projects eerie, dissonant accents, while the group's expansive rhythm section delivers a churning, nonstop barrage of cajón-accented rhythms. In the background, members of Alegria's Afro-Peruvian Sextet offer gleeful shouts and guttural vocalizations, hinting that perhaps a bottle of chicha blanca was making the rounds in the studio. The Saponegro Records release, the group's sixth, is truly a different breed of cat – a rhythmically infections celebration of global sounds. A standout track, and one that shows the adaptability of the Afro-Peruvian style, is the band's reinvention of George Gershwin's "Summertime" – a mind blowing performance.
 Puerto Rican flautist Nestor Torres, after many years in the limelight as one of the preeminent improvisors on the planet, demonstrates his mastery of a wide variety of idioms on Jazz Flute Traditions, an 11-track outing recorded live at Miami's WDNA FM with a small ensemble that includes Venezuelan pianist Silvano Monasterios. What makes the set on Alfi Records extra inviting is that each performance is a tribute to a different flautist. It matters little that the neophyte might not be familiar with such artists as Herbie Mann, Eric Dolphy, Yusef Lateef or Sam Most – the moods offer a nonstop array of Torres' talents, whether he's interpreting a Latin goover, a funk-based mode or the elegant musings of Joaquin Rodrigo's romantic "Adagio from Concierto de Aranjuez" (arranged here to include pianist Chick Corea's fusion masterpiece "Spain"). Torres' acrobatic flute stylings are as magical as ever.
Mark Holston