As President and General Manager of Austin's KVUE-TV, Kristie Gonzales has a mission to master the digital age.
Before relocating from New York to Austin, Kristie was the Promotion and Digital Brand Manager for Disney ABC Television Group's WABC, the leading TV station in the country, reporting a viewership of twenty million. Prior to her work in New York, Kristie worked at various television stations across the country. How did a girl from New Mexico build such a solid career, journeying to such competitive and highly prized locations, and land a dream job in Texas at the ripe age of 35?
Though originally from Southern California, Kristie's journey began in the city of Albuquerque. She shares that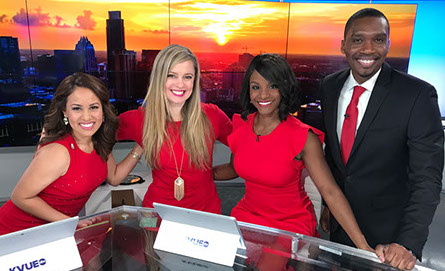 having a close relationship with her father, who managed many people in his government career, served her well. Kristie also says her mother is her best friend, and greatly admires her optimistic and free-spirited nature. She muses with a bright smile, "My mom is one of those people who will talk to anyone and has never met a stranger." Sharing both the artistic side of her mother and her father's business acumen, Kristie balanced both inherited traits and manifested them in a successful career in journalism.
Always intrigued by media, Kristie earned a full ride scholarship as a TV intern at her first TV station, KNME in Albuquerque. This paved the way for her. Armed with a Bachelor of Arts in Fine Art and Minor in Journalism from the University of New Mexico, she ventured out at the youthful age of 25 and was given an opportunity as Creative Services Writer and Producer in Philadelphia for WPVI.
After working nearly five years in Philadelphia, Kristie was offered the position of Creative Services and Public Affairs Director at KSFN in Fresno, where she worked for nearly three years. After that, she moved to Raleigh-Durham as Director of Creative Services and Local Programming for WTVD, staying a year before moving to the Big Apple.
As Promotion and Digital Brand Manager for WABC, Kristie never imagined the career trajectory to a coveted role like a Station General Manager would occur so soon. However, when TEGNA , the owner of Austin's KVUE-TV, announced in June 2016 that Kristie Gonzales was the station's new President and General Manager, the headline read: "A Rising Star in the broadcast industry has been picked to lead Austin's ABC affiliate." Clearly, KVUE-TV was excited to bring her on board. TEGNA President and CEO Dave Lougee elaborated," Kristie is a forward-thinking leader with experience creating strategic campaigns to grow audiences across platforms, specifically in culturally diverse markets which will be invaluable to KVUE-TV, the Austin community, and TEGNA Media."
Eighteen months later, Kristie is as excited as ever with the opportunities for the Central Texas market. Specifically hired to address digital technology, Kristie's emphasis for KVUE-TV is marketing the station and distributing content on all platforms, including social media. Analyzing digital growth strategies and interpreting data so as to measure performance metrics is Kristie's calling.
Daily, she oversees the production of 33 hours of award-winning live news and programming each week. Kristie's priorities always circle back to her two main areas of focus: growing revenue and audience share for the station. To achieve this, she is delighted to work with her team of news, marketing and sales professionals that she describes as experienced, smart, and dependable: "I'm lucky; I have a dream team that I get to work with every day." Supervising over 120 employees, Kristie's management style is one of inclusiveness and includes fun in the office. For example, she recently had lunch catered for the staff from Franklin's, Austin's nationally-reknowned barbecue joint, and installed a ping pong table in the news room. Recently, amid Austin's unseasonable freeze, KVUE-TV's team went live on Facebook and shared snow stories across the city. "Austin went crazy with the snow! We had fun with that," she added, smiling.
With a strong and dedicated team, Kristie follows the management mantra of: "To be a shining star, one must surround oneself with superstars. Work with people smarter than you, and when you engage them and empower them, the team becomes the best it can be." She goes on to say, "My success is determined by the team's success."
When asked to share her secret, she says without hesitation, "Having a career sponsor, a mentor." A big proponent of mentorship, Kristie believes she was given a gift of her own in a Disney executive. Kristie remembers thinking as a young professional, "I want to be like her. My mentor taught me how important exposure is for women." She goes on to say that having a mentor to guide and encourage you is invaluable.
Her impression of Texas has been positive, with Kristie sharing that she's happy to confirm the state's reputation of friendliness is true: "Texas indeed has its own culture, especially the Tejano culture." She believes that friendly attitude shared amongst Texans made it easier for her to build a solid team of qualified candidates who are passionate about their jobs, who put their egos aside, and who are easy to work with.
When asked about her goals for the next 3-5 years for KVUE-TV, Kristie confidently states it's to be #1 in the Austin market. More than that, she notes, "Our vision is to be great at storytelling. Basically, to be master storytellers. We want to touch the hearts of our viewers and be community-minded."
Recently under her leadership, she and her team celebrated when KVUE-TV became the most-watched news among the coveted demographic of adults aged 25-54 at 5 p.m., 6 p.m. and 10 p.m. during the last November ratings period. Clearly, with KVUE-TV's recent 'facelift' featuring a new studio and new graphics, this is just the beginning.
Kristie is also a member of the National Association of Hispanic Journalists and a board member of Vision for Equality, a nonprofit that advocates for people with disabilities. She was nominated in 2013 to represent ABC-owned television stations on a Disney ABC Television Group Hispanic Task Force, and in May 2016 was honored with the Latino Trendsetter Award in New York. In the last year, she's been named a finalist for Austin Under 40, and Driver of Style by Tribeza, a magazine celebrating the city's unique style in design, film, and fashion.
Casilda Clarich