Ever since President Obama announced the restoration of diplomatic relations between the U.S. and Cuba in late 2014, interest in the island located just ninety miles south of Florida has skyrocketed.
In 2015, the American Council for Young Political Leaders (ACYPL) and the Richardson Center teamed up to co-host an exchange to Cuba for a bi-partisan delegation. For ACYPL these types of sponsored programs provide an opportunity for rising political stars to experience a global dialogue. Over 50 years, they have developed exchanges with nearly 130 countries and territories including Myanmar and Russia. Taking a delegation to Cuba, though, was certainly an experience.
"It was an education for us as well," said Emily Cushman, the director of outreach and engagement at ACYPL. Cushman and her colleagues at the organization were greatly assisted by their coordination with the Richardson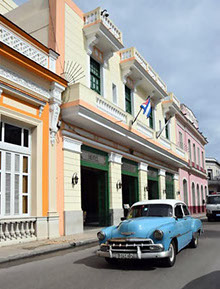 Center for Global Engagement. Founded by Bill Richardson, the former New Mexico Governor and Energy Secretary under President Clinton, the Center serves an active role in promoting "global peace and dialogue."
Supporting this trip to Cuba was an important achievement for the Richardson Center that was not lost on its founder. "For these young leaders from both sides of the political aisle in the United States, that opportunity to see for themselves, meet with peers, and engage in discussion of common challenges and experiences, is something that will leave a lasting impression," said Richardson.
Before traveling to Cuba, participants on the trip stopped in Miami to meet with Professors Jaime Suchlicki and Jose Azel at the Institute for Cuban and Cuban-American Studies. The two scholars provided their own stories as Cuban-born immigrants. Normalizing relations between Cuba and the U.S. is a polarizing issue, especially within the Cuban-American community.
Admittedly, finding a delegation for this trip was a tricky endeavor for both ACYPL and the Richardson Center. Both entities, though, were committed to setting an agenda that steered away from any partisan biases. For ACYPL, this meant finding the right balance of bipartisan elected officials and those working in the policy space. All the members of this trip did share one trait: an interest in exploring Cuba.
In 2011, Blair Milo was elected mayor of La Porte, IN after serving several years in the Navy. A rising star for Republicans in the state, Milo was an ideal candidate for this inaugural visit to Cuba. From the moment she landed at the airport, Milo knew that she was in a brand new world, or as she put it, "getting off the plane heading out to the parking lot you start to feel like [you] found some wormhole in the time space continuum."
The nuances that permeated Cuba were apparent to Milo, symbolized when she saw a 1957 Chevy with an Apple sticker on the back of the rear window. That small logo notwithstanding, the American visitor couldn't help but be struck by the lack of her country's influence on Cuban society.
Having the chance to experience first hand the Cuban people and culture, Milo, is still processing the historic trip several weeks later. "I am incredibly grateful for the opportunity and am of the mindset that continuing this dialogue [we will be] able to see some positive opportunities for both the U.S. and Cuba."
California State Senator Ben Allen, who represents the 26th Senate District (which includes the Westside and coastal South Bay communities of Los Angeles County), was another member of the Cuban delegation. Like Milo, he felt like travelling to Cuba "was like stepping back in time."
Both Milo and Allen noted some of the trepidations that still exist when imagining a fully restored relationship with Cuba. According to Allen, "all of us have this fascination with Cuba and we are interested [in exploring that further], but there are concerns about various aspects of the economy and freedoms there."
Looking to the future, Allen sees the potential for many inroads between his state and Cuba when it comes to trade, tourism and even the cultural creation of sister cities. While there, he enjoyed meeting a number of Cuban tech entrepreneurs who were "pushing the envelope with the tools in the country."
President Obama recently completed a historic trip to Cuba in March, the first time a sitting resident travelled to the country since Calvin Coolidge in 1928. Though it seems unlikely that Congress will lift the trade embargo with Cuba this year, it is possible that could happen after the presidential election.
During the summer, ACYPL and the Richardson Center anticipate receiving a delegation of young Cuban leaders to visit the United States. The relationship between these two countries is evolving almost day to day, and having these dialogues is central to that evolution
With a lifelong career in international relations, Richardson is aware of the importance of having elected officials like Milo and Allen visit countries, even those as challenging and thought-provoking as Cuba. "It will inform their understanding, decision-making, and policy-shaping, as they continue to develop in their political careers," he concluded.
By Jessica Montoya Coggins