Four years after the popular Mío restaurant closed, lovers of Puerto Rican food can breathe easy. Restaurateur Manuel Iguina recently opened High Street Café in a coveted corner of Georgetown, and he tells LATINO Magazine it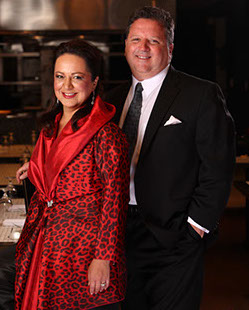 will be accessible to one and all: "A neighborhood restaurant where everybody knows your name, and for me being in Georgetown is a homecoming because I started in Georgetown as a waiter. So to be in this area has sentimental value for me. And everything is here: residents, tourists, students, embassies, hotels; everything is here."
Manuel first came to Washington, DC as a George Washington University medical student, working in restaurants to earn extra money and it was in those establishments that he became a serious foodie and switched paths from medicine to cuisine. "I go crazy if I'm not involved in the kitchen," he says.
His wife Karla is intimately involved in the new venture: "But the funny thing is I really don't cook," she says. "I do numbers, marketing, business strategy, and that's good because you can't have two chefs in the same kitchen or you ruin things." The Iguinas have been married ten years and have two small children.
Manuel is also a history buff and came upon the name of his new restaurant through researching the location and finding out that one of the main corridors in the neighborhood – Wisconsin Avenue – used to be called High Street (until it was changed in 1895) as an ode to the old English tradition of giving that name to the main business corridors of towns and cities.
The menu at High Street Café includes Puerto Rican dishes such as lechón (whole roasted pork, on Tuesdays), arroz con gandules (rice and beans), pastelón (sweet plantain lasagna) and a variety of fritters, as well as pizzas and pastas and soups and salads. Everything is made from scratch. "It's American but in the sense of the Americas, not just the United States," says Manuel.
He emphasizes that it's not necessarily a Mío redo: "Washington is a very transient town. People come and go, some of us stay, and you have to evolve and reinvent yourself. I could have done the exact same thing I did with Mío but why limit myself. We had a good run [at Mío] and we put the name of Puerto Rico, Latin America up high. They are some things that are the same here (at High Street) but we evolve, and the wait was worth it."
But aficionados of Mio can't stop raving about the new place. "High Street Café is a welcome addition for fans of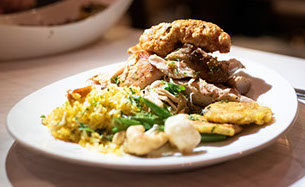 Mío who have been clamoring for Puerto Rican cuisine in the DC area and greatly missed the creative genius of owner and chef Manuel Iguina," says Puerto Rico native Flavio Cumpiano, a lawyer who has lived in the nation's capital for close to 30 years, including in Georgetown. "There's a growing Puerto Rican population in the DC area but there's not a Puerto Rican restaurant. It's also one of the few restaurants in DC that serve the best rum from Puerto Rico: Ron del Barrilito."
"The location is great because it gives it more visibility and it's an opportunity for more people to try the food," says communications consultant Melisa Díaz. "High Street Café has a good combination of things people are familiar with and reminds us of our native countries, and there are others with that Latin touch that are different. One of my favorite is the lechón pizza. So they have those Latin American dishes and also a combination of things that aren't, but are equally delicious. There's something for everybody there."
One thing Iguina does plan at High Street Café that drew raves at Mío is the "chef for the day" program where everyday people could try their hand in the kitchen to raise money for their favorite causes, and also "visiting chefs" that brought professionals from near and far to bring their special touches to the menu. "We'll have special days and special weeks for those kinds of events."
High Street Café is also expanding to include catering and Iguina says he's not stopping with his Georgetown spot. "Our idea is to have three restaurants in five years---three different concepts. We have a great team and want to have restaurants that are good and accessible and people feel comfortable going to and enjoying themselves. We have a guardian angel that watches over us."
Patricia Guadalupe