Retablos: Stories From a Life Lived Along the Border
By Octavio Solis (City Lights Books, 2019)
In his literary debut Retablos, El Paso native Octavio Solis invites his audience to consider the ephemera of one's adolescence as the essence of identity.
The playwright-turned-memoirist accomplishes this by employing a Catholic tool for self-reflection: the retablo,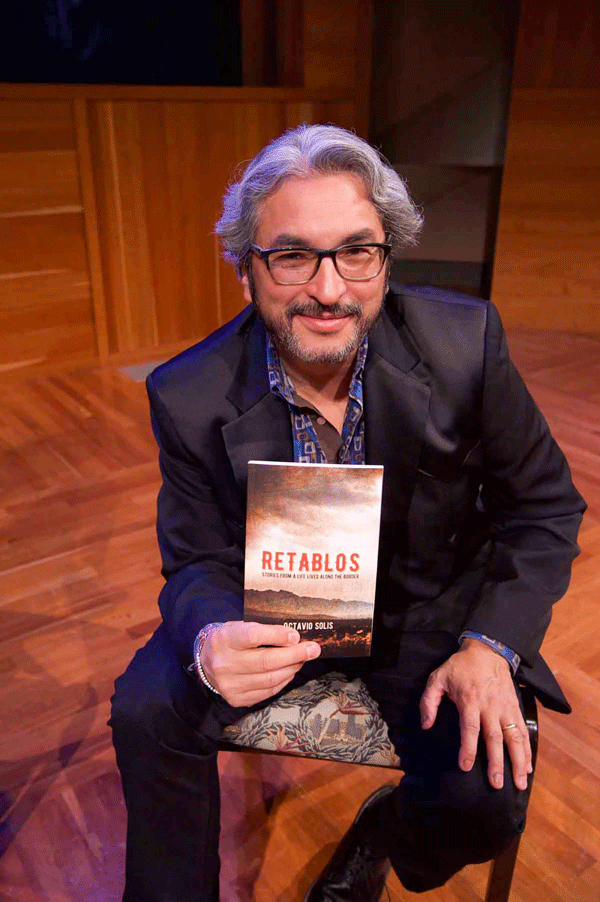 framed art behind an altar or, as he tells readers, "a devotional painting, usually laid on a small, thin plate of cheap, repurposed metal, in which a dire event is depicted — an accident, a crime, an illness, a calamity, some terrible rift in a person's life, which they survive thanks to the intercession of the Divine."
Retablos offers a world wherein brown kids risk deportation when clowning around near the Rio Grande and aspirations of assimilation are shaped by the whipped-cream fantasies of a Herb Alpert album cover. Solis sets all the secular stresses of border life on saintly display: the indignities masked in the dignity of work, the supermarket panic of spilled soda running down the leg of a bleeding woman trying to return Coke bottles for credit, petty candy-store theft and dirty disco clothes drying out for another sweaty night on the dance floor. In Retablos, undocumented immigrants weep in the sanctuary of a kitchen while legal Latinos covertly canoodle in the cotton fields.
The most affecting character in Retablos is a recurring wraith called Demon, a Chicano changeling who haunts this morphic memoir as a symbol of refuse, refusal, and in the end, righteousness. Like a welfare state revision of a Brothers Grimm fairy tale, Demon explains that "his mother didn't want him and it was his aunt that raised him from a baby, but she didn't take care of him like she was supposed to. He had some checks coming every month from the government and tía kept all the money. Now she's gone too and all he has is her grave to visit."
The stories in Retablos are invigorating in their unapologetic economy and intoxicating in the poetry of their moral excesses. For the tales explore the taboo of shame, the ultimate owning up — to crime, to lust, to envy, to innocence turned evil, to classic Cain and Abel animosity, to disgust at poverty, to anger over the limits of language, and the meretricious pride of avoiding one's past to better fake a future.
In a recurring section centered on a nameless runner, a local crazy who is dashing his life away and providing curious self-discovery for our author, Solis writes: "Without turning his head, I feel his eyes blur in my direction for an instant. This is my city, they seem to say. I run and run but here I am. Where are you? What are you running from? Who left you behind?" In a sobering revelation, Solis understands the double-edged nature of self-regarding: "It is then I see that pride and shame are the same sin. One diminishes my family and the life they gave me, the other diminishes me."
The author describes the religious art of retablos as a kind of instructive technology: "At once visual and literary, they record the crisis, the divine mediation and the offering of thanks in a single frame, thus forming a kind of flash-fiction account of an electrifying, life-altering event. Solis makes it clear that he is meant to learn from the retablos he has set up, to understand the mysteries of the mundane as both motivation to rise and incentive to make peace with where he stands.
On his understanding of the border, Solis writes: "One thing I have learned from writing these retablos: the shit on the border never changes. There will always be those who want to come across, and those who want to keep them where they are. The push and pull, the friction between the tectonic plates that are Mexico and the U.S. will always create mountains of stress, dislocation and upheaval among the people who live there. Maybe this is political, after all, but I think it's really a condition of our culture: it's how we live now, it is our particular mythology, replete with gods and monsters, heroes and fallen angels, troubadours and exiles."
There has never been a border book like Retablos, a collection of smoldering epiphanies suffering the baptizing waters of recall.
Roberto Ontiveros
Roberto Ontiveros