In 2016, Maria Sanchez was on a mission to save her home from foreclosure. Divorce had left the 48-year-old lab technician mired in debt and unpaid bills.
With a box of financial statements in hand, the single mom had been turned away from several banks unwilling to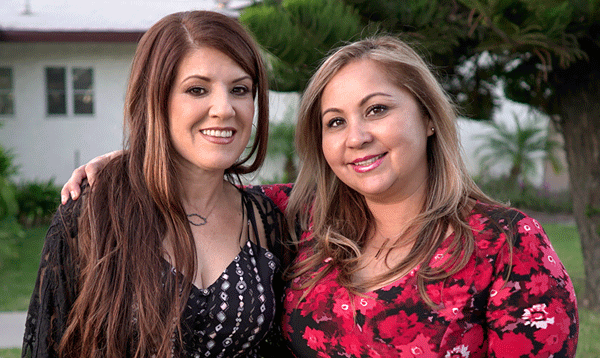 help. But when she went to a Wells Fargo branch in Los Angeles County, Home Mortgage Consultant Angelica Vasquez took a different approach. She had helped many customers through tough times over the years and saw real promise in Sanchez. Vasquez created a financial management plan to help Sanchez pay down her debt. In just over a year, Sanchez paid off much of her debt, raised her credit score and refinanced her mortgage. "Angie really opened the door for me," said Sanchez. "She told me it would be tough work to fix things but gave me hope that I could do it."
Vasquez's efforts to help Sanchez is emblematic of the work Wells Fargo does in many communities across the U.S., especially in Latino neighborhoods. It is part of the bank's vision to help customers succeed financially.
From programs that help Latinos buy homes or start small businesses, to scholarships and financial literacy classes, Wells Fargo is working to keep pace with a fast-growing U.S. demographic. As the Latino community continues to increase its affluence, there is a rising need for trusted guidance and tools to make life more manageable. According to the U.S. Department of Labor, Latino women's share of the labor force has nearly doubled in the past 20 years — and when two working parents juggle finances, career and family, it presents challenges.
"We are only as strong as the communities we serve," said Shelley Marquez, of Wells Fargo Community Relations. "We need to be active in the community and give back in a way that helps people reach their goals."
To help strengthen communities and increase homeownership opportunities for Latino families, Wells Fargo supports the National Association of Hispanic Real Estate Professionals (NAHREP). The organization created the Hispanic Wealth Project in 2015, with the goal of tripling wealth in Hispanic households in 10 years. This includes a goal to achieve a 50 percent or greater Hispanic homeownership rate.
In an effort to help NAHREP reach its goal, Wells Fargo made a 10-year commitment that included $125 billion in lending and $10 million to support homebuyer education and counseling. It also pledged to increase the diversity of Wells Fargo's home mortgage team. In addition to homeowners, the number of Latino small business owners who want to grow their operations also is booming. As one of the top small business lenders in the U.S., Wells Fargo has a long history of helping diverse-owned small businesses expand.
Through its Diverse Community Capital Program, the bank has committed $175 million to Community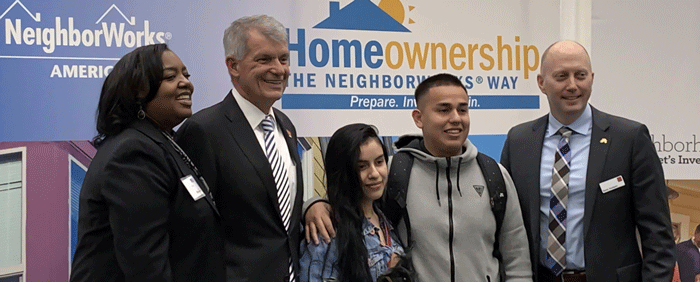 Development Financial Institutions in support of entrepreneurs who may not qualify for traditional small business loans. In the first phase of the program, diverse small business borrowers have created and retained more than 45,000 local jobs because of accessing capital and development services.
One recent program awardee, Ana Rosa Hernandez Oliva, was able to open her store, La Bamba Bakery, which has quickly become an important resource for the local community in Hopkins, Minnesota. "I know we are going to continue to grow," she said.
In Washington, D.C., Wells Fargo's "Where We Live" program has pledged $1.6 billion for affordable housing, small business growth and job skills for residents of the city's Ward 7 and Ward 8.
Wells Fargo is using a multipronged approach to reach people through the thousands of community organizations it supports. Two of those organizations include UnidosUS and the U.S. Hispanic Chamber of Commerce. Working with Wells Fargo, they help provide free financial education seminars about investing, retirement, credit and more. "It's really about building on relationships we have with the groups we work with and the individuals we've helped over the years," said Marquez.
Education is also key. Wells Fargo is the leading supporter of the Hispanic Scholarship Fund in the banking industry, providing more than $20 million since 2003. And while Wells Fargo has sought to help Latino consumers succeed, it has not forgotten about its own employees, who are essential to the company's success. Through its Latin Connection Team Member Network, an employee resource group, Wells Fargo aims to enable team members to promote a better understanding of diverse communities, and be a resource for business development and recruitment.
What's important is staying connected to the needs of the people and communities Wells Fargo serves, and that will require continued focus on deepening local ties with organizations and with customers like Sanchez."We are always thinking about what we're doing locally to make those connections," said Marquez. "It's more than just a transaction to us. It's a relationship."