Between international trips, Angel Mendez took time from his hectic schedule to speak with LATINO Magazine about his work at HERE, the importance of education, and why business success depends on diversity.
What is the mission of HERE, and how is the company growing?
Our company's vision is to enable an autonomous world for everyone. We are on a mission to create a digital representation of reality to radically improve the way everyone and everything moves and interacts.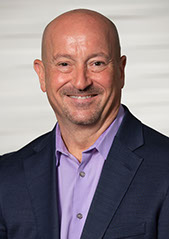 Location is the glue to make sense of our digital world in motion, and the need for our data and services continues to grow. Our location platform is used by large to small scale software developers, FORTUNE 500 companies, transportation agencies, cities, and many others.
The question on everyone's mind is when autonomous cars will be on the road. What's your prediction?
HERE maps provide important data to vehicles for all levels of automation. Automated vehicles rely on a high-definition map to help answer fundamental questions: where am I exactly, what lies ahead on the road, and how can I get there comfortably?
We're aligned with the industry on development timelines, including commercial agreements with BMW and Daimler to bring the HERE HD Live Map into production vehicles starting in 2021. When it comes to deployment, urban environments are more dynamic than controlled-access highways. We see use cases in cities being developed, such as automated parcel delivery. I think we'll see partially automated systems, where the car handles driving functions on select roads, in the next 3-5 years, but and we're about 10-15 years away from full scale adoption of fully autonomous vehicles for all environments.
Why is diversity important at HERE, and how does it help the company's bottom line?
Simply put, because the success of our business depends on it. We know innovation thrives in inclusive and diverse environments, and that bring competitive advantages. To achieve this our company must evolve to reflect the changing and diverse needs of our employees, customers, partners and the communities we work in. We believe every person unlocks the autonomous world. HERE is focused on nurturing an inclusive and equitable culture where opportunities are boundless for everyone, and diverse perspectives are embraced to combine the power of our teams with new talent to fuel our innovation and realize an autonomous world . . . for everyone.
Why is education so important to you?
Being a constant learner is central to any human endeavor. In particular, higher education is very important to me, which is why I spend quite a bit of my time giving back and working as a board member. If you dial the clock back 500 years, when you wanted to further your education you'd go to Rome, to Florence, to Oxford. You went to these institutions that were primarily in Europe That has all changed to where people come to the United State to have access to the best colleges and universities. That's why you see students from all over the world attending colleges and universities here. It's important to support and grow the system that provides that education.
Why should Latinos enter the STEM fields?
If we think about the relevance of the Latino population to the United States, I think the numbers pretty much speak for themselves. The Latino population is quickly growing. By 2060, near 31 percent of the American population will be of Hispanic descent. STEM is critical for anyone to continue progressing in a world that is dominated by technological advancements. It is important for anyone to study and be confident in these fields. I believe STEM is fundamental for the nation, especially for Hispanics given their growth in the nation and need for their voices to be heard as technology advances.
What advice would you give to a young person hoping to work at a company like HERE?
I always advise three things. First, don't be afraid to take tough assignments. Do the hard work. Second, take the jobs that will teach you the fundamentals of whatever profession or area you choose to concentrate on. Pay your dues and earn your stripes. Lastly, take some risks. The time in your life where you can take the most risks is when you have your whole life ahead of you. And understand technology. Whether you are in financial services, retail, consumer products or transportation, it doesn't really matter what industry you're in. Every company is expected to be technologically competent so it's important for people especially when they are in the university to come out well-rounded and hopefully bring a resume that is comprised of both literacy skills as well as technology skills.