Our lives may contain many firsts, but blazing a trail deserves special recognition. While Carolina Diaz wasn't the first in her family to embark on a career in the restaurant business, last October she became the first woman and Latina to win the title of Best Young Pasta Chef at the 2018 Barilla Pasta World Championship.
"I can't describe how proud I feel," she says. "I have three kids. Having them young, I've overcome challenges. This is for all the little girls who have to overcome challenges and who may be looking at me now. I'm proud of what I've done."
The second oldest of four siblings, Carolina grew up in a suburb of Chicago. Her mother, Gloria, owned a hair salon so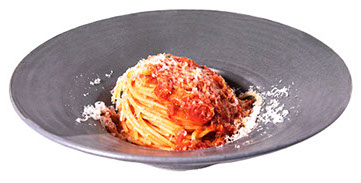 her father, Salvador, took charge of preparing meals for the family, using recipes from his native country, Mexico. The future chef credits this exposure to traditional but sophisticated flavors for developing her palate at an early age. "One of my favorite dishes that he cooked was braised pork in mole," she says.
Though Carolina was introduced to the restaurant business by her uncle, who owned a restaurant, becoming a chef wasn't her first inclination. She entered college as a psychology major but after taking a course that required her to work at a call center, where she listened and counseled callers in a crisis, she changed her mind.
"I thought about having to do this for this rest of my life and decided it would be taxing on my soul," Carolina admits. "I thought about the years I spent helping my father prepare meals and decided to change course and pursue culinary studies at the Illinois Institute of Art in Chicago." She graduated in March 2010 with a bachelor's degree in applied science.
While her family inspired her love of food, her first professional mentor was chef Bill Kim. They met at the Illinois Institute of Art, and he hired her to work at his Urban Belly and Belly Shack restaurants in Chicago. "He helped demystify the kitchen for me," she says. "Working as a chef is really hard work. It's nothing like how it appears on the Food Network."
Kim also introduced her to Asian cuisine. One dish in particular would prepare her best for the Barilla competition, dumplings. "He showed me how to make Asian dumplings, it took weeks and weeks of training, but it would further my career," recalls Carolina.
She switched to Italian cuisine in her next job working for chef Christian Santoni at Filini Bar and Restaurant in Chicago's Radisson Blu Aqua Hotel. It was her skill with Asian dumplings that helped her master the art of making pasta. "The trick is that it's like making bread, you have to have a hand feel for it," she says. "Anyone can follow the recipe, but until you feel it, you don't know if it may need more water or flour. You have to build a relationship with the dough to know what proper dough feels like."
The transition from Mexican to Italian cuisine would have an unexpected benefit. Carolina says there are many similarities between cuisines from both countries, most notably when pared down to their essentials. "If anybody else looks at them, there's nothing special about them," she explains. "But what's true in both is the amount of preparation that's required to make simple dishes, like spaghetti al pomodoro, the final dish in the Barilla competition that requires only four ingredients. The winning element came down to technique."
Her path to the 2018 Barilla Pasta World Championship was just as direct. Carolina joined the team at Terzo Piano at the Art Institute of Chicago in May 2016 as chef di cucina under chef Tony Mantuano, and it was there that she happened upon an ad for the competition on Instagram. She contacted the PR agency promoting it and after a quick conversation, decided to enter. In fact, it was the first cooking competition that she ever entered.
Last year marked the seventh year of the competition, a two-day pasta challenge where eighteen young chefs under the age of 35, representing different countries, compete before a Michelin-starred jury. Carolina was chosen to represent the United States.
"Barilla wants to support the next crop of talented chefs and inspire them to embrace the positivity and conviviality of the Italian lifestyle," says Andrea Malservisi, brand equity and communication director at Barilla, the 141-year old, family-owned company that is one of Italy's largest exporters of pasta. "The next Master of Pasta needs to come up with inventive and surprising pasta dishes that will ultimately elevate the codes of modern cuisine."
At preliminary rounds in Milan, the chefs were judged on presentation skills, creativity, and cooking mastery. Diaz took her sous chef and fiancé with her for moral support. "At some point, I looked at them and said, 'These guys have impressive methods, how can a girl from Chicago compete with that?' They told me to do what I do and that I'd be fine, so I centered myself and thought, what I have is enough. A simple dish can be intimidating but I served what I know and that reflected how I grew up as a Mexican American from Chicago, and that said, 'This is what America is.'"
Her dish was pasta with a roasted red pepper sauce and tuna. "There were these Italian chilies for us to use that I'd never seen but I took a chance and added them to give it a little kick. That's what seemed to impress the judges. They said it gave them a vivid taste of America." And as they say in Italy, "Delizioso!"
When asked what advice she has for Latinos who'd like to pursue a career as a chef, she makes a point of sending a message to undocumented workers in America's restaurant kitchens: "I run into a lot of amazing cooks who are self-conscious about the fact that they don't have papers. I tell them 'If you keep pushing, you can outwork anybody.' In kitchens, hard work will give you the same opportunity as anyone else. Fortunately, it's one of the careers where you really can work way to the top."
By Valerie Menard