NBCUniversal Telemundo Enterprises, the leading media company serving Hispanics, recently announced Hazte Contar (Be Counted), a robust civic engagement campaign under the umbrella of its award-winning corporate social responsibility platform "El Poder En Ti" (The Power in You). The multi-year campaign will tap into Telemundo's fast-growing, multiplatform portfolio and community partnerships to unleash the His-panic community's vast and growing influence in the U.S. through greater civic participation in the 2020 Census and upcoming presidential elections.
"We are thrilled to launch Hazte Contar, the most robust and rigorous initiative in the U.S. designed to drive engagement among U.S. Hispanics and raise awareness about the importance of the 2020 Census, the voting process and civic involvement," said Cesar Conde, Chairman, NBCUniversal Telemundo Enterprises and NBCUniversal International Group. "Social and community impact have always been central to Telemundo's values. It is a privilege to have the trust and credibility of our viewers, and this campaign will help to ensure Hispanics are engaged and informed. The future of America is overwhelmingly Latino and Telemundo is committed to lead this effort and underscore the role of His-panics in the future of our nation."
The Hazte Contar campaign will inform the Latino community about the importance of participating in the Census, offering resources to viewers, addressing key questions and encouraging completion of the 2020 Census form. Telemundo will leverage its national reach and diverse portfolio of properties including its cable and digital platforms and 30 owned stations to ensure maximum impact across the Hispanic community, which will be complemented by market activations and grassroots outreach.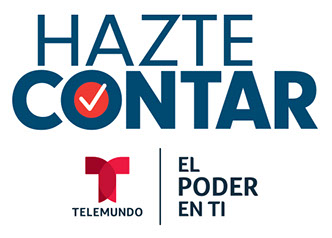 Building on the success of Telemundo's recent cross-country Community Empowerment Tour to inform and provide resources to consumers on opportunities to register to vote, the Hazte Contar campaign will feature an expansive tour across the country visiting major Hispanic markets such as New York, Los Angeles, Miami, Chicago, Orlando, Houston, Dallas, Phoenix, Denver and El Paso. Beginning in 2019 through 2020, the cross-country tour will leverage partner organizations' work to increase Census and voter participation among Latinos. The tour will incorporate pop-up location sites where community members can receive accurate information from experts on the benefits of participating in the Census. Experts will also be available to provide guidance and answer questions to alleviate concerns about the Census among the Hispanic community. Additionally, the Hazte Contar tour will encourage Latinos across the country to make their voices be heard by providing information on voter registration and other forms of civic participation.
To amplify its reach and impact, Telemundo will partner with over 50 national and local Hispanic organizations including UnidosUS, Hispanic Federation, NALEO Educational Fund, LULAC, Voto Latino and the National Hispanic Association of Hispanic Journalists (NAHJ).
Telemundo will also launch a series of ongoing special segments focused on all things Census across network shows including "Un Nuevo Día" and "Al Rojo Vivo." Telemundo's news team will create special segments featuring a variety of national experts and trusted voices across "Noticias Telemundo," "Noticias Telemundo Fin de Semana," and "Noticias Telemundo Mediodía" to educate viewers on the importance of being involved and to inform all audiences on how to take action and ensure they are included in this critically important process.
Leading up to the 2020 Census, Telemundo will roll out a series of public service announcements featuring top on-air talent including José Díaz-Balart, María Celeste Arrarás, Julio Vaqueiro, Vanessa Hauc, Adamari López, Jorge Bernal, Don Francisco, and Rashel Díaz, among others, to leverage their connection with the community and help combat many of the key reasons Latinos are hesitant to participate in the 2020 Census.
Key resources and information on Census and voter registration will be available on the specialized website, www. HazteContar.com, in English and Spanish, including partner resources and specific information based on an individual's locations. This includes information on closest Census assistance locations, polling locations, and voter information tools. Digital content and up-to-date material will continuously be featured on Telemundo. com, Facebook, Twitter, Instagram, and YouTube. Viewers can also follow the campaign on social media using the hashtag #HazteContar.
The U.S. Census affects the lives of all Americans by determining funding for communities, representation in Congress, and informing critical community budget and financial decisions. As the nation's second largest population group and one of its fastest growing communities, Latinos account for more than one of every six U.S. residents, and one of every four of the country's population under 18. The 2020 Census will help determine how more than $700 billion in federal government resources will be distributed each year for the next decade to states and localities.