After the smoke cleared from the mid-term elections of November 2018, the number of Latinos that were sworn into the 116th Congress this past January 2019 increased from 34 to 38, making it the largest class of Latino Congressmen and Congresswomen in U.S. history. According to the National Association of Latino Elected and Appointed Officials (NALEO), 33 are Democrats and five are Republicans, with 26 men and 12 women. Four Latinos serve in the U.S. Senate.
The diverse group of ten newly-elected U.S. Representatives who immediately made their presence known include Debbie Mucarsel-Powell (D-FL), the first Ecuadorian-American ever elected to Congress; Rhodes Scholar and Harvard Law graduate Antonio Delgado (D-NY) from upstate New York; Mike Levin (D-CA), a native of Orange County whose mother is Mexican American; Gil Cisneros (CD-CA), who in 2010 won a $266 million lottery; Xochitl Torres Small (D-NM), the first woman elected to represent the 2nd District; Former NFL player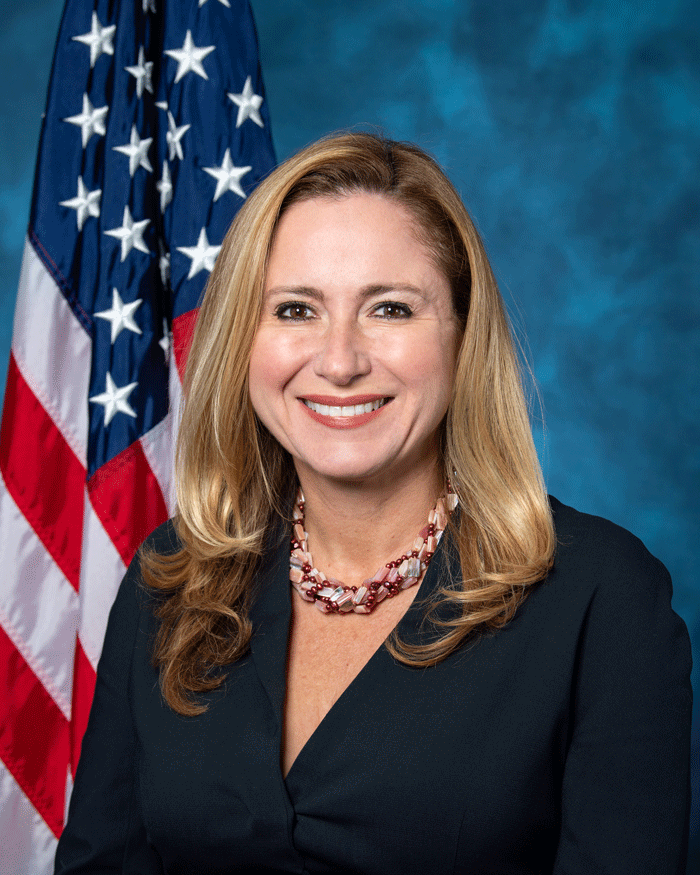 Anthony Gonzalez (R-OH), the lone Republican and first Latino Congressman from Ohio; Alexandria Ocasio-Cortez (D-NY), the youngest woman ever elected to Congress at age 29; Jesus "Chuy" Garcia (D-IL), the first Mexican American to represent Illinois in Congress; and Veronica Escobar and Sylvia Garcia, the first Latinas to ever represent the Lone Star State in Congress.
"The new Congress is changing how Washington works, and it's for the better," Rep. Debbie Mucarsel-Powell told LATINO Magazine. "We aren't waiting around for Washington to work for us, we are making Washington work for the people. This new Congress puts our constituents over politics."
Rep. Veronica Escobar, who represents El Paso (aka the 16th Congressional District previously held by presidential candidate Beto O'Rourke) wasted no time in tackling the border issue and the Trump Administration's anti-immigration rhetoric and inaccurate claims that border towns are unsafe. In her first three months of office, Escobar, who was appointed to the House Judiciary Committee and Armed Services Committee, has toured the border and detention centers five times, hosted her first three monthly town halls, and has been working vigorously against the Trump Administration's funding of a Wall. Recently, she appeared at Austin's uber-trendy SXSW to adoring crowds.
 "The House Judiciary Committee is so critical during this historic era. Not just because of the Trump Administration's policies of cruelty that we've been seeing in El Paso and along the southern border, but because we have an obligation as a country to finally take up the challenge of comprehensive immigration reform," Escobar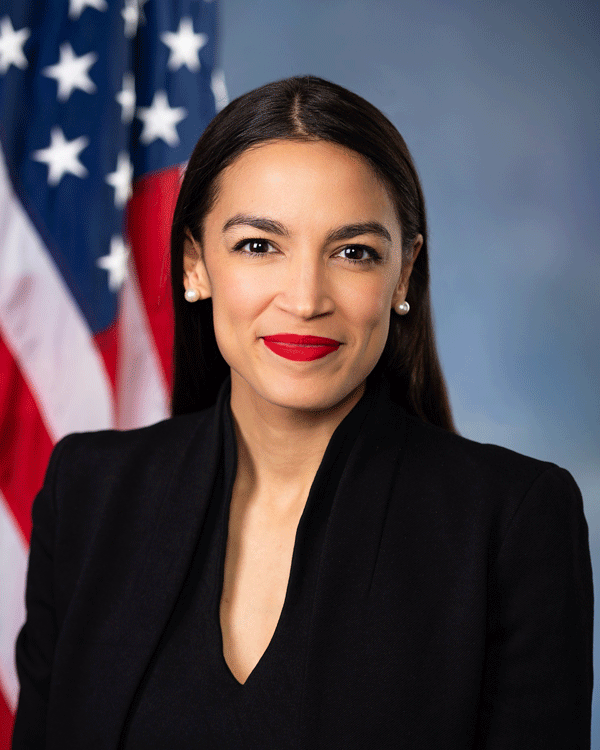 said. "I'm proud to be the only border voice on that committee, and I think that it's critical in the debate and in the discussion of solutions. El Paso is the new Ellis Island, the capital of the border, and that's part of why I worked so hard to gain a seat in the committee."
Actively working on immigration issues is Rep. Xochitl Torres Small, whose 2nd Congressional District in New Mexico includes 175 miles of border with Mexico, including three entry points.
"I ran a very close race and when I won I was determined that I would be known as the person who always looked out for the best interests of her constituents, even if it meant not always agreeing with my fellow Democrats," Torres Small told LATINO. "This means that you have to be true to yourself and you also have to know when to reach across the table to get things done."
This past March, Torres Small reached across the table and along with Rep. Will Hurd (R-Texas) introduced the bipartisan U.S. Customs and Border Protection Rural and Remote Hiring and Retention Strategy Act that will address strategies to increase the number of border agents desperately needed to deal with the large influx of asylum seekers.
Torres Small told the Albuquerque Journal that U.S. Customs and Border Protection currently has 1,117 unfilled positions, and U.S. Border Patrol has 1,993 unfilled positions. "It's a problem," Torres Small said. "We are losing as many officers as we are gaining."
Torres Small said that that the toughest part of being a Representative is time management, which means she leaves very little time for herself. She starts her days at 6 am and typically ends them past 9 pm, sometimes not even making time to eat, as happened this past February.
 "One night in Las Cruces, after having worked nonstop and not having stopped to have breakfast or lunch, I drove my old car into a fast food place to pick up dinner and my car broke down," Torres Small told LATINO. "A Hispanic mother and her young daughter stopped to help me get my car started and one of them said to me: 'Excuse me, but has anyone ever told you that you look just like Congresswoman Xochitl Torres Small?' I'm glad for moments like this that remind me that we're all in this together."
The rights of immigrants, asylum seekers, and their families is a top priority for Rep. Sylvia Garcia, who represents Houston's 29th Congressional and serves on the Judiciary Subcommittee on Immigration and Citizenship.
"We must end the practice of family separation and reunite children who have been separated from their families," Rep. Garcia said.  "In the Judiciary Committee, we have taken a step in the right direction toward universal background checks with HR8. It is essential that we work on more common-sense steps to end gun violence. We have many opportunities with the Financial Services Committee as well, where we can work to end predatory lending practices and make the National Flood Insurance Program more affordable to protect homes in the Houston Region from the next major flood event."
Recently, NALEO honored García with the Edward R. Roybal Award for Public Service, which recognizes those who have distinguished themselves in public service, and is named for the late Congressman, the first Mexican American elected to Congress from California, and a founding member of both NALEO and the Congressional Hispanic Caucus. "Edward Roybal set a legacy of giving back and never forgetting the community, and I'm very honored to receive this award that carries his name and his legacy," García said.
Rep. Debbie Mucarsel-Powell, defeated Republican Carlos Curbelo in Florida's 26th Congressional District, says her immigrant experience brings a distinct voice when it comes representing the people in her District, especially those who live in western Miami Dade County and Homestead.
"My Ecuadorian friends and family are very proud of my accomplishment. They understand the importance of having a voice from a woman who was born in South America bringing that perspective to DC," said Mucarsel-Powell. "There is also added responsibility as the first South American immigrant in Congress. As the voice for South Americans in Congress, I am fighting for humanitarian assistance for countries that need our help. I have heard from a lot of immigrants who need us to fight for Temporary Protected Status (TPS) and humanitarian aid to stabilize the region. That is why I've introduced a bill to provide humanitarian aid to the Venezuelan people, and why I cosponsored a bill to provide TPS to Venezuelans."
Rep. Jesus "Chuy" Garcia, who was born in Mexico and moved with his family to Chicago with permanent resident status in 1965, represents the 4th District in Illinois. Endorsed by now presidential candidate Bernie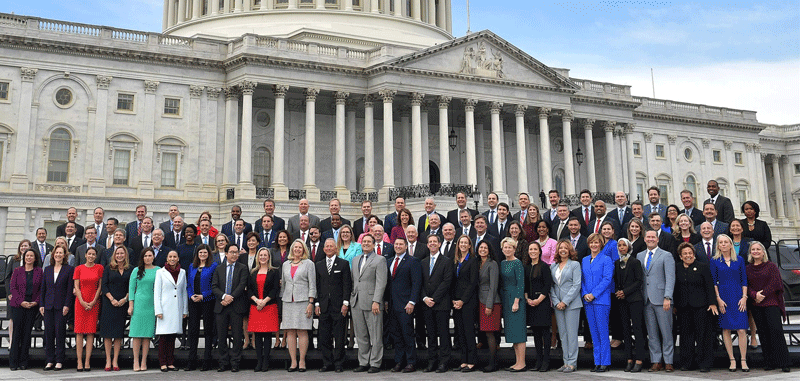 Sanders during his congressional race, Garcia has been a progressive Democrat even before the term progressive Democrat was coined. He has dedicated his entire life to improving labor and worker rights, better and affordable housing for all, and to the Latino community in Chicago. Prior to his election to the House, Garcia served on the Cook County Board of Commissioners. In 2015, he was nearly elected Mayor of Chicago, forcing a runoff vote against incumbent Rahm Emanuel.
Garcia believes that he and his fellow newly-elected Members have their work cut out for them under the Trump Administration's campaign of misinformation about immigrants and the Mexican community. "As a person who was born in Mexico, and who was raised and built a life in the United States, I am understandably extremely sensitive to the needs of immigrants and the immigrant community," Garcia told LATINO. "The best way to combat the misinformation that the current president continues to put out about immigrants and immigration is by being pro active on correcting the false statements. It is a never -ending battle. But it is an issue that unites all of the new Hispanic elected officials as it impacts us, the people we represent, and the future of the nation as well."
After being sworn in, Garcia hit the ground running, joining the Green New Deal Resolution as an original co-sponsor. On March 12, he introduced his first bill, the Safe Housing for Families Act, with Rep .Joe Cunningham and presidential candidate Senator Kamala Harris, to require carbon monoxide detectors in U.S. Department of Housing and Urban Development (HUD) housing units.
And, of course, there's Nuyorican Alexandria Ocasio-Cortez, who blasted off like a rocket with ambitious ideas such as the Green New Deal, single payer health care plan, abolishing ICE, and imposing a marginal tax of 70% on incomes over $10 million. For that, Ocasio-Cortez has incurred the daily wrath of conservative pundits at Fox News. Recently, Laura Ingraham mocked her accent and accused her of "doing the Latina thing." But Ocasio-Cortez took it in stride and countered on Twitter: "If by 'the Latina thing' she means I actually do the work instead of just talking about it then, yeah, I'm doing 'the Latina thing.'" The busy Congresswoman could not be interviewed for this article by press time.
"I think that's the reality of the people's voices that elected a new Congress with many new members who wanted to make change," agreed Rep. Sylvia Garcia. "I think the elections of each of the past two cycles have proven that the American people are fed up with the Washington insider politics and want a Congress that works for all people, not just political insiders or special interests."
Last November, voters declared it's time for a change, and the newly elected Latinos of the 116th Congress are making their voices heard, and loudly.
By Roberto Santiago