Midland is booming! Known as the Tall City because its buildings can be seen from a distance in the Texas plains, it is experiencing what many have called an Energy Renaissance. Midland is in the heart of the Permian Basin, which produces an average of 3.9 million barrels per day of oil, nearly one third of U.S. production. This has created opportunities for Latinos, who are increasingly well represented in local government.
"As a child, I always said I wanted to be president," says Luis Sanchez, a three-term County Commissioner representing Precinct 3, one of four in the city, with a large Latino population. "I grew up on dirt road, with no stores,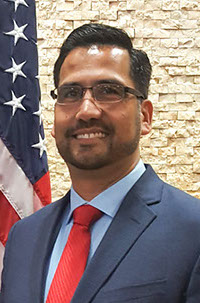 we didn't have anything in south Midland, I got interested at age sixteen, helping out in different political races and telling people to go vote. I wanted to see what we could do to help our community."
Midland's first Latino mayor, Jerry Morales, remembers a time when the city was a small faith-based community with tumbleweeds rolling through town. "Today we have much more density, including traffic and housing, as well as an improved quality of life, " he says. "There's been tremendous success among Latino businesses. It's very exciting to see those excel and do well."
Like Dallas and Fort Worth, Midland and Odessa are considered sister cities, separated by less than 25 miles. According to Sanchez, Midland was considered a white-collar town whereas Odessa was more blue-collar. While the influx of Latinos may have been spurred by blue-collar opportunities, those workers eventually became entrepreneurs to serve the local Latino community, now 43 percent of Midland's total population of 136,000.
"Midland is one of the fastest growing towns in the country because of oil and gas," says Sanchez. "We led the state in job and wage growth in the third quarter of 2018. Regarding schools, we have 26,000 students of which 63 percent are Latino. We're attracting folks from around the world. As Latinos, we need to make sure that we're remembered. I'm particularly proud of a recent bond that passed to pave new roads in minority communities, finding a grant to bring water and septic tanks to the colonias, and keeping our libraries open."
The second oldest of five, Sanchez was born in Midland, but his parents were from Ojinaga in Chihuahua, Mexico. His father, Jesus, worked in the oil fields while his mother, Maria managed the household. He has fond memories of spending summers in Mexico with his grandparents, Ramon and Victar Sanchez, but his inspiration to pursue politics came from his local priest, Father Kelley, who encouraged his parishioners to vote and get involved in their community.
"When Father Kelley came to Midland, he said 'You don't have to live this way,' He told us about voting, how we had a voice," says Sanchez. "I thought how do I get into politics? When I applied for college I decided to choose political science as a major. I spoke Spanish so I thought I'd do a double major."
He graduated from Texas Tech University with a double degree in political science and Spanish and earned a master's degree in public administration leadership from The University of Texas of the Permian Basin (UTPB). But his roots in Midland run deep and before entering politics, he was a Spanish teacher at the same high school he attended. Today, he still lives in the same neighborhood he grew up in, near his tight-knit family.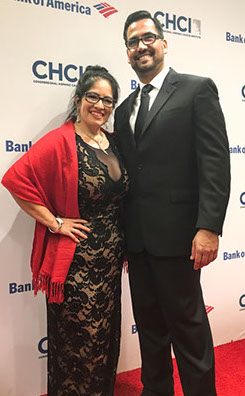 But Midland is changing fast because of the massive energy boom, and at night the lights of countless oil wells illuminate the horizon. According to Sanchez, the possibilities are limitless, particularly for Latinos . "There's so much work to be done, " says Sanchez, " whether it's blue collar or white collar, for construction workers, engineers, accountants and many others. This is the center of the energy industry and for Latinos, it's a great opportunity to work in oil and gas or start a businesses that can benefit from the activity that oil and gas brings to the region. The need is there."
Sanchez notes that since this growth benefits the entire community, Latinos should try to have an impact on economic infrastructure. Entrepreneurs have thrived not just in the energy industry itself, but in other business sectors, such as building new hotels to house workers, or starting restaurants to feed them. "We even have food trucks, like in Austin," he laughs. "There didn't used to be any but now there are!"
Abraham Gutierrez moved with his family to Midland in 1979. After graduating from the University of Texas at El Paso (UTEP), he later returned to his hometown in 2002 to establish his business as the first Latino State Farm insurance agent in Midland. Meanwhile his wife, Evette, found work in the booming energy industry with XTO Energy an ExxonMobil Subsidiary. He was also one of a group of Latino leaders who recruited Sanchez to run for office.
"We were impressed with Luis' character, strong work ethic, and trustworthiness," asserts Gutierrez. "He's not afraid to speak his mind, but he's thoughtful. He knows he doesn't have all the answers, so he asks questions. He has opened up many opportunities for other Latinos."
Sanchez notes that Latinos need to educate themselves and engage with the energy industry to take advantage of these opportunities. He encourages young people to study at local colleges such as his alma mater Midland College, Odessa College, and his other alma mater, UTPB, which offers courses in petroleum engineering. The energy boom has also created opportunities for teachers like himself, and Sanchez cites a full-ride scholarship offered by UTPB and the Odessa Education Foundation. "We need our teachers to stay in the Permian Basin, where they are needed," he says.
Not only has Sanchez worked to improve opportunities in Midland, he has also contributed to improving the quality of life for his community as a board member and former president of the city's first Latino cultural center. The Hispanic Cultural Center of Midland began in 1997 as an effort to preserve Hispanic art and culture, namely through dance and music. Founders Norma Chavez and Mozella Garcia organized a ballet folklorico group, eventually hiring Charlene Romero McBride as an instructor in 2001—she also happened to be the campaign manager for Morales, and worked on the Sanchez campaign with campaign manager Lydia Evaro Madrigal. McBride has remained with the center since then and today serves as its executive director.
"The cultural center has opened a lot of doors," says McBride. "We perform all over Midland, we're invited to a lot of events. It's really been one of the more popular Hispanic organizations to present the culture and traditions of Hispanics."
Initially, the organization was maintained by the founders, traveling from house to house. During his tenure on the board of directors, Sanchez made an effort to change that.
"We identified an old building owned by the city, known as the women's club," he says. "We got the city to lease it to us for 50 years. We put in flooring for the folklorico group to practice and brought it up to where kids can go in there. We've also expanded arts instruction to include mariachi, guitar, and flamenco. For kids who are part of the center, we help them out with homework."
Indeed, the center has flourished so much that it's suffering growing pains. McBride says that the next challenge will be to launch a capital campaign to find the funds to expand. While the center has leased the building from the city, it's run by a 501(C) (3) nonprofit organization The Hispanic Cultural Center of Midland, Inc. and must raise funds for its operating expenses. "We have a strong board, and some of our founders are still on board. We operate through grants, fund raising events and donations and intend to keep it that way for a long time," says McBride.
As Tall City grows in the Energy Renaissance, Sanchez will continue to support the Hispanic Cultural Center of Midland as well as Precinct 3. He credits his ability to listen for his success so far. "If people trust you, there are many things you can do," he says. "I don't promise, things. Instead, I can give answers to see what we need to do to get you what you need. I do what I do as commissioner because we're doing good things for Midland."
By Valerie Menard