In an art world obsessed with youth and novelty, Carmen Herrera is proof that perseverance pays off. The Cuban American painter perfected her craft for sixty years, largely unrecognized by the art establishment, sold her first painting when she was 89 and had her first solo museum exhibition in her nineties.
Now 101-years-old and still working most days in her New York studio, Herrera is the focus of a major exhibition at the Whitney Museum of American Art. Her advice to young artists: "Paciencia, querida, paciencia!"
Herrera was born in Havana in 1915 and emigrated to New York in 1939 after meeting and marrying her husband, Jesse Loewenthal. Herrera enrolled briefly at the Art Students League before the couple moved to Paris from 1948 to 1953. During that European sojourn, Herrera developed her signature style of hard-edge abstraction with clean lines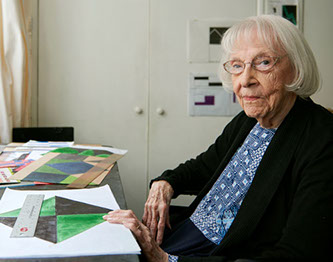 and a reduced palette. In postwar Paris, she exhibited with other abstract artists, including such prominent painters as Josef Albers and Piet Mondrian, as well as a younger generation of Latin American artists, including members of the Venezuelan Los Disidentes, Brazilian Concretists and the Argentine Grupo Madi.
Upon returning to New York, however, Herrera encountered a less-than-welcoming art scene. Abstract Expressionism was all the rage, and Herrera bore the double onus of being both a woman and a Latina. "I was liberated by being ignored. I was free to do as I wish," she says. "Frankly, it by no means bothered me" that much.
Herrera's resurgence in the past decade aligns with a renewed interest among institutions and collectors in Latin American abstraction. The Cuban American artist is being retroactively afforded her place within art history. When the Whitney moved to its new Renzo Piano-designed building in New York's meatpacking district in 2015, Herrera was featured in its inaugural exhibition, America Is Hard to See. Now, she is being feted there with a major solo exhibition.
Dana Miller, who was among the team of curators that organized the exhibition, was also responsible for bringing Herrera's work into the Whitney's collection for the first time with the acquisition of "Blanco y Verde" (1959). "The more I saw of her work, the more groundbreaking it seemed," she says. Miller followed up on that recognition and curated Lines of Sight, which features 55 works created between 1948 and 1979, when Herrera developed the geometric hard-edged style that she has retained to this day, employing a palette of just two or three colors for each composition.
The exhibition begins with early works when she developed the visual language that she would explore with great nuance for the succeeding five decades. Many of these works have never been displayed before in a museum. The centerpiece is a selection from what Herrera considers her most important series: "Blanco y Verde." These works are grouped in their own gallery to show how Herrera conceptualized her paintings as objects, both using the physical structure of the canvas as a compositional tool and incorporating the surrounding gallery wall. The final section is works from the 1960s and 70s, showing Herrera's continued experimentation with figure/ground relationships. The latest works on display are seven paintings from her "Days of the Week" series.
In addition to paintings, Herrera's exhibition includes several sculptural works, which Herrera refers to as "Estructuras." These works, alongside her drawings, illustrate how many of Herrera's two-dimensional works began with a three-dimensional concept.
Edward J. Sullivan, a professor at New York University's Institute of Fine Arts, who also contributed to the bilingual catalog accompanying Carmen Herrera's exhibition, has noted that "those of us with a passion for either geometric art or Latin American Modernist painting now realize what a pivotal role" she has played in "the development of geometric abstraction in the Americas."
Carmen Herrera: Lines of Sight is on view at the Whitney Museum of American Art in New York City from September 16, 2016 until January 2, 2017.
John Coppola