As Chairman of the Mortgage Bankers Association, I travel the country to meet with people and work together to help solve the largest issues regarding finding financing to buy a home. From my conversations with Hispanic Americans, it's clear that they are passionate about creating a better future for their families and strengthening their communities.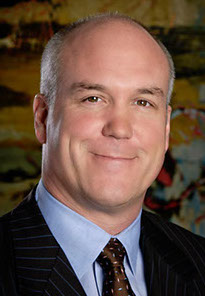 I'm proud to say that Detroit-based Quicken Loans, where I am honored to be CEO, is an advocate for the Hispanic community, which is rooted in the millions of Hispanic clients we serve.
At Quicken Loans, we work hard to create a diverse environment where our team members know their voices are heard and they see first-hand how they can impact the outcome. We believe the best ideas come forward when businesses create an atmosphere that embraces diverse perspectives and challenges the status quo. This belief led to Quicken Loans being named among America's best workplaces for diversity by FORTUNE Magazine.
Our company was founded more than 30 years ago by an emerging entrepreneur, Dan Gilbert, who had a vision to change the way Americans financed their homes. Flash forward to today, the company is now the second largest retail mortgage lender in the United States and has more than 15,000 team members across the country, all working with a passion for innovation and delivering quality client service.
From the beginning, one of our primary business philosophies has been to embrace diversity in thought, background and ethnicity both inside and outside our walls. Having a diverse group of team members working for us is a critical part, but it's also important to make sure we deliver diverse options to our clients.
We're well aware that the largest and fastest growing demographic in the housing market is represented by Hispanic Americans. The rising influence of Hispanics in real estate, both as a profession and as home buyers, has certainly become a driving force in our industry.
The 2015 U.S. Census Estimate revealed that the Hispanic population is continuing to grow with more than 55 million people total, accounting for more than 17 percent of the U.S. population at the time. This estimate also found that the Hispanic homeownership rate averaged nearly 46 percent.
In a study released late last year, the 'State of Hispanic Ownership Report' estimated that Hispanics will account for 52 percent of all new homeowners by the year 2030.
By these statistics, it is clear homeownership is important to Hispanic Americans.
Quicken Loans is committed to providing a world-class home financing experience to make the dream of homeownership a reality for all. Our company has been fortunate to grow and train our workforce to have advanced bilingual capabilities that include an end-to-end Spanish-speaking experience – without translators – to give clients the option to conduct business in their preferred language.
In addition to having bilingual team members to support the client experience at every stage of the process - from mortgage origination to client relations, through loan servicing - we provide complimentary document translation (bank statements, letters, etc.,) for our underwriting process. We even have in-process documents translated into Spanish to help provide clarity to those who are more comfortable interacting in Spanish.
We are also a major supporter of the National Association of Hispanic Real Estate Professionals (NAHREP). Quicken Loans actively participates on its Corporate Board of Governors and the "Translation Committee," a team that is working on a Spanish-to-English glossary of real estate and mortgage finance terms to be used throughout the industry.
From an industry standpoint, we're very active on Capitol Hill, advocating for policies that will help expand credit access to Hispanic homeowners. Issues such as credit scoring methodologies, alternative underwriting and ability to repay criteria have the potential to be more adaptive to the cultural norms of Hispanic clients. Breaking down these barriers will lead to broader availability of credit at more competitive rates. A mortgage system that allows Hispanic clients to remain "credit invisible," is not a system providing service worthy for this rising demographic.
Likewise, innovations in efficient and effective homeownership counseling is something we're perpetually evaluating to make sure Hispanic clients fully understand the financial commitment they're making upfront. We're always working on our communications and processes to ensure they are clear and transparent. We are committed to helping each client and providing them with options to meet their financial goals.
It's crucial that we remain steadfast in searching for new ways to meet the needs of this important client segment and we will continue engaging in partnerships with community advocates and other advisors. While our industry has made great strides, we will not be complacent in our efforts to learn in ways we can improve and better serve our clients.
Homeownership is a fundamental part of the American Dream. It is how our fellow citizens support their families and gain a sense of community. It is our responsibility to provide clients from every background with a greater sense of confidence as they take the steps to gaining their piece in a bright and prosperous future.
Bill Emerson is the CEO of Quicken Loans.