The thematic schemes of many-storied Latin American music traditions, from Afro-Cuban and nueva canción to Argentine tango and the boleros of Mexico, are so imposing that they beg an ambitious, oversized approach. Several current releases by a diverse array of artists underscore that premise and deliver the kind of scintillating results that are only possible when a large, versatile ensemble of extraordinary musicianship is at hand.
 Canto América (Patois Records) is the brainchild of trombonist Wayne Wallace and percussionist Michael Spiro,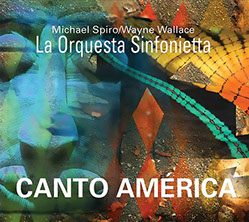 two longtime leaders of the Bay Area's fervent Latin music scene. A 47-member group they dubbed La Orquesta Sinfonietta is used to create a lavish survey of tropical styles that have long percolated in the Caribbean Basin but have seldom been treated to such a lush interpretation. The extensive use of string instruments – violins, violas and celli – give the nine-track program an uncommon orchestral heft. The earthy essence of folkloric Afro-Cuban rhythms and chanting adds a gritty undercurrent that keeps the session grounded in hallowed traditions. A standout performance is "Stardust," a nine decade-old standard that is transformed into a lovely Cuban danzón – elegant and airy. "Afro Blue," another standard, toys with a salsa-and-strings vibe before morphing into a swirl of Yoruba invocations. Simply put, Canto América is a certified masterpiece – one of the most aurally-arresting and culturally-distinctive recordings in recent memory.
Victor Rendón has been a loyal flag-carrier of the tropical music movement since he was a student at the University of North Texas four decades ago. Moving to New York City, he quickly became an in-demand percussionist for many elite groups. As a leader, he produced a series of excellent albums, showcasing his talents as a timbalero, arranger and composer. With True Flight (Tortilla Flat Music), Rendón and his 20-piece Bronx Conexión Latin-Jazz Big Band deliver what is by far his most accomplished and appealing session yet. Highlights are many on this nine-track affair, which ranges in stylistic orientation from seething mambos that recall the days of Puente and Machito to tunes with a Pan-Caribbean flavor, including Bob Marley's "No Woman, No Cry," sung by Trinidad native Cascadu. Rendón's self-penned "Café sin Leche" is a swaggering modern mambo classic, while the band's cover of Carlos Santana's "Europa," popularized by the late saxophonist Gato Barbieri, is nostalgic, haunting and, like the rest of the album, totally captivating.
Another release that tests the outer limits of creativity is pianist, composer and arranger Hector Martignon's The Big Band Theory (zoho music). A native of Colombia who has called New York City home for many years, Martignon is equally well versed in classical, Latin, jazz and folkloric traditions and is adept at blending all of these disparate influences into harmonically-dense and rhythmically-complex hybrids. Flowing from one point of reference to the next with little concern for what stylistic border is being crossed, this multifaceted musician's range of expression is particularly evident on J.S. Bach's "Erbarme Dich." A standard of European sacred music, Martignon's version features alto Brenda Feliciano's operatic reading and a loose-jointed rhythmic underpinning that begins in an upper class Cuban salon before migrating to a modern dance club via the leader's montuno and a salvo of salsa-flavored horns. Another triumph is "Nostalgias del Futuro." Written for Colombian arpa llanera maestro Edgar Castañeda, it celebrates the region's robust joropo rhythm with classical, avant-garde orchestrations, and the pulse of a cajón all adding luster to Martignon's imperial vision.
In the case of Latin American Songbook (Sunnyside), it's the program, not the ensemble, that's grand in scale. Venezuela-born pianist Edward Simon and two cohorts – drummer Adam Cruz and bassist Joe Martin – showcase seven works that rank among the most iconic songs of the hemisphere. While the trio's approach is respectful, it never falls into the trap of rendering overly straightforward takes. On such revered works as Violeta Para's emotive "Gracias a la Vida" and Rafael Hernandez's "Capullito," Simon probes the veneer of beloved melodies to reveal an inner soul and rhythmic and harmonic textures hitherto unrealized. Simon is widely regarded as one of the most cerebral pianists of the day – a reputation he affirms on this charming outing.
By Mark Holston