We are almost there. With the Republican and Democratic National Conventions in the rearview mirror, we enter the last leg of one of the most polarizing U.S. presidential election campaigns in history. And Latino celebrities are just as divided.
While the Republicans presented a smattering of Hollywood C-List talent, the Democratic Convention was replete with superstar performances by Katy Perry and Alicia Keys, and included a roster of A-List celebrities on par with some of Hollywood's finest awards shows.
The impressive list of Latino celebrities at the Democratic National Convention in Philadelphia was the largest to date. In attendance were Eva Longoria (Desperate Housewives) and America Ferrera (Superstore), who spoke while Wilson Cruz and La India and other performers lent their singing talents. Director Robert Rodriguez offered a video that presented a literal who's who of Latino talent.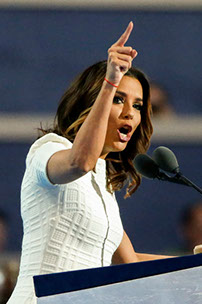 Attracting any A-list celebrities to the Republican National Convention (much less Latinos) proved to be more difficult. There was Scott Baio, "Chachi" of Happy Days fame; underwear model Antonio Sabato, Jr.(often thought to be Latino, though he's Italian); and a rogue's gallery of former reality TV stars.
One of them was Rachel Campos Duffy, from 1994's The Real World: San Francisco, who talked about her family coming from Mexico. She came in a package deal, taking the stage with her husband, Rep. Sean Duffy (Real Life: Boston). Fittingly, they met on a reality show that teamed cast members from each of their shows, and now have eight children. Campos Duffy continues to seek a way back onto TV, having auditioned three times for a slot as a host on The View. The last time was when Rosie Perez got the seat.
This was the extent of GOP glam in Cleveland.
It can hardly come as a surprise, given Trump's declaration at the start of his campaign that Mexicans are "rapists," and his threats to build a "big, beautiful " wall on the Mexican border, and deport 11 million undocumented workers, which he has refused to apologize for, or even back away from.
One of the few publically declared Latino Republicans in Hollywood is comedian Paul Rodriguez. Rodriguez defected from the Democratic Party in 2009 because of its lack of interest in helping drought-stricken farmers in California. He embraced his new party and was very vocal criticizing Obama and taking a very conservative stance against immigration on CNN with Don Lemon. It would seem he would have been the perfect person for the Trump's camp to enlist, although he is not as high profile as Longoria or Ferrera. But to date, it is unknown where he stands on Trump's presidential and he has not publicly supported or endorsed Trump.
Charlie Sheen (Two and a Half Men) did make a quasi-endorsement for Trump, after changing his original stance from last February, when he tweeted the #AnyoneButTrump hashtag. He later announced he would like to be considered for Trump's VP. However, it does not seem he was asked to attend the RNC, and at this point it's uncertain where Sheen stands on Trump's endorsement, since he was obviously overlooked for the VP slot in favor of Indiana Gov.Mike Pence, who while not a celebrity, looks like a bad guy in a Bond flick.
One of the most enthusiastic Latino Trump supporters, although not your typical Hollywood star, is Mexican and has
fans…MMA fans. Tito Ortiz, UFC Hall of Famer and current Bellator fighter, has publicly endorsed the GOP presidential nominee. He attended Trump's rally in Anaheim holding up a sign that read "Hillary Clinton Killed My Friends," and very loudly joining in on the chant "Build that Wall!"
Where is the support from the other known Republican Latino celebrities? Maybe Trump should have had more Latinos besides Geraldo Rivera on The Apprentice. It's curious that even Rivera, who is said to be friends with Trump, has not endorsed him. We have yet to hear from alleged Republicans Maria Conchita Alonso, Erik Estrada, Andy Garcia, Raquel Welch, Freddie Prinze Jr., Jon Secada, Jose Feliciano, singer Jaci Velasquez (who did sing at the 2004 GOP convention), Eduardo Verastegui, and Veronica Castro.
Gloria Estefan and Emilio Estefan, who have identified as Republican in the past, this time around have spoken out against Trump's racism, and produced the "We're All Mexican" protest music video in response to Trump's hateful statements. Another fervent anti-Trumpster (and Bernie Sanders supporter) is George Lopez, who has used his comedic wit and social media clout to attack Trump and his bigotry.
There have been a few false accusations, one of those being against Extra host Mario Lopez. Lopez interviewed Trump this past May and then proceeded to take a selfie with him, which he then posted on his Twitter account. As appearances in Hollywood being everything, Lopez got attacked on social media and vilified for being a Trump supporter. But thanks to his on the job training on Extra dealing with rumors, he was able to deflect the criticism and was soon exonerated.
Soon, there was another possible sighting. On July 22, TMZ happened upon another possible Trump supporter at the Los Angeles airport. A TMZ reporter, as they are skilled at doing, cornered actor Esai Morales, last seen on HBO's The Brink where he played the president of the United States, running to catch his flight. When asked by the stalking TMZ cameraman, "You a Trump fan or not?" Morales answered, "You know, not initially, but because of his stance on vaccines, I'm taking another look." And although he directly responded to the next TMZ question, "So are you endorsing Trump?" with an emphatic "No, not yet," the rumor mill was on. When TMZ ran the clip on TV, it was enough to send his disbelieving fans into a state of depression.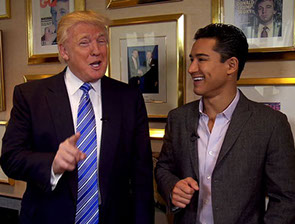 I reached out to Esai, because I needed to hear from him personally, that no, this allegation was false. He thankfully clarified the issue, "No, I'm not supporting Trump but I have serious issues with both major party candidates and am dismayed at the manipulation and complicity in the media yet again corralling into a lesser of two evils compromise." A sentiment shared by many Latinos in Hollywood, a large majority of them Bernie Sanders supporters.
Rosario Dawson (Cesar Chavez) and Luis Guzman (Code Black) were among the most vocal celebrity supporters of Bernie Sanders along with others. Dawson, who is the Co-Founder and Chairwoman of Voto Latino, a civic media organization focused on promoting change through getting the vote out, pushed hard for Sanders. Her outspoken stance for Bernie Sanders went as far as to question labor leader and human rights activist Dolores Huerta's legacy. Was this why she was a no-show in Philly?
Guzman also took to challenging Hillary supporters on social media passionately supporting Sanders and his ideas. To this date, although Sanders has lost the nomination, many of these staunch Sanders supporters have yet to endorse Hillary, leading to much speculation on whom they will vote for.
However, unity among Latinos in Hollywood was in full force this past February when an open letter was released in partnership with People for the American Way (PFAW) urging Latinos to stand up to the hard-line approach to immigration some candidates in the GOP field were taking. Among the Hollywood heavy-hitters who lent their support were Benjamin Bratt, Ivonne Coll, America Ferrera, George Lopez, Judy Reyes, Yancey Arias, Raul Castillo, Wilson Cruz, Zoe Saldana, Carlos Santana, and PFAW board member Dolores Huerta.
But just how effective are Latino celebrities at delivering the vote? And just how much power will Latinos wield this election year regardless of who helps get the vote out?
Sadly, will some Latinos stay home and not vote because they are feeling the system let them down. And how important is a celebrity endorsement and how does it affect the regular Joe's (or Juan's) decision on who to vote for?
Well, it may be not more than raising awareness and a matter of their presence adding to the feeling of inclusion for Latinos. Just to see Latinos speaking at the political conventions, being part of the election media blitz, watching an actor play the president of the United States on TV or watching America Ferrera having her say on Real Time With Bill Maher is empowering, because we know we are part of the fabric of this country and that our voice matters.
Bel Hernandez