Rooted in tradicion Mexicana and infused with Texas food culture, tacos can be eaten all across the Lone Star State. And in Texas, there are plenty of tacos for everyone, from puffy tacos in San Antonio to trompo tacos in Dallas, breakfast tacos in Austin, carnitas tacos in El Paso, fish tacos in Corpus Christi, and barbacoa in the Rio Grande Valley.
Covering the traditional to the modern, this story is about Texans' love for tacos. We've been behind the scenes with the trailers, stands, trucks, taqueros, home cooks, families, and even some ranchos. We tell the stories, share the traditions, and identify the iconic tacos from all over the state.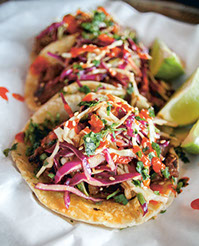 As a kid in El Paso, a.k.a. El Chuco, I grew up with fresh flour tortillas. But I also enjoyed corn tortillas with my caldos, discadas, and carnitas. The tortilla choice depends on what you're having. I usually like my pork--carnitas, al pastor, chicharrones with corn, and breakfast tacos--with flour. I also go flour with red meats like chile colorado, machacado, or carne deshebrada.
That reminds me of the time when we were kids, cue song, "alla en el rancho grande, alla donde viviaaa!" On special occasions, Tío Santiago would invite la familia y la chusma to his rancho para matar un marrano. Yeah, the family and the riffraff would get together to slaughter a pig--it's a family tradition. I remember the moment of the squeal, the cutting up of la panza, the cleaning out of las tripas, and the strong smell of "rancho." I mostly watched except when I would sneak in to stir the pork rinds in their own fat in a giant cazo three times my size. (For the record, my tío would not allow anyone to touch or stir the chicharrónes.) I would bite into a few of those chicharrónes that still had some hair, but the crunchiness and fattiness wrapped up in a corn tortilla . . . yeah, that's rancho perfection. ...
I remember working at an "undisclosed" restaurant in Austin and they had a plate with one corn tortilla smothered with queso, accompanied by rice and beans. I was like, you call that a Mexican plate? Of course, I was wrong. You call that Tex-Mex! But then, this was the lowest of Tex-Mex places. Coming from a border town, I was used to real Mexican food (enchiladas in rich red sauce, gorditas, burritos, flautas, and chile, lots of it) and when I had my first plate of Tex-Mex, I really thought it was a watered-down version of Mexican food. As I ate my way through Austin and San Antonio and other parts of Texas, I began to appreciate and understand the sabores--the flavors--and the roots of Tex-Mex, from the queso to crispy beef tacos to the best thing this side of the Pecos, breakfast tacos. The main difference between Mexican and Tex-Mex is that one is rich in earth tones and sauces and the other is rich in queso. (See Robb Walsh's The Tex-Mex Cookbook for more on this subject.) The two cuisines are intertwined and both deserve a place on our tables.
Texas is not just cowboys and barbecue. Texas is tacos, Tejanos, Mexicans, immigrants, y más, all way before Texas was Texas. With the influx of different peoples and their cultures, all adding their own sabores to their taco-making ways, what you get is what I call the "New Americano," where culture meets tacos.
Founded in tradition and fused con creativity, the New Americano captures the evolution of the taco. Take a fresh tortilla, cilantro, onions, salsa, and match those up with Korean bbq, fried oysters, or portabella mushrooms and you're going to get pretty tasty tacos coming from muchos mundos. Cooks and chefs are experimenting with tacos in whole new ways, and some are going back to the basics like the Farm to Table movement, where you can get locally sourced carnes, huevos, and vegetables--y paz y zaz, you got a muy organico taco! It really is exciting to try new tacos and you'll get a taste of these en el book. The Tacos of Texas shows just how much these foods have influenced what Texas is today. ...
While doing our very important research, we discovered and rediscovered different parts of Texas, all in the name of tacos. From West Texas to the Gulf Coast, if people were making tacos, we were there to eat them. No tacos were left untouched. And, yes, Texas does have a ton of taco options, and as we drove thousands of miles for The Tacos of Texas, we found that each region has different flavors and styles. Here's a sampling . . .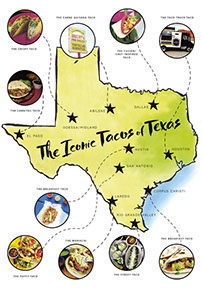 West Texas--carnitas tacos, taqueria-style (or "street") tacos, and asados made with rich tones of red and green chiles influenced by Mexico and New Mexico.
South Texas--giant breakfast tacos, or "mariachis" as they call them in Laredo. Taqueria-style and barbacoa tacos in the Rio Grande Valley. (Barbacoa is a weekend ritual down there.) And, of course, San Antonio is the king of the puffy taco, barbacoa, and Big Red and a solid breakfast taco town as well.
Central Texas--Austin loves their breakfast tacos and Tex-Mex variety. Nothing goes better with tacos than some Velveeta-y melt-y queso. Fusion also defines the Austin scene, and they are expanding the way that people are eating tacos, one taco trailer at a time.
North Texas--Dallas–Fort Worth is the home of Tex-Mex institutions. Gas station tacos, chef-inspired tacos, and newcomers from Monterrey, among others (trompo and al pastor), bring in a big mix to the North Texas scene.
Gulf Coast--Corpus Christi has great breakfast tacos, but the fish tacos are amazing, too. Houston packs a big variety, from al pastor to bistec, with their taco truck scene.
El Taquero en Jefe
I was pretty much born with a tortilla in my hand. As far as I can recall, I've been eating tacos since forever. I remember just hanging around the kitchen at home while my mom, my tías, and my abuelita would cook up the most amazing food this side of the Pecos. (Yes, I am from El Paso, Texas. I'm a West Texas boy, not gonna deny it.) We would wake up to the smell of fresh, powdery flour tortillas. Just add butter and rajas de jalapeño con cebollitas. Now that'll get you going in the mornin'.
Growing up, I was more of an observer and a taster in the kitchen; yeah, I would taste a lot of the food. I was lucky coming from a Mexican family--there were plenty of people cooking up a storm. To be honest, I didn't really get into cooking and food until later in life. I stuck to the basics: chiles, beans, tacos, enchiladas, tortillas, and the 2-for-99-cents mystery meat tacos with that square American cheese on it. But I've evolved. Now I'm in my Golden Age of Cooking Super-Terrific Tacos stage. I love to cook all kinds of tacos, salsas, carnes, and even veggie-friendly dishes for my wife, Ixchel, and gluten-free kids, Quetzal and Diego. They always want Daddy to cook, so who am I to say no?
So way before I struggled with writing books about food, my friend Sammy Armstrong asked me to give him my top cinco tacos for a blog. So I did, and man, did it get people hungry! Then my amigo El Jarod told me about this blog (TacoJournalism) that he started with Justin Bankston. He told me to come write with them because the blog was just a couple of white boys talking about tacos. Of course, I accepted and pretty much gave them the street cred they desperately needed. That was around 2007. Being the community guy that I am, I suggested that we host taco meet-ups and taco tours. We hit it big with the local media, and then one day, the New York Times called and we showed them the way of the taco. Our first book, Austin Breakfast Tacos: The Story of the Most Important Taco of the Day was a best seller (just ask my mom).
Today some people call me the Taco Whisperer. I've also been called the Taco King, and I've heard people say, "damn, that guy eats a lot of tacos!" That last one is la verdad. All in all, I'm no chef, I'm no historian, and I'm not a rapper either. I'm just a guy who loves tacos.
Excerpted from The Tacos of Texas (copyright © 2016 by Mando Rayo and Jarod Neece with photos by Marco Torres), published by the University of Texas Press.