If more people really thought about how much their digestive systems do for them every day, they might be more inclined to take better care of their digestive health. Your digestive system has a huge job - it breaks down the foods that you eat in order to make nutrients and energy available to the body, and it is responsible for steering unwanted waste out of the body, too. On top of that, your digestive tract is a key player in immunity – the cells lining your digestive tract help protect your body against bacterial and viral invaders that could make you sick.
And, your brain and your digestive tract are in constant communication with one another. An incredible amount of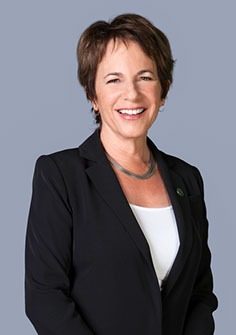 information travels between your gut and your brain – so much so, that the nervous system that resides in your digestive tract is often called the body's "second brain." This system alerts the "first brain" if you've eaten something you shouldn't have, and also keeps tabs on your hunger level and your mood.
And yet, many people abuse their digestive system – by filling it with highly processed foods, or eating too much, or eating too fast – and pay little attention to it until something goes wrong.
In the most general sense, what you eat and the way you live your life influences the health of your digestive system. A nutrient-rich, balanced diet helps to nourish all of your body's cells, including those in your digestive tract. Fiber, fluids and regular exercise all help to keep you regular, and taking care of your "second brain" by keeping your stress levels in check can also help to promote digestive health.
Perhaps one of the most important dietary components for digestive health is adequate dietary fiber, insoluble and soluble fiber – both of which contribute to digestive health, but in different ways.
Insoluble fiber – sometimes called "roughage" - isn't broken down by the body but it absorbs water, which adds bulk. This type of fiber - found in vegetables, bran and most whole grains - helps to speed the passage of waste through your digestive system, which helps keep you regular.
Soluble fiber– found in foods like apples, oranges, oats, barley and beans – thickens and swells up when it comes in contact with liquid. So, when you eat these foods, they swell up in the watery environment of your stomach and help to fill you up. But another important feature of soluble fiber is that it functions as a prebiotic – which means that it encourages the growth of the good bacteria in your digestive tract.
You can also introduce beneficial bacteria into your system directly – in the form of probiotics found in certain foods. Fermented foods such as yogurt and kefir, pickles and sauerkraut, miso paste and olives are all natural sources of beneficial bacteria.

Regular exercise also supports digestive health in a couple of ways. As your muscles contract and your breath deepens during activity, the natural contractions of your intestinal muscles are stimulated, too, which helps to move food through your system. Exercise is also a well-known stress reducer, so it can help reduce digestive upsets that can occur in response to negative emotions.
The diet and lifestyle steps you take to keep yourself healthy are the same ones that promote digestive health, too. A diet that includes plenty of fiber from colorful fruits and vegetables and whole grains, adequate hydration, and regular exercise are all key factors. And take time to enjoy your meals – you'll be more relaxed, and less likely to overeat, too.
By Susan Bowerman, MS, RD, CSSD, CSOWM, FAND
Let's just say it. "There's no greater American made product than Latinos!" Microphone drops. As a Mexican American entrepreneur, born and raised in Topeka, Kansas, I am a product of my environment and my experiences. My success has always been America's success. Latinos today are 55 million strong and are consumers, entrepreneurs, workers, and are driving America's growth. In fact, U.S. Latinos are the world's 7th biggest economy according to the latest report by the Latino Donor Collaborative. I would argue that investing in building in the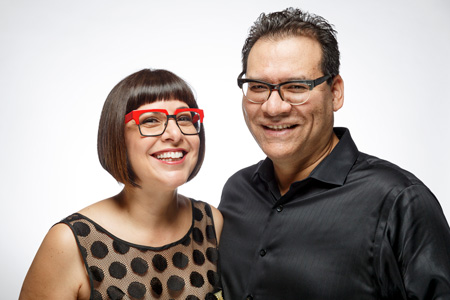 success of American Latinos is a sure bet!
Yet, when many think of Latinos in the U.S., familiar attributes surface such as – family-oriented, culturally proud, and brand loyal to name a few. The haters would add nonsensical stereotypes such as a drain on society, criminals, uneducated, and undocumented, etc.
So why is the Latino narrative missing traits such as successful, entrepreneurial, pioneering, or wealth creating? Why is America's best-kept secret, that of Latino success vital to the nation's prosperity and future growth?
For 12 years as an executive at NCLR (now UnidosUS) and another 14 years, partnering with my wife, Sarah Ruiz Chavez, in building an experiential company INGEÑUITY (formerly LatinPointe), we have heard first hand, amazing stories of success in the Latino community. Through our past productions of acclaimed TV specials, awards shows, galas and conferences, we have always been within earshot of the "rags to riches," and "against all odds," personal testimonials of perseverance and excellence. We knew these stories had the power to inspire, educate and to motivate.
Actress America Ferrera said upon her acceptance of the Chevy Entertainer of the Year at the 2008 ALMA Awards, "As a young girl growing up in the San Fernando Valley, I used to watch the Awards from home. It was then, watching Latina entertainers stand on this stage, accept these awards, that I decided it was a possibility for me too."
Latino success stories are universal, and should be shared beyond the immediate audience. We began to take note of how content is being delivered to critical masses through live events (lecture series, conventions, corporate meetings, etc.), as well who is delivering the message. National motivational tours across the U.S. annually featured past Presidents, military generals, champion athletes and renowned CEO's that filled arenas. People of color and women speakers were lacking and Latinos were nonexistent as featured speakers. Where are Latino equivalents to motivators Tony Robbins, Jim Rohn or the late great Zig Ziglar to inspire, give insight and share wisdom?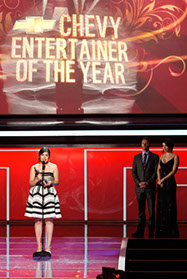 In fact, there is no shortage of great American Latino stories of achievement – Sol Trujillo, the first U.S.-born Hispanic CEO of a Fortune 200 company; Anthony Muñoz, the only Latino professional football player in the NFL Hall of Fame; Cristela Alonzo, the first Latina to create, produce and star in a network TV sitcom Cristela; and Richard Montañez, the Frito-Lay janitor who created Flamin Hot Cheetos. Their success is a product of the American "can do spirit."
The truth is we have hundreds of Latino influencers, innovators, and disrupters; but collectively we have been missing a national platform to showcase their transformative stories of passion, perspective and triumph.
Next month our agency INGEÑUITY will bring speaker and story together with the launch of Success Stories Live! Speakers, Conferences, and Tours. The initiative is designed to be a one-stop-shop of storytellers, digital content, and live event production, combined to share extraordinary contributions and compelling stories of achievement in pursuit of The American Dream.
Armed with a robust speaking roster of the most trusted, entertaining and influential voices --entrepreneurs, authors, celebrities, journalists, business & corporate trailblazers, renowned athletes, educators, community and healthcare pioneers – we are ready to shape our narrative as wealth creators, power brokers, and trendsetters. Ensuring that Latino voices are leading the conversation, we are creating a portfolio of new and timely, content-driven motivational and educational symposia – national tours, conferences, panels, forums, debates, lecture series, and town halls.
Collectively with speakers and stories, we can reach beyond Latinos talking to Latinos, to set the table for high-level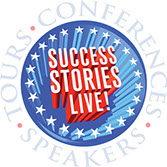 diversity engagement in defining and debating America's vision in technology and innovation, women empowerment, and entrepreneurship.
If 52% of the U.S. Hispanic population is under 30, according to the U.S. Census, it's paramount that today's super-achievers share knowledge, experiences, and lessons learned as a catalyst for the personal development and professional growth of millennial generation.
With the current debate on who and what is American, there may be no greater time than now to elevate and amplify Latino success in America. Our nation needs our voices, our contributions, and our success. Now is the time to rebrand Latinos not unlike a finely tuned machine -- built with the aspirational American Spirit and 100% Made en America!
David V. Chavez is CEO of INGEÑUITY and is Co-Founder of Success Stories Live!