For the growing number of Hispanic journalists covering Trump's White House, "unconventional" is the most common word bandied around, simply because Donald Trump was an unconventional candidate and has proven to be an unconventional president.
"This is most definitely an unconventional administration," says Lori Montenegro, who has been covering the White House for Telemundo for more than 20 years, "from the volume of news alone that is coming from here. What makes it difficult to cover is hearing one thing from the president and what he's tweeting, and hearing something else from advisors and from the podium during the press briefings. It's incredible how many times at 5 o'clock you have to add stories to change stories, or the angle totally changes. For us in television that's a lot of pressure because we usually go on at 6:30 pm. It's much harder to cover than other administrations as you're trying to find out what are the facts from everything that you have heard, and we want to be sure at Telemundo that we are fair. The dynamic is totally different than in the past."
Unconventional doesn't even begin to describe the almost surreal relationship the president and some of his staff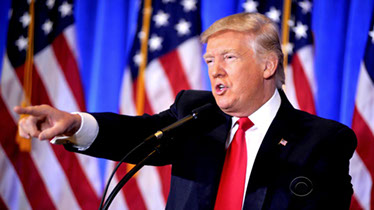 have with some members of the media, in particular CNN's Jim Acosta, going back to the presidential campaign. At a nationally televised news conference in May 2016 at Trump Tower, the candidate repeatedly interrupted Acosta, saying "Excuse me, excuse me, I've watched you on TV. You're a real beauty," when Acosta asked him whether he was able to deal with scrutiny. And it was Acosta who became the center of attention during the president-elect's first press conference on January 11 when the CNN White House correspondent tried to ask Trump a question regarding Russia. Trump instead talked over Acosta, calling on other reporters and accusing CNN of being "fake news."
Most recently, on August 2, Acosta got into a heated debate with White House senior advisor Stephen Miller over the Trump administration's support for the RAISE Act, a bill that would slash legal immigration numbers by 50% and change the country's employment-based visa system by limiting immigration to just certain family members and a set of new criteria, including knowledge of English and having pending offers of high-paying jobs. The 31-year-old Miller doubles as a speechwriter and penned Trump's grim, apocalyptic inauguration speech dubbed "American Carnage." Along with Steve Bannon, he is regarded as the architect of Trump's Muslim travel ban, and in February caused a ruckus when he said that "our opponents, the media, the whole world" would see that "the powers of the president to protect our country are very substantial and will not be questioned."
At the August press briefing, Acosta quoted part of Emma Lazarus' poem on the Statue of Liberty and asked whether the RAISE Act is in keeping with America's tradition of welcoming "huddled masses yearning to breathe free." Miller answered that the inscription was "added later" and not part of the original statue. Then Acosta asked him about Trump's pledge to build a border wall and how the new proposal would be a sweeping change to the immigration system. Miller retorted to the son of a Cuban immigrant: "Surely, Jim, you don't actually think that a wall affects green card policy? Do you really at CNN not know the difference between green card policy and illegal immigration?"
"Are we just going to bring in people from Great Britain and Australia?" replied Acosta, asking about Trump's plan to award points to green card recipients based on English proficiency, and wondering why they wouldn't learn English like so many immigrants have and continue to do so. His voice rising, Miller replied: "It reveals your cosmopolitan bias "Are we just going to bring in people from Great Britain and Australia?" replied Acosta, asking about Trump's plan to award points to green card recipients based on English proficiency, and wondering why they wouldn't learn English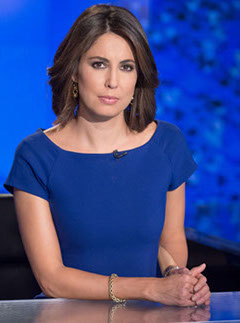 like so many immigrants have and continue to do so. His voice rising, Miller replied: "It reveals your cosmopolitan bias to a to a shocking degree... This is an amazing moment. That you think only people from Great Britain or Australia would know English is so insulting to millions of hard-working immigrants who do speak English from all over the world. Have you honestly never met an immigrant from another country who speaks English outside of Great Britain and Australia, is that your personal experience?"
The internet exploded over Miller's peculiar choice of words. Writing in Politico, Jeff Greenfield noted the term 'cosmoploitan' was a staple of Soviet anti-Semitic propaganda, and used by Stalin to describe dissidents. "[T]o label someone a 'cosmopolitian' carries with it a clear implication that there is someting less patriotic, less loyal...someone who is not a 'real American,'" said Greenfield.
Acosta has become a favorite punching bag for Trump supporters who believe the "fake news" moniker and think the White House press corps is up to no good, and his Twitter feed is filled with nasty and insulting comments. But CNN isn't the only outlet that has been in the crosshairs.
After Buzzfeed published a story earlier this year alleging that Trump's presidential campaign conspired with Russia and that the Kremlin has compromising information on him, the president called Buzzfeed a "failing pile of garbage." For Buzzfeed's first White House correspondent, Adrian Carrasquillo, it's all in a day's work. "My thing is that I want to be treated like all the other journalists in the room. So that was, you know, a little tough at the time, just because we were singled out, as well as CNN. But it didn't really change the way I do my job, the way I approach it. I talk to administration folks now every day. I'm in the White House briefing room every day. I raise my hand to ask questions every day," he told The Poynter Institute. "I think a lot of journalists in the room just figure: They don't have to be so nice all the time. Or if they're rude from time to time, it's fine. We're all adults in that room. We want to do our jobs. And as long as they're treating me the same way they do the other reporters in the room, I feel great about it."
Cecilia Vega, who this year was named Senior White House Correspondent for ABC News after a stint on the weekend newscast and following the Hillary Clinton campaign, calls her assignment "covering that big house in Washington." Vega has been called upon several times during the press briefings, asking on one occasion whether Trump "lied" when he said that a Boy Scout leader had called him to congratulate him on his controversial speech at the summer jamboree in West Virginia, and when he said Mexican president Enrique Peña Nieto telephoned to congratulate him on his immigration policy. "That is a bold accusation. I wouldn't say it was a lie. The conversations took place, they just simply didn't take place over a phone call," White House press secretary Sarah Huckabee Sanders told Vega and the other reporters assembled.
Another question Vega asked also made major news, when she asked about yet another controversial Trump speech, this one to law enforcement officers in suburban New York. Trump seemed to suggest that officers be "rough" with suspects, comments that were panned by police departments across the country. "Was he making a joke about police brutality," asked Vega, with Sanders answering, "Not at all. I think you guys are jumping and trying to make something out of nothing. He was simply making a comment, making a joke, it was nothing more than that."
Vega is also very active on Twitter, tweeting from the White House on a variety of topics, from keeping a count of the number of on-camera briefings to commenting on how former WHite House press secretary Sean Spicer told her he was feeling "relieved" to leave the White House. She is the only Hispanic reporter covering the White House for one of the major mainstream television networks.
For correspondent María Peña of the Los Angeles-based La Opinión newspaper – the country's largest Spanish-language daily – the attacks on the press and dismissive attitude are disconcerting: "I started saying I'm going to give Trump the benefit of the doubt because he is new to politics. But I am disappointed that he continues to attack the press and attack our work, and there is very little transparency to the way they handle things." Peña says the mixed messages make the role of White House correspondent all that more difficult. "They'll say something at the podium and then someone will come out, or the president will, and totally contradict what was said before, and that is frustrating," she tells LATINO. "We haven't had a lot of access to him. Like a lot of presidents he'll obviously chose outlets where he wants to air his complaints. It's a hostile environment and very hard to work in. Obama on the other hand wasn't necessarily media friendly, but I don't recall one single incident where he called us enemy of the people or fake news."
One of the major changes Latino journalists working for Spanish-language outlets have experienced since Trump came on board is the end of the Office of Specialty Media, which handled press inquiries for ethnic media. Helen Aguirre Ferré, the White House Director of Media Affairs, has said that all reporters should be treated equally and have the same kind of access. "Every administration has done it their way. I have to give Helen and her assistant Sofia Boza credit for always trying their best and for trying to get us interviews and get us information," says Telemundo's Montenegro, "but the difference I've noticed is that by this time in previous administrations we would have had maybe a roundtable with some Cabinet members or advisors. Maybe they're still trying to get their bearings, it's still early. We have access to Helen, but I want to see somebody pitching (us) the Secretary of Education, or Agriculture, or EPA, for example. I haven't seen one pitch yet from any agency or department offering us a Cabinet member or anyone under them. They have plenty of time to correct that and only time will tell if they will."
This is seconded by Peña: "Their talking point is that we are all Americans and there is no need to have someone dedicated to specialty media. At the [press] briefing unless there is a Latino in there, very rarely will you see a member of the mainstream media ask a question about many of the issues we cover. They don't go into the details that ethnic media goes to cover the community. There are specific issues that ethnic media covers than other media, and so yes, we need that person. We don't have the same access as mainstream media."
Peña adds that the lack of access is a major concern. "We deserve the same access as everyone else because we have the same issues, on top of the ones that directly affect our community. I think this lack of access belittles our work, it's like they're not taking us seriously. I will say at least we're getting our emails answered, but my overall concern is the lack of access to high ranking officials. Sometimes members of the mainstream press help us by asking the question when we don't get called on, but we do have to be there."
For Univisión's Janet Rodríguez, being there means being the first correspondent in the Spanish-language network's history to solely cover the White House – and this year for the first time ever, Univisión has been granted a permanent seat in the White House press room, the first and so far only Latino outlet to do so. "They realized that we're there, they're aware of our work, and that we are pressuring the White House just like any mainstream media. The administration knows that there is Latino media that is asking about everything, not just the "Latino" issues," Rodríguez tells LATINO. "The biggest challenge is getting called on because they may think all I'm going to ask about is immigration or another issue they're not looking at. The biggest challenge is having them look at us for issues beyond immigration, and letting them know that we will always be there regardless of whether it's a 'Latino' topic or not. We cover the White House just like the Washington Post or the New York Times and we try to be there for everything because our audience needs to be informed about everything. This is a historic moment to be a covering the White House and it's a big responsibility, and it's important to be there day after day so that the administration sees that we are serious about covering the issues and that they answer our questions. Despite the challenges I'm enjoying it."
Telemundo's Montenegro adds that it is indeed a lifetime opportunity to be at the White House: "I never thought I would be doing this. Every time I walk through the gate I remember my parents and I don't take that lightly. I worked hard for this and I know that people dream of this moment and never get to do it. As a Latina I am able to do this job to represent my community but at the same time be an example for young journalism students to say if she can do it, so can I. My parents came here with very little, but they came here where nothing is easy but everything is possible."
By Patricia Guadalupe