At GALA Hispanic Theatre in Washington, DC, we believe that language is a bridge. That's why our 42nd season focuses mostly on productions performed in Spanish with English surtitles, in order to promote inclusiveness while celebrating and honoring the Hispanic heritage. We will present the breadth and excellence of the Latino performing arts as we seek to reflect the community, respond to the economic and socio-political issues we face, and stimulate dialogue through the arts.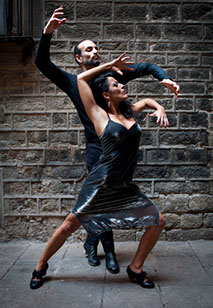 GALA kicks off the season Lenguaje sin fronteras with the world premiere of the commissioned adaptation by Nando López of Don Juan Tenorio by the Spanish Romantic writer José Zorilla, directed by Puerto Rican José Carrasquillo. From September 7 through October 1, the most infamous seducer of all time returns in a high-voltage, contemporary production about his vampiric impulses and redemption by love.
Playwright Nando López, author of the adaptation of the Helen Hayes Award-winning Yerma, has distilled the story to its essence while remaining true to the language of Zorilla. He has combined characters and made them more complex, incorporating features of those appearing in versions by Tirso de Molina, Moliere, and Da Ponte. In particular, the women are stronger and multi-faceted, and the young Doña Ines is ultimately Don Juan's salvation.
"In his new version," adds director Carrasquillo, "López highlights the sensual and seductive nature of Don Juan, turning his voracious sexual appetite into a primal need for living like a vampire in True Blood or Twilight. There also is a new discovery. The play ends with a feminist lesson: for Don Juan to attain redemption, he needs Doña Ines. And in those last moments of the drama, her voice is an early feminist manifesto."
Featured in the cast are guest artist Iker Lastra from Madrid, who appeared at GALA in Yerma and was nominated for a 2016 Helen Hayes Award for Outstanding Supporting Actor in a Play; GALA company members Luz Nicolás (Spain, nominated for a 2016 Helen Hayes Award for Outstanding Supporting Actress for Yerma), Manolo Santalla (Cuba), Carlos Castillo (Venezuela, nominated for a 2000 Helen Hayes Award for Outstanding Supporting Actor for El burlador de Sevilla), and Inés Domínguez del Corral (Colombia); Synetic Theater company member Peter Pereyra (Paraguay, 2012 Helen Hayes Award for Outstanding Ensemble for King Lear); and Paz López (Chile).
GALita, our bilingual program for children, will feature the world premiere of Blancaflor from October 7 through October 21. In this Spanish fairy tale, a prince promises to complete a series of impossible tasks in order to return to his kingdom, but he can only succeed with help from brave magic maiden Blancaflor. Performances are on weekdays at 10:30 am, and Saturdays at 3 pm.
GALA will present its mesmerizing XIII Fuego Flamenco Festival from November 3 through the 12th, featuring Flamenco Aparicio Dance Co. with the world premiere of Flamenco Extranjero, unique stories from the perspective of non-Spaniards who chose flamenco as their life's passion and career and who have earned respect and acclaim for their mastery of the art form at home and in Spain; and Francisco Hidalgo and Co. with the U.S. premiere of Binomio, a piece creating a dialogue of sensations, emotions, and reactions that find a human connection through flamenco.
Then, South America takes GALA stage with 12 companies performing in Oruro: Ballets Folclóricos Milenarios de Bolivia. A three-day festival (November 17-19) that will present spectacular folkloric dance and ancient Bolivian music from the Altiplano region that echoes the legendary Carnaval de Oruro, with music by Grupo Sur Andes.
Closing the Fall season is Reel Time at GALA, our VI Annual Film Festival. From November 29 through December 3, we will screen films exploring the socio-political landscapes of Chile and the Dominican Republic, as well as contemporary and classical films from Mexico. Panel discussions with the curator, artists and film experts will be held after the screenings.
For more information and tickets, call 202-234-7174 or visit www.galatheatre.org.