For María Solís Belizaire, it all started when a friend bailed on her after signing them both up to run in several races. A former athlete in school, it had always been her dream to be a runner, a wish that had largely faded after high school. But several years ago her sister took her to a race and all that good feeling she felt as a runner came flooding back.
"I thought, hey, this is fun, and I told a friend and we signed up for races to do together, including the New York City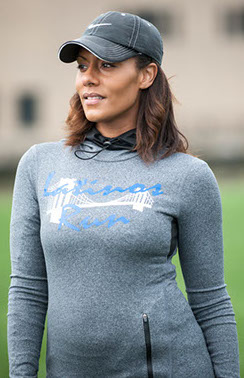 marathon, and then he bailed on me." Maria decided to do it anyway, but was looking for a group or groups of Latino runners to train with and not having any luck. "I didn't know anyone. Who was I was going to run with? I kept looking for groups that catered to me and I couldn't find any. So I joined another group and I kept thinking I want to find a Latino group to run with."
After searching and searching and coming up empty handed and thinking someone should do it, Maria decided to take matters into her own hands and founded Latinos Run, which she considers to be a way to combine her passion for running and her desire to see a healthy and robust Latino community. For her, it's more than just about running, but of taking care of the whole person with exercise and diet.
"I look around and I see a lot of unhealthy people in my community. I did a lot of research and I looked at statistics and many of us are overweight," she tells LATINO Magazine, adding that her mother's death at an early age serves as an impetus to not only work on staying fit, but helping others do the same. "I lost my mother when she was 43 to cancer, and she was overweight. And I think had mom been healthier, maybe she could have been able to fight the cancer, maybe she could have not even gotten the cancer. I also lost my best friend at 29, a Latina who was heavy her whole life. Some of our diets are so unhealthy, and exercise and eating properly are so important. I come from a family of obese people and I kept thinking we have to do something. Latinos Run comes from that."
Latinos Run hosts free weekly runs in New York City and pop up runs in other cities across the country, and also internationally, as well as health and fitness events. We partner with clubs all over the United States, Puerto Rico, and Latin America, with a majority of the Latinos Run followers living in Latin America. Participation in the clubs is completely free.
"There are a lot of Latinos out there doing fitness but I wanted to create not just a group that runs but a movement where we try to connect people who have the same passion for running," she says, adding that Latinos Run participants range from elite runners to beginners. "We also have people who just walk. Just get up and join us. No excuses. When people come to me and they tell me they don't know if they can, I tell them just come out and walk with us. There is a movement of runners and fitness in the Latino community, and people get excited by that. They do races, get medals, and now they're part of something big where Latinos are participating and doing great things."
Latinos Run also posts challenges to participants, asking them to run, walk, jog, get up and move, and log a certain amount of distance – in one instance, 5k (3.1 miles) a day through any kind of weather for a month.
A recent study by the non-profit group RunningUSA found that Hispanics are just six percent of runners overall, and among female runners, just five percent are Latinas. Maria says she wants Latinos Run to also focus on food as part of a wellness fitness program. "What we're being served (nowadays) wasn't what we ate years ago. People would go into their backyards and grab fruits and vegetables, now it's totally different, and especially in the Latino community, I go into these supermarkets and they are lined with unhealthy products. In urban communities there are Fast food restaurant on every corner. We have less access to healthier food options and it's alarming."
In fact, research finds that "food deserts" – areas where residents have a harder time finding healthy and affordable food -- are far more prevalent in minority neighborhoods and that it is a factor in leading an unhealthy lifestyle, and Maria hopes that through Latinos Run she helps raise awareness that changes can be made toward a healthier lifestyle overall without a great amount of effort and that health, culture, and heritage are intertwined. "It's about getting healthy and staying healthy and getting the Latino community to be fit." For more information visit LatinosRun.com
By Patricia Guadalupe