Where does one begin to describe Mark Madrid? For those who have met him, these words come to mind: energetic, passionate, bold, brazen, fearless, inspirational. At first introduction, his exuberance is somewhat of a shock, like an electric jolt after touching a live battery. You're left with a tingling feeling that lingers for days.
If you don't know him, treat yourself to the story of a journey that begins in the Texas Panhandle community of Parmer County where cattle outnumber people, and leads to the canyons of Wall Street, and returns to start-up mecca Austin.
As a young boy, Madrid knew instinctively that he was too big for a small town in rural Texas. His parents instilled in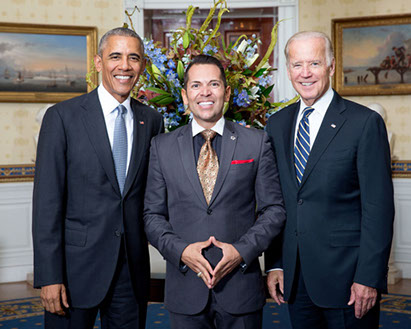 him the power of education, emphasizing that it was the great equalizer. As early as the 3rd grade when he entered the local UIL competition and won first place, Madrid recalls, "My standard of achieving excellence was born, and I realized at an early age that there's something compelling about being different, unique."
His hard work paid off and Madrid graduated with honors from the University of Texas at Austin McCombs School of Business and earned the designation as an Endowed Presidential Scholar. With a personal vision of being a bank president, he landed in New York City in 1995 where he learned the various facets of running a financial institution: operations, underwriting, IT, development, and sales. It was no surprise that he matured into the No. 2 executive at the regional bank where he was employed. However, in 2007, during one of our country's worst financial crises, he received a phone call from another executive sharing the grim news of the bank shutting down.
Back in Texas, Madrid found himself in the corner of a Starbucks contemplating his future. He reminisces, "I remember thinking what am I going to do now. I have got to break out of the banking industry and follow my passion and get back in touch with my Latino roots."
Serendipitously, the Houston Hispanic Chamber of Commerce had recently been promoted via a TV spot, and Madrid remembers being impressed by Dr. Laura Murillo, the chamber's CEO and President. He immediately contacted her and over coffee, a professional connection was made. Within two weeks of him volunteering, he was offered a full-time job, which he found was "more than making a living, but making a difference."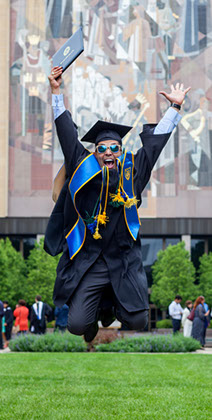 During the five years he was in Houston, Madrid learned to appreciate Latinos being at the table in businesses across the U.S, and the growing national movement of Latinos lifting each other up. But as he admits, "My heart was still in Austin, which is a very special and passionate place." Madrid left Houston to became the President and CEO of the Greater Austin Hispanic Chamber of Commerce (GAHCC) in 2014. Shortly after, the GAHCC was named the # 1 Chamber of the Year in 2015 by the United States Hispanic Chamber of Commerce (USHCC). Apparently, where Madrid goes, great things happen.
While serving in Austin, he and the board realized the need to transform the chamber. Madrid recalls asking, "How can we lift up and create a charge with the highest level of engagement and respect with our Austin community, including everyone from the County Judge, Mayor, AISD , students, business owners, and all of our stakeholders to support the Latino business community?" Imbedded in Madrid's DNA is the relationship factor. Taking great pride in establishing strong connections with people, he has built a legacy of professional and personal relationships.
This has proven to be one of his greatest strengths and gifts. For those who have a personal relationship with him, one might even say, a blessing. This was obvious when Madrid made his surprise career trajectory announcement, leaving Austin to work in Silicon Valley. He was given multitudes of farewell messages, posts, and parties and receptions in his honor. Austin's Mayor, Steve Adler weighed in: "Under the leadership of the board and CEO Mark Madrid, the GAHCC is growing in power, influence, impact and relevancy — something Austin needs."
Madrid continues to blaze his own trail as the Executive Director of Stanford's Latino Business Action Network (LBAN). There, he has positioned himself as a continuing force advocating for the Latino community. With the Latino population nationally growing from 17% to 30% by 2050, the surge of Latino-owned businesses is awakening. "I feel this new role at LBAN is purposeful and am taking pride in working with Dr. Jerry Porras, who is the group's founder and author of Built to Last," Madrid shares with a bit of awe in his voice. "You know, I've had his book for years and never realized this genius was a Latino!"
Fresh off of hosting the program's 4th cohort of entrepreneurial graduates at the Stanford Graduate School of Business, Madrid took pride in reporting the 2017 graduating class was comprised of Latino business owners representing 18 states, over 5,000 employees, and reporting $230 million plus in combined annual revenue. With Latino business growth evidenced by these phenomenal numbers, the economic and cultural impact is immense. With Madrid at the helm of Stanford's LBAN, no doubt this will be a pivotal chapter in his story.
Most recently, the USHCC recognized Madrid as the 2017 LGBT Advocate of the Year. In the words of USHCC President and CEO, Javier Palomarez, "The USHCC recognizes this individual who respects all differences and recognizes that the LGBT community is no different than our own and that diversity has less to do with one's gender, sexual orientation, identity or skin color and everything to do with openness of the heart and mind." The award will be presented at this year's USHCC National Convention to be held October 1-3 in Dallas.
By Casilda Clarich