Born in 1875 in a small village in the Mexican state of San Luis Potosí, Julián Carrillo is today recognized as one of his nation's most important exponents of symphonic music. The last of 19 children born into an indigenous family, he was a true revolutionary who in short order established an international reputation as a composer, conductor and music theorist. Carrillo's fame was advanced by a theory of microtonal music he called "Sonido 13," based on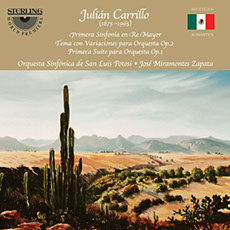 intervals smaller than the tones in the common scale. None other than Mexican president Porfirio Díaz authorized a scholarship so the young musician could study in Europe.
A recently-released disc on the Sterling label by the Orquesta Sinfónica de San Luis Potosí, conducted by José Miramontes Zapata, is notable for world premier recordings of two Carrillo works that were composed when he was in his mid-20s. Tema con Variaciones para Orquesta, Op. 2 is particularly ambitions. The dominant theme is established and then amplified via seven variations, each focusing on the personalities of different orchestral instruments. His Primera Suite para Orquesta Op. 1 begins with a courtly air before suggesting its Mexican roots through distinct voicings and rhythms. Half a century after his death, Carrillo remains vastly underappreciated. This orchestrally-bold and thematically-charming recording should do much to generate interest in this multi-talented musician.
Manuel María Ponce, another noted 20th Century Mexican instrumentalist and composer, is renowned for his skillful appropriation of folkloric and indigenous modes into his orchestral works and chamber music. Although he was a pianist, Ponce also composed for the classical guitar. And he was strongly linked to early 20th Century Cuban music, thanks to his residency in Havana from 1915 to 1917. Ponce: Complete Piano Works, 2 for the Grand Piano label, celebrates this fascinating aspect of the composer's legacy. Spanish pianist Álvaro Cendoya is the perfect choice to tackle this challenging realm of Ponce's repertoire. Although technically dazzling, the Spaniard displays a deep understanding of the composer's intent and sincere affection in interpreting such themes as "Cubana (Danza de Salón)," a rhythmically lilting charmer imbued with a touch of Joplin-esq ragtime, and the longform "Rapsodia Cubana," a spellbinding composition dramatically animated by Cendoya's rhapsodic pianistics.
 Carlos Franzetti, the Buenos Aires-born composer, arranger and pianist has become a champion of contemporary, genre-bending symphonic music that dares to incorporate a broad range of influences. Luminosa, recorded with the City of Prague Philharmonic Orchestra, is his latest project for the Sunnyside label, and it stands as one of the most compelling releases of the season. Franzetti's Concierto del Plata elicits its sonic masterplan from the composer's emotional ties to his homeland. "Porteña," the first movement, is a maelstrom of surging, tango-informed rhythms and edgy orchestral constructions while "Milonga" showcases the composer's concert pianist wife Allison Brewster Franzetti in a setting saturated with melancholy-tinged romanticism. The composer's three-part Interludes from Dante Porteño, featuring concise but elaborate and thematically disparate works, and Concierto en Blanco y Negro for Piano and String Orchestra by Claudia Montero, a truly arresting performance, add luster to Luminosa's timeless quality.
Paraguayan classical guitarist Berta Rojas, noted for her recent collaborations with Cuban woodwind artist Paquito D'Rivera, is highly regarded for tackling ambitious, culturally-significant projects. Felicidade for ON Music Records is another artistic triumph for Rojas. The salute to the music of Brazil features her country's impressive national symphony orchestra, helmed by Argentina-born arranger and conductor Poi Patonce. Rojas sets her sights on an eclectic collection of Brazilian styles that range from bossa nova classics by Antonio Carlos Jobim to chamber music-shaded works by Heitor Villa-Lobos and Ernesto Nazareth. A trio of iconic Brazilian artists – vocalists Ivan Lins, Gilberto Gil and Toquinho – is on hand to give the 13-track production a broad range of stylistic diversity. While every track radiates its own distinct magic, the seldom-performed "Bebê" by multi-instrumentalist Hermeto Pascoal propels Rojas and the orchestra to celestial heights. From first note to last, Felicidade is happiness defined.
Mark Holston