Colombian superstar Juanes made his fans wait three long years before releasing his latest album, Mis Planes Son Amarte, and the result is the view of a man on an intense personal mission. After decades of working within the strict confines of pop stardom, the iconic singer/songwriter turned inward as he sought deeper truths through his artistry. And, oh yeah: he did it with a sci-fi visual album.
"This album came after years of me trying to find a way to reconnect with music and with myself," says Juanes. "I'm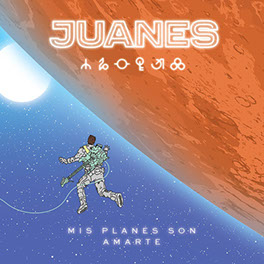 not gonna be afraid of anything anymore. I don't want to follow any trends in music, I just wanna [make] music from my heart and my soul–as I did it when I first started."
And it's working. The album charted at #1 on Billboard's "Tops Latin Albums," was named as one of the "best albums of 2017 so far" by Rolling Stone magazine, has been certified four times platinum in his native Colombia, quickly reached Gold certifications in the US, Chile, Ecuador, Peru and Central America and is approaching 200 million collective streams.
In addition, Juanes has been named as a judge the next season of La Voz, Spain's version of The Voice and joined forces with Dominican superstar Juan Luis Guerra for the very first "Hola! London Festival" in London.
In the visual album, Juanes takes on the lead character role in the story of an astronaut zigzagging through time and space, looking for his eternal love, a Native woman, who represents indigenous traditions and respect for humanity and the earth. The film weaves in animated dream sequences and abounds with metaphors in a narrative that unfolds through the album's 12 songs.
The film "doesn't [prescribe] to trends or coolness; it is entertainment [designed] to connect in a much deeper way and also represent his art and passions," says Kacho López, who directed the film and also collaborated with Juanes on the concept.
The music itself reflects back on his first solo album with syncopated guitar rhythms and adds the eclectic influences of cumbia, vallenato, salsa, hip-hop, reggaeton, funk and rock. "It's the same kind of formula," says Juanes, "mixing organic elements like real drums, bass, and acoustic guitar with electronic elements. It's just that the vibe is very different from the first album."
Juanes says the new album reflects 17 years of "a lot of difficult experiences" as well as "a lot of victories and growth" and was created during a stage in his personal life that marked both a rebirth and an awakening. And as a result, Juanes has taken his socially conscious artistry to new levels. "All of the elements of the story vibrate a lot in me," he says. "[They're] issues that I really care about. So I wanted to do something very connected to my reality, to the way I think, to my soul, and also to give face to each song." He says it speaks to "the connection between our most ancestral, indigenous roots and the universe and its planets [that] are even more closely tied than we can imagine."
Juanes's fascination with the universe grew after a UFO sighting five years ago in Geneva, Switzerland that rocked his entire perception of life as he knew it. "That day," he recalls, "everything started to change for me." As his personal and professional worlds had been colliding, he was feeling disconnected from his music. Delving into a greater awareness and more expansive love than ever imagined has helped him to more freely create and share his heart.
Two years in the making, the production became an adventurous, pan-American "full-on challenge," says López, with "hundreds of people, dozens of locatios, multiple countries, different crews, always defending the dignity of the work with your heart out. They filmed in Veracruz, Mexico and in streets, apartments, bars and caves around Mexico City, and then in the streets of Medellin, Colombia and its outlying forest and mountains. The director, producer and director of photography were from Puerto Rico. Wardrobe, production design and sound mixing happened in Mexico. Exterior animation was done from Buenos Aires, Argentina. Color correction was done in Los Angeles, California. And the actors were Mexican and Colombian, with members of the Kogi tribe and other tribes including refugees from the war-torn Brazilian Amazon. The making of the visual album was "magical" and "life changing" for both Juanes and Kacho López, who incorporated traditional indigenous philosophy that they learned along the way.
"We're all interconnected… We have to give value to life and respect each other and not hurt each other... We live so fast and it's all about those economic pillars of our culture; how much you have and can do, and how you look–and everybody forgets about themselves. The way we're building our society is going against the human side of our consciousness, of our existence," says Juanes. "I finally understand the miracle of life and I understand the concept of pure love. And for me that's so important; every day and every second counts."
Marisa Arbona-Ruiz