Companies like global energy giant BP are investing in America's future by motivating students to explore careers in science, technology, engineering and math (STEM).
In 2016, the Organization for Economic Co-operation and Development (OECD) conducted a survey assessing countries' academic performance with a special focus on science, math and reading abilities. The findings showed that the United States ranked only 25th — far behind Vietnam, China and the United Kingdom. Moreover, it is estimated that by 2027, the need for STEM professionals in many fields such as software, energy and even public policy will grow 13 percent in contrast to other non-STEM jobs, which are growing at just 9 percent.
Technological change will also influence the energy sector as global energy consumption makes a gradual shift from fossil fuels to more sustainable sources. In 2000, fossil fuels represented 90 percent of the demand for energy. But according to a study conducted by the U.S. Energy Information Administration, fossil fuels will represent 80 percent of global energy consumption in 2040.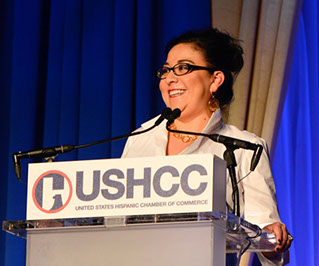 To help address this challenge, BP sponsored the 2017 Student Energy Summit held June 13-18 in Mérida, Mexico. Nearly 650 undergraduate, graduate and Ph.D. students from 85 different countries came together to discuss the future of energy and innovation.
"BP has been supporting STEM outreach and engagement for about six decades," said Kathleen Martinez, BP's senior director of national strategic relationships and initiatives. "Since 2012 alone, we have invested nearly $70 million in these programs."
Martinez joined BP in 2012 and plays a central role in the advancement of the company's external outreach efforts. Her background includes more than 20 years of experience in public relations, corporate social responsibility, marketing and philanthropy. Her responsibilities at BP include leading key strategic relationships and oversight of the company's commitment to STEM education in the U.S.
One of BP's priorities has been raising Latino students' awareness of the need to study STEM, while helping them become better equipped to succeed as they enroll in college.
"We want to talk to them about the opportunities that a STEM degree will provide, especially right now in the energy industry," said Martinez. "There is a need for more engineers, computer scientists, geologists and other STEM professionals. We really want every student to have these opportunities. Meanwhile, from a business perspective, we are going to need them in order to be successful in providing the energy that the world needs."
The 2017 Student Energy Summit included a series of panels on sustainable development goals, energy policy,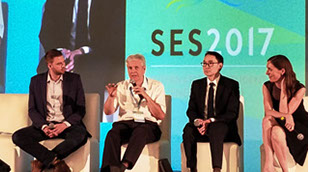 bioenergy, geopolitics and many other topics — with an organizing committee made up entirely of students. The Governor of Yucatan, Rolando Zapata; Mexico's Minister of Energy, Pedro Joaquín Coldwell; and Dr. Enrique Graue Wiechers, dean of Mexico's largest national public university (UNAM), participated at the opening ceremony.
The hosting organization was Student Energy, a nonprofit created in 2008 by students interested in the energy field. Its aim is to create the next generation of leaders who will help the world achieve a sustainable energy future. The global summit is held every two years; the 2015 event took place in Bali, Indonesia. BP's support of Student Energy dates back to 2013, when the summit was held in the U.S. Ivan Bolanos, a renewable energy engineer and Student Energy sponsorship vice-chair, has seen the impact of the organization firsthand. In Mérida, the regional association ENERLAM was created by a group of Latin American students with the goal of standardizing energy public policy across the region. This will likely translate into a greater ministerial-level cooperation that will enable developing countries to embrace new technologies and face energy challenges in the near future.
According to Ivan, young people will make a difference when it comes to issues such as climate change. As some constituents and policy makers doubt the existence and scientific evidence of climate change, Ivan invites them to learn more about the issue.
"It is not a problem for which we have time to figure out whether it is a problem or not," he stated. "Even if you don't believe in it, do not take the risk of wiping out all of humanity. The threat is even greater given the perils related to energy and national security."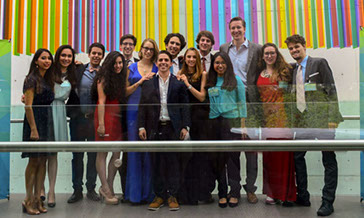 At the summit, Chris Sladen, BP's country manager for Mexico, spoke about the company's role in supporting the energy transition, which spurred discussions about its commitment to a sustainable energy future and the leadership role BP has taken in the energy industry.
"Student Energy brings together future generations of energy leaders and potential global employees for our industry," Sladen said. "BP's support and participation allows us the opportunity to engage with students who have a deep interest in the future of energy and show them the many career opportunities the industry can offer to bright young people with an interest in both energy and sustainability."
BP has operated in Mexico for nearly 50 years. Today BP's presence in the country has grown to around 10 different businesses that are aligned to the opportunities offered in the dynamic and growing Mexico market.
Prospective leaders like Ivan will drive energy transformation, which is why it is important to invest in them and hear from them, says Martinez, who is the youngest of 14 children and a first-generation high school and college graduate. "[Higher education] was not a norm in our family," Martinez said.
One reason she feels passionate about the subject is because, throughout her career, she recognized education as "the key to prosperity and breaking the cycle of poverty."
Martinez sees great potential in the Latino community, which by 2065 will make up 24 percent of the total U.S. population, according to Pew Hispanic Research. .
"It's a business imperative … that we have high-skilled talent for years to come," she said. "There is such an opportunity in the Latino market – if we can only raise the numbers."