Most airlines have a direct flight to Cancún. My advice is take that flight, and fly, fly away!!! But do not stay there… keep going north to Isla Holbox, an untainted paradise located in the YumBalam Biosphere Reserve in the Mexican state of Quintana Roo, just of the coast of the Yucatán Peninsula.
From the Cancún airport you have two choices: ground or air transportation. We chose to use a van service our hotel suggested, but you may also rent a car or take a bus. The air transport leaves from the Cancún airport and lands directly on the island.
The driver of the van was expecting us at the airport and the trip took about two hours. We were dropped off at Chiquila, the small port from where the ferry leaves. You can see the island from the dock, as it is a short 30 minute ride, but the smell of the sea and the wind in your face will whisk you to "island time" even before you get there. But everything ticked like a Swiss watch, with no mañanas or delays.
Arriving at Holbox also went without a glitch. A golf cart (no cars allowed on this island) took us to our hotel, a mere 15 minutes away. The sandy streets and colorful architectural elements of the picturesque town were a joy to see, but the main character of the trip was definitely the island itself.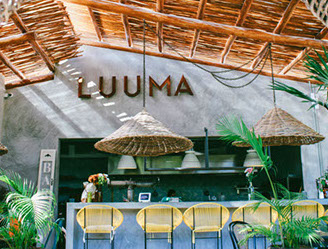 Holbox (pronounced hol-bosh) derives its name from the Mayan language and it means "black hole," though this hardly does it justice---I would say it is more of a green and blue jewel. A sliver of land 26 miles long and almost a mile wide, it is separated from the coast by a shallow lagoon that is the residence of a wide variety of birds such as flamingoes, cormorants, herons, frigate birds, pelicans, wild ducks, and seagulls, all of which can be observed in their natural environment. It's a birdwatcher's heaven on earth.
The unspoiled beaches offered a beautiful contrast with the sparkling water. We had sun, rain, and beautiful cloud formations that competed with the dazzling white of the sand. The green lush vegetation of the mangroves had its own contest with the turquoise waters in the spectacular connection between the Gulf of Mexico and the Caribbean. Definitely a captivating sight. Weather-wise, Holbox offers a tropical, sub-humid, warm climate year-round, with temperatures ranging from the 70-80 F. The summer months can be rainy, and the driest month is usually March.
Holbox offers many types of lodging options ranging from 5 star hotels to less expensive accommodations. We had many great recommendations, but we chose our hotel for its slogan: "where the sea hugs the sky." Hotel Las Nubes (www.lasnubesdeholbox.com) did not disappoint. It has spacious, well-appointed rooms, pools in different areas of the hotel, and a tranquil beach that stretches to your heart's content. The restaurant offers delicious choices from the region, such as freshly caught fish and lobster. The La Nube bar had, among other delicious concoctions, an amazing "Mezcal-rita" cocktail and the best sunset in town.
Another option is Mawimbi (www.mawimbi.com), a quaint "hotelito" which offers 11 palapa-thatched rooms with a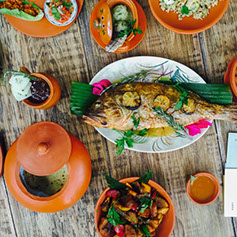 beautiful beach filled with sunbeds, hammocks and swing beds. Their Barquito Beach Bar and Restaurant had great Italian cuisine such as spaghetti with fresh octopus, as well as daily specials. Nearby is Luuma, an Instagram moment waiting to happen. The ambience, décor and drinks at this impossibly chic bar enticed all the senses.
Holbox offers something for everyone, but the main attraction from the months of June thorough September is being able to swim with a whale shark, an encounter that you can be part of in very few parts of the world. There are different wildlife excursions that get you up close to this gentle giant, a unique snorkeling experience for the adventurous at heart (see www.holboxwhalesharktours.com.)
If you are looking for a more athletic experience, this island paradise is the destination for you, too. Rated as one of the safest beaches for learning how to kite board, Holbox also offers great conditions for more advanced riders. Having witnessed it from afar, I am definitely adding this to my bucket list for our next visit.
Our adventure lasted three days, but it left me craving more. Add it to your bucket list as well!
By Janine Schirmacher