While on a 15,000 mile figure-eight road trip across the US, I experienced unexpected environmental phenomena along with historical lessons and social enlightenment. Equipped with an REI tent and a calculated digital map of campgrounds and parks across America, I hit the road in search of the sights and sounds that our country encompasses. But what I found was so much more.
Symbolically beginning in our nation's capital, I headed west towards the Appalachians, then south to set up camp in the Great Smoky Mountains National Park. Known as one of the most biodiverse parks that the National Parks System has to offer, with over 100 species of native trees, 200 species of birds, 68 species of mammals and 1,500 flowering plant species, it was easy to let the soul wander and imagine what life was like in the years of the early mountain settlers. The tough and rugged mountainous terrain of the Appalachians reflected the spirit depicted in the classic American folklore of the Hatfield–McCoy family feud, where the two rival families' perilous conflict was fueled by land disputes and revenge killings, despite that they were all in this thing together. I couldn't help but see parallels in our country today.
I then drove west across the continental divide in Colorado, then south through the alien terrains of Utah. On a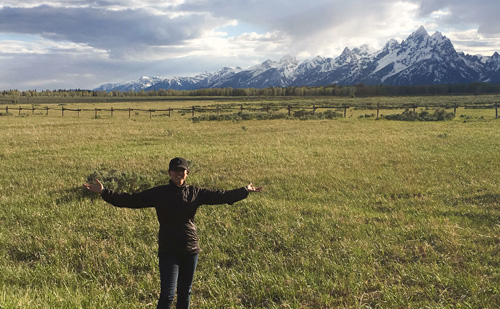 quick lunch stop in a sleepy town near the San Rafael Swell, I noticed a restaurant with a familiar sign: "Authentic Mexican Food.".Considering the "Mexican" food I had eaten on my travels, I was hesitant, but I still decided to give it a try. To my delight, it was excellent, and to this day I still long for the delectable chile verde dish with homemade tortillas de harina that I had the pleasure of welcoming into my picky south Texas belly. However, the highlight of this lunch stop wasn't the incredible food, but it was the chef, waitress, host, and cashier, all of whom were the same person. The Mexican lady-powerhouse, poderosa, and I quickly exchanged conversation en español. As we both watched the news on Univision we discussed the topic at hand, which was immigration. She shared her family story of how some of her siblings are working in the states as others are struggling in Mexico and hope to join her family here soon, a familiar story for many of us. It was a welcome surprise in a barren landscape that I expected to have little to offer in the way of culture. One can only continue to grow, power through, and fight for a better life for our family and communities alike, especially in the face of a harsh political climate.
I then went south and hung a right in Arizona on my way to Joshua Tree National Park in California. When I arrived I found that the desert had blossomed in to what would set the stage for the next thousand miles to come. A rare environmental phenomenon was occurring, one that scientists claim was visible from space. After years of drought, the winter's steady rain had provided a record of over 6 inches from December to February, and that woke up dormant wildflowers in the desert. This "Super Bloom" blanketed the mountainous and desert regions east of Los Angeles with an array of diverse wildflowers with colors such as glowing yellows, and various reds, whites, and blues. It was an inspirational and colorful arrangement that helped serve as a reminder that in these trying and difficult times even the flowers get "woke" and encourage us to stand up and blossom. It was a lesson I took to heart after continuing to see unsettling headlines and discouraging political actions.
After moving north along the California coast to the last towering and ancient Redwoods that survived a century of logging, and heading back east through Yellowstone where wolves, grizzlies and humans live along side one another despite their different priorities, I headed to the American south through Tennessee and the Carolinas.
I experienced a few interesting moments (to say the least) that provided a look into how Latinos are perceived in some of the redder states in our diverse nation. One of which brings me to the few weeks spent in the beaches of North Carolina. At a beachside pub the bartender greeted me and my travel companion and then swiftly and cheerfully asked for our drink order. It was a comfortable and welcoming beach bar with funny stickers and a 'no shoes, no shirt, no problem' attitude. When handing the bartender my credit card for the tab, he looked up at me and courteously asked, "Oh are you Justin's sister?" As this was my first day in this particular beach town, I smiled politely and answered no. He continued by saying Justin, who apparently shares my last name, works there and that he figured we must be related. The statement that follows brought us some uncertain laughter. In a harmless manner the bartender continued by saying, "Y'all are even the same color and all." While certainly eyebrow raising, I can tell that he meant no harm and simply figured since the Gutiérrez last name isn't common 'round those parts, we were indeed related. After giving it some thought, I shared with the bartender that not everyone named Gutierrez is related, but that I would love to have a brother. As the night continued, we became fast friends even though we shared an awkward yet enlightening moment, and came from wildly different backgrounds. It was a stretch for an icebreaker but it did provide the seeds for a healthy conversation, which we all learned from.
With many miles left to go, "miles to go before I sleep", I reflect on the immense diversity of our ecosystems which is mirrored by the incredible diversity of our nation. Rich in history and culture we all have a bit to learn, even the not so comfortable moments can help us grow and break through the obstructive barriers that seem to keep building up. Let's all take a lesson from the flowers in the desert.
Nydia Gutiérrez is a freelance writer who is traveling across America collecting experiences of culture, history and geography.