If you think Salma Hayek is only a beautiful, sexy actress, then you don't know Salma. Her first Best Actress Oscar nomination came in 2002 for her performance in the title role in Frida, a film she not only starred in but also produced.  This year the Oscar buzz around her performance in Miguel Arteta's Beatriz at Dinner has Hollywood talking about another  possible Oscar nomination.  If nominated, Hayek will have the distinction of being the first and only Latina with two Best Actress Oscar nominations, and she were to win, she would be the first Latina in history with an
Oscar for Best Actress!
So just how much do you know about Salma?  Well she comes from a wealthy family in Coatzacoalcos, Mexico.  Her mother is a trained opera singer and her father, who is of Lebanese descent, is an oilman; her younger brother, Sami, is a well known
furniture designer to the stars.
After shocking her parents with her decision to become an actress, Salma came to the U.S. after having become a major star in the hit telenovela Teresa, which aired on Mexico's largest TV network in 1989.  With only one other film credit to her name, Salma decided it was time to conquer Hollywood. She was sure success would be found in the land of cinematic dreams, and in her case, she was not wrong.
Salma arrived in Hollywood in 1991 at the age of 24 to study at the Stella Adler Studio of Acting.  Just another young hopeful trying to fulfill her dreams.  However, Salma went from telenovela star, adored by millions, to playing the one-line girlfriend of a gangbanger in Allison Anders' Mi Vida Loca. It was not an easy transition.
Virtually unknown to U.S. audiences, Salma faced the typical discrimination and stereotyping all Latino actors are only too familiar with.  "I had to endure the worst time of all in terms of racial discrimination in Hollywood when I first started out," she told Spain's V Magazine. "It was inconceivable to American directors and producers that a Mexican woman could have a lead role."
She was not deterred. After a few bit roles, Salma got her big break in 1995 when filmmaker wunderkind Robert Rodriguez cast her in his action film Desperado.  It is said that Rodriguez and his then producer wife Elizabeth Avellan happened to be watching the El Show de Paul Rodriguez and were immediately smitten with the intelligent, opinionated young woman.
Landing the female lead in a Robert Rodriguez film would finally get Hayek the Hollywood attention she was seeking, an opportunity that would open many doors for Salma. During the process, a strong bond had been established with Rodriguez and and she would return to work with him six more times, on Four Rooms (1995), From Dusk Til Dawn (1996), The Faculty (1998), Spy Kids 3: Game Over (2003), and Once Upon a Time in Mexico (2003).
If you would have told Arturo Lorca, supervising producer of Teresa, who worked with the 18 year-old Salma, that one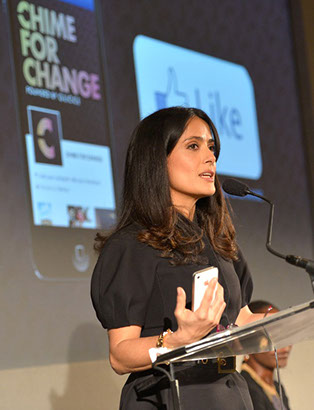 day she would become a major international star, he would not have been surprised.  "I always believed she would go far," Lorca told LATINO. "She had talent and was very mature for her age. She knew where she was headed and she would often say 'I'm going to Hollywood and make movies.' That was her big dream."
Hayek's first real star billing came in 1997 with Fools Rush In opposite Friends actor Matthew Perry. The film was a modest hit, but a major career step for Hayek.  She went on to work with some of the biggest stars in Hollywood, starring alongside Russell Crowe in Breaking Up, Will Smith in Wild Wild West, Ben Affleck and Matt Damon in Dogma, and many others.
It was then that her dreams expanded into producing and directing.  After establishing her production company Ventanarosa, she executive produced and starred in the TV film In the Time of the Butterflies.  For Salma, it was time to have an active hand in producing content that went beyond the Hollywood stereotypes.  Being a producer allowed her to do that and she took her new position very serious. In 1999 Salma produced the Mexican feature film No One Writes to the Colonel, which premiered at the Cannes Film Festival and was selected as Mexico's official Oscar entry for best foreign film.  She also made her directing debut with the film The Maldonado Miracle.
This experience allowed Salma to produce, as well as star in the film role of a lifetime about the legendary Mexican painter Frida Kahlo, whom Salma had admired her entire life.  It was a passion project, about the artist and and their love of their Mexican culture, which both women shared. It took Salma over five years to produce Frida.  She began by approaching actor friends she had worked with, assembling an impressive cast which included Alfred Molina (as Kahlo's cheating husband Diego Rivera),  Antonio Banderas, Ashley Judd, Geoffrey Rush, Edward Norton and Valeria Golino. The result was a masterfully crafted film which introduced Frida to audiences worldwide and garnered six Oscar nominations, including best actress for Salma. It won Oscars for Makeup and Best Original Score.
Salma continued producing in between her work as an actress, but twenty years after arriving in the U.S., leading roles for Salma became fewer.  But she had plenty to do, leading the charge of getting more Latinos on TV.  She adapted and executive produced the Colombian telenovela Betty La Fea for ABC.  Ugly Betty, a television series starring America Ferrera, premiered in 2006 and ran for five years, offering audiences a different look at U.S. Latinos.
Hollywood lures the most beautiful, and in Salma's case, talented young women, but by their 30s they are replaced by younger versions.  It happens to the best of them, and for Salma it happened at an opportune time.  In 2007 she married French billionaire François-Henri Pinault and they had a daughter, Valentina. Salma dedicated time to her family. However, she has never been very vocal on the ageism in Hollywood.  In a recent interview she said, " I think they don't want me but I don't really care."  She was busy producing her own projects at the time.
Still keeping a low profile in Hollywood, Salma worked in ensemble casts in a string of cookie cutter comedies like Grown ups and the R-rated Sausage Party and other low budget films.  But Hayek was in comeback mode and 2017 would be her year with three projects premiering, two that show off her comedic skills and one that has critics rooting for her Oscar nomination.
The first was Drunk Parents starring Alec Baldwin and Joe Manganiello, set to release in the fall.  She also shot the comedy/action film The Hitman alongside Samuel L. Jackson and Ryan Reynolds.  Then Salma jumped into another comedy to work on good friend Eugenio Derbez's comedy How to be A Latin Lover.  The teaming of two of Mexico's biggest imports to Hollywood was a marketing juggernaut tapping into Hayek and Debrez's following to promote the film on all the biggest TV talk shows in both English and Spanish TV.  The payoff was a $61 million worldwide take at the box office.
However, it is the lowest budget film that Salma would shoot that year would put Salma back in a lead role, and one that did not exploit her beauty, rather her talent. Mike White (Emoji Movie, Magic Mike) and director Miguel Arteta (Cedar Rapids, The Good Girl) came to Salma with an idea for a movie White was writing. They didn't tell her much about the story, only that it was inspired by the outrage at the killing of Cecil the Lion. She signed on to the film based on White and Arteta's previous work.
Beatriz at Dinner turned out to be a multi-layered story of a holistic medicine healer who is invited by her wealthy client to stay for dinner when her car breaks down.  Tensions between the guest of honor (John Lithgow) and Beatriz (Salma) make the dinner excruciatingly uncomfortable, as polite talk is set aside and true feelings take over.  For Salma this was not just another lead role, it was a gift, because for a 50 year old woman in Hollywood, ageism is a reality. Fully immersed in the "unglamourous" role of Beatriz, Salma turned in a beautifully nuanced performance, prompting Peter Travers of the Rolling Stone to write:  "Salma Hayek gives the performance of her career in this stealth weapon of a comedy from director Miguel Arteta and screenwriter Mike White, one that takes aim at the divided and divisive world we live in."
Salma has earned many titles in Hollywood: talented, opinionated, intelligent, proud Mexican, remarkable actress, feminist, activist, entrepreneur, and humanitarian.  She is an advocate of increasing awareness on violence against women and discrimination against immigrants.  She is a feminist at heart, having co-founded "Chime for Change", along with Beyonce, which is an organization that aims to spread female empowerment, and earlier this year she was honored by Pope Francis with the Olive Medal for her work in the arts, and for the responsible use of her celebrity to promote unity and peace. Nominees for next year's Academy Awards will be announced on March 4, 2018, if nominated for Best Actress, Salma Hayek has a chance to add "Oscar winner" to her long list of titles.
By Bel Hernandez Castillo