On the occasion of Hispanic Heritage Month, I've been giving a lot of thought to what it means to be a Latina in America today—charting a course as a modern career woman and staying connected to my heritage, which lives today through traditions, and in our music, language and food. I've been blessed in my career opportunities and in my upbringing. Both have made such a difference in who I am today.
My mom is from Mexico. My father, who passed away last year, was a second-generation Mexican-American born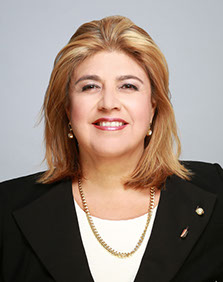 in Texas. My parents were married for over 60 years. My father met my mother while on a family vacation In Mexico. A year later, the "gringo" returned to marry her and whisked her away to a new life in the U.S. How romantic! I suspect, though, she was a bit little lonely at times—living in a new country with a new language, so far from her family and home. I remember how she loved to listen to Javier Solís records when I was a child. I believe his music helped when she felt homesick.
Growing up, we took trips back to Mexico to visit family, and I recall being struck by wonderful customs that we don't typically see here in the U.S. For example, I recall how a young man came to my cousin's home to actually serenade her. And how her brothers, cousins and uncles guarded her so jealously! Traditional serenades might not have survived acculturation here in America, but our music certainly did (along with overprotective brothers).
My parents settled in the Little Village neighborhood on Chicago's South Side, where my brothers and I were raised in a bilingual home. Since Spanish was my mother's native tongue, it was my first language, and I'm so grateful for that. The Spanish language allows me to express myself differently than English does; it's another way to view the world, affording me a more expansive world view.
At the time I grew up there were not many clear-cut options in terms of a career path, and my ambitions were humble ones. I attended Jones Commercial High School in Chicago—a vocational school back then—where I studied to become a secretary (I can still write shorthand to this day), but I hoped one day to become an educator.
I also didn't have access to any Latinas who had achieved professional success to mentor me. Instead, I had the good fortune to benefit from other mentors—primarily non-Latino white men—through part-time administrative jobs at law firms that I held during various stages of my academic career. These men took me under their wings, piqued my interest in law and encouraged me to pursue a BA in political science and criminal justice, and to later attend law school.
After I graduated, something small but rather amazing happened: the Honorable Judge David Cerda (ret.) called my parents to personally congratulate them on my accomplishment. He'd had seen my name in the Chicago Daily Law Bulletin and tracked down their home phone number. He was also the first and for a long time only Latino to sit on the bench in the state of Illinois I've never forgotten Judge Cerda's touching gesture. I also want to make a mark within our community and one way is to mentor young Latinas—it's a particular passion of mine. I am deeply grateful to the many people who took the time and care to teach, support and encourage me early in my career. And I believe there's something in our shared experience that uniquely qualifies Latinas to relate to and mentor our younger generations. I want to pay it forward!
Times have changed from when I was a young woman. There are so many more opportunities for young Latinas today, and we're able to celebrate so many Latinas achieving great career success. We have come a long way, but we have a lot of work yet to do. I never would've predicted that one day I would be CEO of the American Egg Board, an organization responsible for consumer education, research and the promotion of U.S. eggs on behalf of America's egg farmers. You may be interested to know that Latinos not only tend to eat more eggs, but we're one of the most influential and important segments of the U.S. population. We influence what will become mainstream tomorrow. And nowhere is this more evident than in the cultural influence we have on American cuisine.
The role of food in Latino cultural life is legendary. And it's a touchstone to our heritage. I once heard someone say, "You may lose your accents, but never lose your recipes." When we think about family food traditions—even among very acculturated Latinos—we name them in Spanish. Consider that. Even when we speak English, for special foods with an emotional connection, we think in Spanish.
My mother never lost her recipes; they're now mine. I think of them in Spanish. I love the vibrancy of the Latino culture, our dance and music. And I am committed to helping young Latinas pursue their career dreams.
So as we celebrate Hispanic Heritage Month and Fiestas Patrias with fireworks, fiestas, music, dance and, not least, food, I encourage you to reflect as I have on how far we've come, what it means to honor our heritage and how to give back to our community. And I hope you'll enjoy some huevos, too! ¡Buen Provecho!
Anne L. Alonzo is President & CEO of the American Egg Board (AEB)—the national commodity marketing board for the U.S. egg industry. Before joining AEB, Anne was appointed by the White House to serve as Administrator of the Agricultural Marketing Service (AMS) at the U.S. Department of Agriculture (USDA). She has also served as Vice President, Global Public Policy, Corporate Affairs at Kraft Foods; Senior Vice President at the National Foreign Trade Council; Deputy Assistant Secretary at the International Trade Administration, U.S. Department of Commerce; and Environmental Attaché to the U.S. Embassy, Mexico City. A Chicago native, Anne holds an MBA from the University of Chicago and a JD from the Illinois Institute of Technology, Chicago Kent College of Law.