Homelands: Four Friends, Two Countries and the Fate of the Great Mexican-American Migration
By Alfredo Corchado (Bloomsbury, 2018)
Alfredo Corchado's invigorating self-analysis and spot-on social critique Homelands shines a much needed light on a problem that shadows bright migrant children growing up in a world of excess and deprivation: Where do Latino kids lay their loyalties?
A migrant child, with ties to old world traditions as well as all the new TV shows, may have every right to feel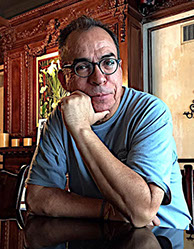 rootless in America. Corchado, who went from resentful El Paso kid to big time border reporter for the Dallas Morning News, is the perfect man to expose the angst of the alien. Homelands has our hero balancing out an admiration for Juan Gabriel with his love of the Eagles. The future award-winning journalist rebels against his parents' praise of the "American dream" before taking on a high profile position at the Philadelphia bureau of the Wall Street Journal.
In the city of brotherly love, Corchado finds fellowship with three young Latinos. The group meets regularly to drink and discuss the trajectory of their lives. Gathering at place called Tequilas for afterwork dialogues that veer into nativist diatribes, suspicions regarding U.S. policies, and the ramifications of amnesty, these guys seem like the template for a David E. Kelley drama, with Corchado playing the part of wise guy journalist shooting the breeze with a suave restaurant owner, an easily instigated activist, and a socially-aware attorney.
In Reagan's America, our fellows suffer and celebrate the risks and rewards of late capitalism and pass out on each other's couches. As gratifying as the passages regarding the new friendships and the nuances of Corchado's family life are, the book's most powerful points come from detailing the misguided political moves that led to a weakened Left and an unhinged Right.
There are some serious 20/20 hindsight moments in the memoir wherein President Donald Trump, like some some emerging villain in a Star Wars prequel, is revealed as a phantom menace. When the outlandish antics of the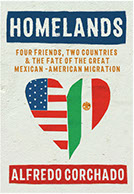 then-candidate are scoffed at by Corchado and his mother, the author's father weighs in on Trump's fiery rhetoric with a bleak warning: "You and your mother think calling ese cabron a rooster is funny," he says, adding: "Sometimes old roosters are the most dangerous, unpredictable animals you'll ever run across."
Homelands, aside from its galvanizing take on the pocho's progress, is a blunt account of the U.S. and its chronic problematic relationship with immigration. Corchado sharply reminds us that Ronald Reagan ran on a Make America Great Again slogan and that Trump's border wall had a major precursor with former presidential candidate Pat Buchanan and his promise to build a "Buchanan fence." His assessment of Buchanan, in fact, has a chill tone of utter familiarity. "His nostalgia for the era of a mostly white America fueled racist divisions smoldering beneath the surface," writes Corchado.
With a backstory that involves hard work and chance, Corchado seems to win by being humble and just shy of self-deprecating; confidence, serendipity and, yes, an ear towards assimilation, all come together in Corchado's testimony of triumph and cultural dexterity. Homelands is not only a book that is right on time, it is book that is long overdue.
Roberto Ontiveros