Across the country, chambers of commerce both support local business growth and attract new businesses to their communities. Historically, Latino entrepreneurs have joined Hispanic chambers. But in two of America's most diverse cities, the mainstream chambers have opted to better reflect their community by appointing Latinos to leadership positions, namely Carlos Orta, Chairman of the Greater Miami Chamber of Commerce, and Maria Salinas, President and CEO of the Los Angeles Area Chamber of Commerce.
Carlos Orta is not the first Latino to head the Greater Miami Chamber of Commerce, but considering the city's population, that's not surprising, and he's proud to carry on the legacy of Latinos such as former board chairmen Carlos Arboleya, Carlos Migoya, Maria Alonso and Adolfo Henriques, to name a few. The Vice President of Corporate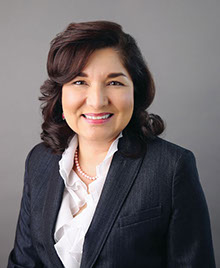 Affairs for Carnival Corporation, Orta shares that the chamber was critical to his career growth. He's a 1993-1994 alumnus of the chamber's leadership development program, known as Leadership Miami, so taking the role of chairman brings his experience full circle. "It was good to be involved at a young age, leading and getting to work with the local business community," he says. "The Greater Miami Chamber of Commerce has been around for 111 years, so there's a lot of accomplishments and responsibility that come with being chair, and I am honored to serve as the 111 chair."
As Orta recalls, Leadership Miami exposed him and other emerging leaders under 40 to a "Who's Who" of Miami leadership over a nine-month period. "You get out of your comfort zone and go to places you otherwise wouldn't," he said. "I owe a lot of my understanding about how committees operate, good governance, and how to bring a community together under one mission to this experience." Orta remained active in the chamber after graduating from Leadership Miami and was honored to chair the program's 20th anniversary in 1998–99. "I found it very beneficial to my professional development to chair Leadership Miami, which is now in its 40th year."
An only child, Orta was born in Havana, though his family was originally from Pinar del Rio, Cuba's lush tobacco country. He and his parents, Carlos and Maria, left in 1969 for Madrid, and then moved to Miami in 1971. Orta graduated from Barry University with a liberal arts degree and went on to work for three Fortune 500 companies: Ford, Anheuser Busch, and Waste Management. This took him to several parts of the country, from Atlanta to Detroit, Kansas City and Washington, D.C., where he became the President and CEO of the Hispanic Association of Corporate Responsibility (HACR) from 2006-2014. In 2014, Orta returned to Miami and joined Carnival Corporation. As Vice President of Corporate Affairs, he has responsibility for the areas of state and local government relations; leads the company's efforts in Diversity & Inclusion, and reports to the company's Chief Communications Officer.
Based upon his experience, Orta advises young Latinos: "If you join Corporate America, you will have to relocate at least two or three times, maybe as many as six to seven. It's important to understand that in order to move up. If you're not being asked to move, you're probably not doing well in that company."
As a bicultural, bilingual Latino, Orta feels he has a natural understanding of the diversity of the Miami chamber's more than 1,000 members, who hail not just from Cuba and the rest of Latin America, but around the world: "The beauty of being Hispanic is that I can work in both worlds, engage with Hispanics and also general market groups; it's our competitive advantage! "
His goals for his tenure as chairman include focusing on issues that matter to the local community, starting with education. "When anyone relocates to Miami, the first thing they ask is, 'How are the schools?'" he notes. Orta also wants to make it easy for people to start businesses and expand the chamber's outreach to communities outside of downtown Miami. Finally, he hopes to leave the chamber with strong leadership, increased membership and a board as diverse as Miami itself. "In two years, we will have a Latina executive as chair. I am proud of our chamber and how diverse we truly are.
On the opposite coast, Maria Salinas is not just the first Latina but the first woman to head the Los Angeles Area Chamber of Commerce. Founded in 1888, the Chamber serves the interests of the more than 235,000 businesses in the Los Angeles region and is one of the largest Charmber's in the country.
"The depth of work of the Chamber is broad and impactful to the Los Angeles region, that's the bottom line for me," says Salinas, an entrepreneur herself, the founder of Salinas Consulting, a finance and accounting consultancy firm. In 2010, the company was awarded the Professional Services Award from the National Latina Business Women's Association of Los Angeles.
A Los Angeles native, Salinas is a first generation Mexican American and the oldest of four children born to Antonio and Teresa Sanchez. While she can't say that she always held a love for math, she was exposed to business through her father, a vehicle upholsterer who eventually opened his own garage. She worked in the summers to help out in the office. One day, she accompanied her father on a visit to his accountant and the experience left a definite impression.
"That was the first time I had gone inside a building and seen an office," she shares. "I grew up with a family that worked in the fields or as mechanics in a garage. This experience exposed me to a professional environment something that was very different, and I thought, 'Wow, I could do that.' I started taking accounting as an elective in high school."
She graduated with a bachelor of science in accounting from Loyola Marymount University and eventually earned her license as a CPA. Her career led her the accounting firm of Ernst & Young and The Walt Disney Company, a Fortune 100 company, before starting her own business. She has served on numerous nonprofit Boards and is a Founding Organizer and former Chairwomen of ProAmerica Bank.
Early in her career, she was mentored by dynamic Latinas like Virginia Oaxaca, an HR executive, who inspired her to volunteer and eventually co-found a nonprofit organization to support Latina leaders, Hispanas Organized for Professional Equality (HOPE) in 1989.
"Virginia was one of the first Latina executives I met right after college. She was a mentor with the National Network of Hispanic Women, where I participated in the mentorship program. She had worked in many management positions, and provided meaningful guidance to me and so many other young women," Salinas remembers. "Los Angeles is home to so many Latinas with national profiles, I've been blessed to consider many friends."
As president and CEO, Salinas is involved in the day-to-day management of the chamber, and hopes to engage with a broader range of businesses in Los Angeles County. In her weekly blog on the chamber's website, she has identified four goals: expanding and growing the global influence of the chamber particularly in the Pacific Rim, Mexico, and Latin America; business advocacy; encouraging entrepreneurship and small businesses; and developing strategic partners.
"My goal is to grow the Chamber to be ready for the world stage in 2028, when the Olympics come to Los Angeles. To that end, my focus will be on helping businesses grow, convening partners, and expanding the influence of the Chamber in the Los Angeles region, state-wide, across the nation and globally," she explains. "I hope to highlight our work in global trade and foreign investment, with visits to other countries like the recent trade mission with Mayor Eric Garcetti to Asia. As the bold voice of business, convening thought leaders to address policy matters affecting business will be a priority. Supporting entrepreneurship and emerging business sectors, particularly in tech, media and entertainment, biotech, and manufacturing, will be a core pillars of our work, and finally, expanding our strategic partnerships to be inclusive of the rich diverse business community that is the hallmark of the Los Angeles region."
The same can be said of Miami. From coast to coast, Carlos Orta and Maria Salinas are paving the way for Latino business success.
Valerie Menard