The Hispanic Alliance for Career Enhancement (HACE) announces the acquisition of Madrinas to join Forces in empowering Latina professionals across the country. The leaders of Madrinas and HACE are making a strong statement on the value of joint efforts. With the current needs of Latino professionals growing across the country, there is a need for nonprofit organizations that serve the Latino community to innovate and evolve the way they are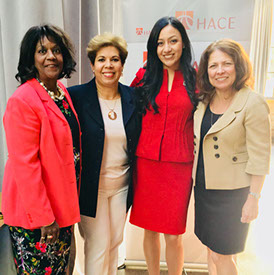 delivering on their mission in order to be effective and increase impact. While joining forces is one way to do so, there must be at least three shared essential areas of alignment.
Lead with a Shared Mission & Vision. Both Mujeres de HACE and Madrinas share the same vision and mission to empower Latinas to achieve their highest potential. Madrinas is a national non-profit organization dedicated to the advancement of Latinas in corporate America. Since it was founded 15 years ago they have worked diligently to advance the careers of Latina professionals by providing skill-building programs, providing coaching and monthly conversations with well-known speakers, promoting representation of Latinas in upper management roles, and more.
"It is the right time for both organizations to join forces so we can have greater impact in advancing Latina leaders," said Maria Hernandez, Madrinas Co-Founder and President, who shed light on the need to support a growing number of Latina professionals nationwide.
The formal announcement that Madrinas will consolidate under HACE was made during HACE's 36th National Leadership Career Summit in Chicago.  We chose a pivotal moment in HACE's history, its ten-year celebration of the national recognized women's leadership program, Mujeres de HACE, to share the news about the shared growth plan to empower more Latinas across the country to reach their career aspirations
Build Trust Between the Leadership Teams. Since Maria Hernandez and I first met, we had several meetings about how this would work, and we got our teams involved in discussions regarding concerns, opportunities, etc. Madrinas leaders included the founders and past board presidents Roseanne Lopez and Josy Laza Gallagher. Ultimately, the decision had been in the works for over year and we all believed that this was the right time to come together and create synergies for greater impact to their Latina professional membership. Madrinas members will receive access to more networking and leadership events happening across the country, access to HACE's job board and enhanced recruiter access, career webinars, invitation to Mujeres de HACE and more. Given the trust and strong relationship built with Madrinas leaders, they are committed and will continue to engage with their members via HACE year-round in addition to current HACE members via service on the HACE national board of directors, advisory roles, speaking engagements, and by providing coaching opportunities.
Ensure Connection to the Business Value. It was imperative that our current and future corporate partners understood the value to their bottom line. Both organizations spent time with their own funders to discuss the change and impact. Nearly 1,000 alumnae who have graduated from the Mujeres de HACE women's leadership program have reported a 40% salary increase within six months of completing program.  Compared to African-American and White women, Latina women come last in their efforts to close the gender wage gap. They earn roughly 54 cents for every dollar a White man makes, according to recent data from the National Partnership, a bipartisan non-profit advocating for women and families. HACE's women's leadership program is creating a network of empowered women who are each contributing to closing this gender wage gap. Not only is HACE closing the wage gap that affects Latinas, our organization is also seeing an impact in promotions. Within less than twelve months of completing the program, 80% of the participants report a promotion. Companies seeking to advance their Latina professionals seek out Mujeres de HACE as an opportunity to engage, retain and develop their top talent.
HACE is a national non-profit dedicated to the employment, development, and advancement of current and aspiring Latino professionals. Since 1982, HACE has served as a resource for Latinos in the workplace and is an expert matter for corporations seeking to access diverse talent. Through professional development, resources and networks, and by facilitating access to meaningful career opportunities, HACE helps Latinos succeed in every phase of their careers. Visit http://HACEonline.org dedicated to the advancement of Latinas in today's corporate environment, by leveraging the group's combined assets, its rich Latino culture and years of workplace experience, to form partnerships and alliances for the benefit of the organization's membership and its continued growth. Visit http://madrinas.org
Madrinas is a national non-profit organization that aims to provide a forum dedicated to the advancement of Latinas in today's corporate environment, by leveraging the group's combined assets, its rich Latino culture and years of workplace experience, to form partnerships and alliances for the benefit of the organization's membership and its continued growth. Visit http://madrinas.org