"This is a big idea whose time has come" said Robert Renteria, International Award Winning Latino Author. Robert was a successful businessman who could not simply sit on the sidelines and watch our children becoming a blood bath of statistics. He closed his business and has dedicated his life to bringing our kids viable educational tools that address the now issues of bullying, gangs, violence, drugs and school dropouts.
Renteria was quoted "we have money for wars and can't feed the poor, we have children, teenagers and adults alike walking around lost alone in a culture of darkness" and he decided to do something about it.
Everyday seven seconds in America a child is being bullied and everyday approximately 160,000 kids will not go to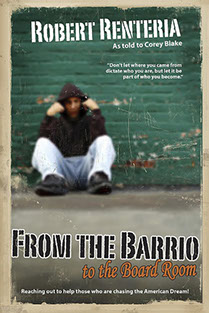 schools the following day in fear of being bullied or beaten by fellow students. There was approximately over 18,000 murders in 2017 and year to date in 2018 we have had 23 school shootings. "Where is the outrage, how many more of our babies will die" said Renteria?
Now, Renteria was frustrated when saying "we can do more of the same and have marches and protests screaming and yelling into a blow horn, we can have more prayer vigils, more panel discussions talking about the obvious, continue trying to put band aids on bullet wounds or we can actually try fixing these problems." He believes that the ultimate weapon is not a loaded gun but an educated mind.
In 2008, Renteria released his first book From the Barrio to the Board Room, shortly after that same year Robert paid to have a curricula developed by principals and teachers to teach the Barrio book as a tool in middle schools, high schools, colleges and universities to improve student achievement. The curricula address's what is called SEL-social and emotional learning, helping our kids with their critical thinking skills and bridging the educational gap.
Renteria came from humble beginnings growing up poor in the barrio of East LA, he knows exactly what challenges our children are facing every day. Robert said "when our children have to learn how to dodge a bullet before they learn how to read we have a serious problem".
In 2009 a faith-based curricula was developed by pastors to teach the Barrio book in bible studies to help lead our kids to Christ so that they too can see the promise land. (Both the school based and faith curricula are donated to all schools and churches at NO cost!).
After Roenteria spent the first couple of years working with educators and speaking directly to thousands of students in schools across the country, he wanted to develop another tool that can literally be used to help curb and decrease gang members recruitment efforts. Robert knows intimately that the gang bangers try recruiting by preying on our innocent little kids in elementary schools so he released a high end graphic novel called Mi Barrio. This comic book was voted in 2012 the best graphic novel in Latin America, Spain and the U.S. for addressing youth issues. This award was presented on behalf of the International Latino Literacy Book Awards Co-Founders, Mr. Kirk Whisler and our very own Mr. James Edward Olmos.
Now that Renteria was successful in impacting kids 3rd grade and higher grades, he wanted to go back and reach the Pre-K, K, 1ST & 2ND graders. He then released a wonderful activity coloring book called Little Barrio. He was determined to promote high expectations for all children.
Renteria has developed over the past 12 & ½ years by investing over $350,000.00 to benefit our children's futures and education, a comprehensive bilingual non generic book series and program that is culturally relevant. The Barrio books give our kids hope while teaching them to believe and to dream really big because if the dream is big enough the odds don't even matter. The Barrio books resonate with the youth while also promoting student achievement. The Barrio books are used to inspire and motivate our kids of all ages, races and economic backgrounds teaching them to be accountable for their actions. The books and program are also used to teach our children that character is not just doing what is right when someone is watching you but rather it's doing the right thing when nobody is watching.
Imagine actually doing more than teaching our kids to test but rather teaching them to think and to learn, to realize that there are serious consequences for their actions and to realize that they must be accountable for every step they take in life. Our kids need to focus to be motivated to embrace their clear choices to help them develop positive relationships which will impact their family, work, community and country.
What is needed now that this model has been tried and tested, a solution that's working in real time is connecting with partnerships. What is needed are collaborations that require enormous energy, effort and especially enthusiasm to sustain innovative change with people who understand how to balance and achieve the Barrio vision. Our work is what endures. The endurance of our work is what is meaningful.
The From the Barrio to the Board Room track record reveals the reflection and feedback across the country and beyond. Leaders, businesses, corporations and investors on a local, district, national and international level who are seeking to impact social cultural relevance for our children with peace building through education and literacy, do reach out to Mr. Renteria who is also the chairman of The Barrio Foundation a (501c3) not for profit organization (www.fromthebarrio.com).
Significant to note is that Robert Renteria is the first and only Latino in the world to ever receive two national Dr. Martin Luther King, Jr. awards for his work as a civil rights community leader and a steady voice in educational reform.
Please contact him personally to get involved and to help make a difference at Robert@fromthebarrio.com. ¡Si Se Puede!