Seizing upon the tragedy of an Islamic suicide bombing in a Kansas City shopping center, the government offers CIA agent Matt Graver (Josh Brolin) carte blanche to use extreme war tactics in the war on drugs. With the blessing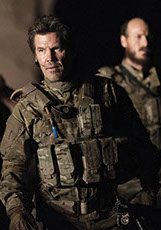 of the state, Graver (played with the smarm and charm of a frat boy gone bad) goes forward with a plan to crack down on the cartels by fomenting a fake drug war.
In his fervor to get the bad guys, Graver taps Alejandro Gillick (Benicio del Toro), an attorney turned assassin, for a mission of murderous manipulation. As we know from 2015's Sicario, Gillick is a man with his own agenda, a personal vendetta against cartel leaders that he blames for the death of his wife and daughter. Gillick, as an evolving assassin, exemplifies exactly the kind of smouldering wrath that the today's ever escalating war on drugs seems to require.
But the manipulation gets messy with emotion as a plan which includes the staged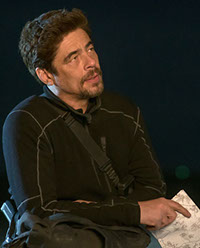 kidnapping of a drug lord's daughter (Isabela Moner) turns into a political and PR nightmare. A staged rescue of the fake kidnap erupts into a double-cross with the Mexican police and in the ensuing debacle the U.S. elects to abandon its dirty mission and erase all signs of its strategy. Graver is ordered to kill Gillick and the kingpin's daughter.
At a point when it seems Sicario 2 might easily slide into a Stockholm syndrome drama, what emerges instead is an assassin's last stab at soul-saving sentiment. A G-man who makes waterboarding jokes will experience empathy and a murderer will take on the mask of mentor.
As with its initial installment, Sicario 2 is a slick and more than serviceable revenge flick: a meditation on the opportunists of the narco-underground and the benefactors of a foreign policy that seeks to overstep its bounds for reasons that revolve around political greed. The film centers its judgement over an exhausted world where shopping mall traffic yields to human trafficking along a border city where there is enough money to bus kids to public schools and just enough trickle down privilege to taunt truants into aspiring to become assassins.
With its contrasting scenes of romantic squalor and lintless policy, Sicario 2 is a teachable moment for all drug flicks that wish to wrestle with a cautionary message amid the momentum of a summer movie spectacle.
Roberto Ontiveros