Every day in Pennsylvania, we see businesses growing stronger, particularly in the technology and innovation sector. Much of that can be attributed to Pennsylvania's low cost of living, business-friendly climate, and our world-class higher education institutions.
As a former business owner, it is my firm belief that to continue that momentum we must ensure that our economy is open and inclusive to all businesses. Our economy can only truly thrive when all businesses have a fair opportunity to compete.
A key driver of that growth will be our Hispanic American population, which increased by more than 80 percent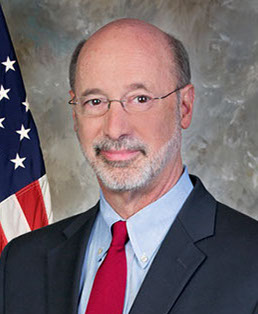 between 2000 and 2010. Latinos make a unique, diverse and valuable contribution to Pennsylvania's culture, society and economy. As governor, I am committed to providing equality and opportunities to all Pennsylvanians, including increased access for Latinos to civic, economic and education opportunities.
That is why, after taking office in 2015, I signed an executive order to reestablish the Governor's Advisory Commission on Latino Affairs, which is dedicated to advising me on policies impacting Pennsylvania's more than 800,000 Latinos.
I have also directed my administration to level the playing field for Latino and other minority-owned businesses to compete for state contracts. This includes the first-ever disparity study to fully understand the extent to which small diverse businesses face discrimination in the state contracting process and how to make improvements.
In 2015, I also signed an executive order creating the Advisory Council on Diversity, Inclusion and Small Business Opportunities, which makes recommendations on how state government can support the growth of minority-owned businesses through state contracting and grant opportunities, job training initiatives, financing and bond programs, as well as business assistance and professional development programs
As part of that effort, we have launched the first-ever Mentor-Protege Program that encourages prime contractors or suppliers doing business with the commonwealth to provide developmental assistance to small diverse business owners to help them learn how to successfully get a contract with state government.
As we create an open and fair environment for Latino and other small diverse businesses to compete in the economy, we must prepare our workforce to have the skills and experience necessary to fill the jobs that industry is creating in cities throughout Pennsylvania.
After hearing directly from businesses and workers about their specific needs, I created a new workforce development initiative called PAsmart. It's a first-of-its-kind, $30 million investment in preparing people for in-demand jobs in the 21st century economy.
For the past three years, my administration has made significant progress in ensuring that agencies across state government are working together to break down barriers and create programs that leverage the strengths of their partners across Pennsylvania to train and re-train generations of workers and create a strong talent pool for employers. PAsmart will strengthen that collaboration, further eliminating silos and maximizing the effectiveness of workforce development programs in all agencies.
We are doing this through new investments in basic education funding, special education funding, early childhood education, career and technical education, and post-secondary education. These new investments will be crucial to achieving my goal that 60 percent of Pennsylvania residents have some form of postsecondary education by 2025 — a goal that will provide a huge boost to Pennsylvania's economy, and create more job opportunities with higher wages for Latinos and other workers.
 Specifically, the PAsmart initiative will make a $20 million investment in STEM and computer science-related education. These are high-growth fields with nearly 300,000 jobs already requiring STEM skills, and over the next decade, more than 70 percent of new jobs need these skills. From large, nationally-recognized companies to smaller, up-and-coming businesses, we need a qualified and impressive pool of talent.
 I understand that to develop a stronger workforce and help Latinos and other workers to get higher paying jobs, we must start with access to quality education. In addition to the new funding for STEM and computer science education, my administration will invest an additional $7 million in apprenticeships. This learn-as-you-earn model is a great opportunity for students and experienced workers to get job training directly from an employer and receive industry-recognized credentials that can lead to a stable career with higher pay.
By investing in education and our workforce, we're putting our students and workers on a path to success. This will not only help workers attain strong, middle-class jobs, but it will encourage business of all sizes to start up, relocate, or expand in Pennsylvania, which will create jobs and provide a significant boost to our economy.
 William Penn founded Pennsylvania on the idea that it should be open to everyone. That is a belief that my administration is striving to uphold. Through the work of the Governor's Advisory Commission on Latino Affairs, our efforts to create a fair playing field to get state contracts for businesses owned by Latinos and other small diverse businesses, and our investments in public education and PAsmart to create a strong, well-trained and high-skilled workforce, we will achieve an economy that is inclusive, accepting and open for business.
Governor Tom Wolf