It's easy to fall into the trap pop culture has laid for us. There's the seduction of the superficial glitter that passes for true talent and the orchestrated drama of the sudden rise – and fall – of overnight sensations. In the world of opera, however, artists earn their stripes the old-fashioned way, spending countless years perfecting demanding roles and while waiting for a shot at fame that will elude most who've committed their lives to this challenging art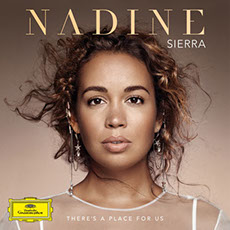 form. For soprano Nadine Sierra, however, as effervescently demonstrated on There's A Place For Us (Deutsche Grammophon/Decca Gold), she has taken full advantage of her time in the spotlight to demonstrate why she has become one of opera's most promising new stars.
  Of Puerto Rican and Portuguese descent, Sierra made history a decade ago when she became the youngest singer ever to win the Metropolitan Opera's annual vocal competition. Three years ago, she made her Met debut and since then has become much in-demand for high profile roles in the world's leading opera houses, from Venice and Berlin to Paris and beyond.
 There's A Place For Us, recorded with England's Royal Philharmonic Orchestra, features works by North Americans Leonard Bernstein and Stephen Foster, Brazil's Hector Villa-Lobos, and the contemporary Argentine composer Osvaldo Golijov, among others. Timed to coincide with the centenary of Bernstein's birth, the recording also makes a bold social statement. "It is a reminder of unity and equality, of integration and optimism," the label proclaims, "at a time when anti-immigrant rhetoric is increasing, and fault-lines are widening between divided communities in the U.S. and beyond."
  Crystalline and capable of instantaneous emotive explosions, Sierra's voice, particularly in mood-drenched wordless passages, such as on the Villa-Lobos aria "Cantilena," is rich and evocative. There's A Place For Us is a captivating delight and an unqualified triumph for this emerging Latina star.
  The broadest definition of cultural exchange is what Chicago-based composer and keyboardist Stu Mindeman achieves on Woven Threads (Sunnyside), a bracing mixture of traditional Chilean music styles and contemporary global trends. Just a toddler when his father accepted a position with a symphony in Chile, but he was soon captivated by the somber, poetic character of the nueva canción ballads of Victor Jara and Violeta Parra and such indigenous-grounded styles as chacarera and cueca. "Casi, Casi," propelled by bubbly Andean rhythms, is an apt example of how Mindeman's vision is realized as he fuses the musicianship of North American and Chilean instrumentalists and the vivacious vocals of Francesca Ancarola. The one-of-a-kind talents of such standout musicians as Puerto Rican saxophonist Miguel Zenón and Chilean-French hip-hop artist Ana Tijoux are also spotlighted. Mindeman's return to the land of his youth is a joyous sonic adventure that shouldn't be missed.
 Although the Spanish Harlem Orchestra (SHO) officially celebrates 15 years of existence, the release of six critically-lauded albums and two Grammy Awards on Anniversary (Artist Share), the members of the band and its storied leader, pianist, composer and arranger Oscar Hernández have been perfecting their take on the swinging, hard-hitting salsa dura tradition for most of their professional lives. Part of the thrill of waiting for the next SHO release is to see what Hernández will do to refresh such hallowed classics as "Guaracha Y Bembe" of Joe Cuba and Cheo Feliciano fame, and "Y Deja" by Willie Colón y Rubén Blades, which are standout performances here. With its seething blend of musicality and rhythmic fire, the 13-member SHO is a national treasure.
 Sometimes, hearing obscure music for the first time produces a forceful, visceral effect, as though the artist literally reaches out, grabs one by the lapels, and says commandingly, "Listen to me!" Las Puertas del Tiempo – The Music of Luis Jorge González (Meridian) is such a recording. In addition to his glistening solo piano forays, Alejandro Cremaschi, an Argentine teaching at the University of Colorado, assembled a trio – piano, violin and cello – to document González's unique style. Like Brazil's Villa-Lobos, the late native of Argentina was influenced by folkloric idioms while being well versed in the formal structure of European classical music and his country's nostalgic tango. Although complex, González's trance-inducing compositions and the trio and solo performances establish an intimate rapport with the listener and create a lasting impression.
Mark Holston