Andres Manuel Lopez Obrador (or AMLO, as he is referred to) rode a populist wave to victory at the ballot box July 1 in Mexico. Lopez Obrador's victory signifies a profound shift in Mexican politics. After two unsuccessful runs for office, Lopez Obrador and his four- year- old National Regeneration Movement Party (MORENA) won 53 percent of the vote, the presidency, majorities in both chambers of the Mexican Congress, and five of the nine available governorships.
"This is the first time in thirty-six years that a Mexican president has won a majority of the vote," said Dr. Kenneth Greene, Professor of Mexican Politics at the University of Texas at Austin. He went on to say, "this is also the first time that a president's party has won a majority in both houses. This is a huge mandate, and he now has all the tools at his disposal to succeed more than any other president before him."
The 2018 election was unique for two reasons: the annihilation of the PRI at the polls, and the first victory of a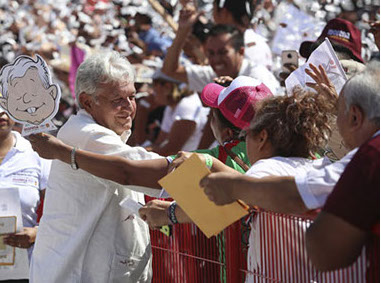 leftist since the 1970s. Fed up voters, in a narrative increasingly familiar around the globe, wanted an end to politics and politicians as usual. Current has overseen an administration marked by failures, embarrassments, and inaction which has left many in Mexico feeling frustrated, impotent, and disillusioned. Peña Nieto's unpopularity contributed to the abysmal performance of the Institutional Revolutionary Party (PRI) this election. The PRI, which ruled Mexico for an uninterrupted seventy-one years from 1929 to 2000, failed to win a majority in any of Mexico's thirty- two states as well as the nine governorships up for grabs. This election was a clear rejection of the PRI and its policies by the Mexican people, and is the weakest the party has been since its founding.
Lopez Obrador represented the new National Regeneration Movement Party (MORENA), a progressive social democratic party, which made the surprising decision to form a big-tent coalition that included numerous leftist groups, former loyalists to the PRI, and the conservative Social Encounter Party (PES). Many have noted this decision to team up with the conservative PES and former PRI party loyalists as setting the stage for future conflict within the new administration once Lopez Obrador assumes power December 1. In many of his speeches, Lopez Obrador promised to launch what he called the "fourth Mexican transformation." This would place his election in the same league as the Mexican Revolution and Mexican Independence itself. As grandiose as that claim may be, Lopez Obrador certainly embodies a new direction for Mexico.
The primary issues of this election were stimulating a stagnant economy, ending the epidemic of violent crime, and tackling rampant institutional corruption. Each candidate promised to grapple with these issues, but none were able to match the fervour and ambitions of Lopez Obrador. In addition to ending the mass violence, Lopez Obrador has promised to crackdown on corruption, expand the social safety net, raise pensions for retirees, expand scholarship and apprenticeship opportunities for young people, raise the minimum wage, double infrastructure investments, and put Mexico on a path towards food and energy self-sufficiency, all without raising taxes or the national debt. How successful Lopez Obrador will be remains to be seen.
AMLO hails from the state of Tabasco, and has made a career out of being a firebrand man-of-the-people. He came to political prominence when he served as Mayor of Mexico City from 2000 to 2005. During this time he became one of the most recognizable politicians in Mexico and gained a reputation as a progressive leftist with a pragmatic streak. It was in the 2006 presidential election when Lopez Obrador's national career officially began. He made a splash when after losing the election by less the half of one percent, Lopez Obrador and his supporters occupied Mexico City's central square, or Zocalo, decrying the "corrupt" victory of Felipe Calderon, and even staging a mock inauguration for Lopez Obrador where he was proclaimed the "Legitimate President of Mexico." Such theatrics have given Lopez Obrador a reputation for unpredictability. He returned to politics for the 2012 election, yet that time lost by even more than he had in 2006.
After the 2012 election, Lopez Obrador left the Party of the Democratic Revolution (PRD) and founded MORENA. Between the founding of MORENA and his election, Lopez Obrador spent his time campaigning for the next presidential election. By his own estimate, he managed to visit every one of Mexico's 2, 400 municipalities. In so doing, Lopez Obrador built a grassroots coalition which would carry him to victory.
Perhaps the most fundamental question about Lopez Obrador is: How successful will he be? The answer depends on who is asked, and varies from uncertainty and skepticism, to hope and cautious optimism. Lopez Obrador has made broad, sweeping, and vague promises and he only has six years to achieve them. "AMLO's number one campaign pledge was to defeat the political 'mafia' that monopolizes political office, steals money destined for relief and development programs, and gives a free hand to elite business interests. That obviously is going to be much harder, and I would say failure is almost inevitable so we will end up judging AMLO by the degree of failure. I'm not that optimistic. The problems are systemic and maybe cultural. One immediate and self-inflicted problem is that AMLO was nervous about losing a third narrow presidential contest and made some surprising, some would say embarrassing, alliances with some political dinosaurs to preempt a defeat," said Dr. Matthew Butler, Professor of Mexican History at the University of Texas at Austin.
By teaming up with such disparate groups as the conservative PES and former PRI loyalists, Lopez Obrador has set himself up for conflicts and contradictions which could undermine his anti-corruption efforts. While AMLO's success remains to be seen, one thing is certain, Mexican politics will never be the same again.
Estevan Balderrama