If you haven't heard the name Alexandria Ocasio-Cortez yet -- you will after November 6. This 28-year-old Puerto Rican dynamo from the Bronx shocked the Democratic Party this past June 26, 2018 with her upset primary election victory over long-time incumbent New York Congressman Joseph Crowley and is poised to win in the mid-term general election, making her the youngest woman ever elected to Congress. Despite the fact that Crowley refuses to drop out of the race and will run in November as the Working Families Party candidate, political experts believe that will not get in the way of a Ocasio-Cortez general election victory as she is the Democratic candidate on the ballot in a predominately Democratic district. Unknown longshot Republican challenger, Anthony Pappas, a professor at the Peter J. Tobin College of Business in Queens, is not considered a threat by anyone. Plus, Ocasio-Cortez has become a huge political celebrity in her hometown of New York City and has since become a fixture on national TV news and late night talk shows.
"Women like me aren't supposed to run for office," Ocasio-Cortez famously declared in a primary election campaign video that went viral.
"I wasn't born to a wealthy family or powerful family — mother from Puerto Rico, dad from the South Bronx. I was born in a place where your zip code determines your destiny."
Ocasio-Cortez is a former Bernie Sanders campaign organizer who will be representing New York's 14th Congressional District if she wins. She won her primary race because of her campaign workers relentless door-to-door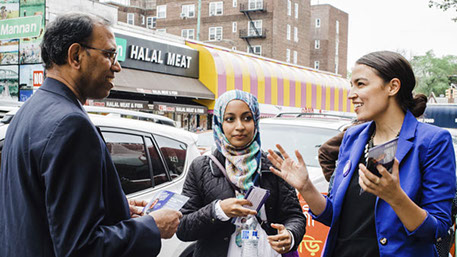 canvassing focused on "drop out voters" – voters who vote in the presidential and general elections but ignore primaries. According to Ocasio-Cortez, since only 3% of the 14th Congressional District's registered voters turn out for the primaries, she technically needed to get fewer voters on her side to upset Crowley. Simply said, if her team could convince a few thousand of those "drop out voters" to cast their ballots for her, the chances are that she would win. Indeed, according to Ocasio-Cortez, her campaign team were able to increase voter turn out by a whopping 68% over the 2014 mid-term primaries by "knocking on over 120,000 doors, sending out 170,000 text messages and making 120,000 phone calls in five different languages." Ocasio-Cortez received 57.13 percent of the vote (15,897) to  Joseph Crowley's 42.5 percent (11,761), defeating the 10-term incumbent by almost 15 percentage points.
"I spent a good six months building trust with grassroots organizations," Ocasio-Cortez told LATINO. "On top of that, a year earlier we ran a get-out-the-registration campaign to try to combat New York's suppressive voting laws. That consisted of pulling out every independent and unaffiliated from the voter file and making an additional 10,000-13,000 phone calls to make sure people knew that: 'Hey, there's going to be a progressive candidate running for Congress next year, she doesn't take corporate money. But the only way we can win the election is if folks like you decide to register as a Democrat so we can count on your vote next year. Through that we built a multiracial, progressive coalition of voters who had been excited about our message for a year."
An unabashed member of the Democratic Socialists of America, Ocasio-Cortez ran on a platform of federally-financed health care and college education for all, gun control, labor rights, prison reform, and protection for all undocumented immigrants. New York's multicultural and ethnic 14th Congressional District – half of whom are immigrants -- was ripe for someone like her. The district includes the eastern Bronx (Morris Park, Parkchester, Pelham Bay, Throgs Neck, City Island) and part of north-central Queens (Astoria, College Point, East Elmhurst, Jackson Heights and Woodside).
Half of the 14th Congressional District's population of 691,715 residents are immigrants: 50% Hispanic, 18% white, 16% Asian, 11% black, 18% white, 5% Asian and 4% other, according to the New York City Board of Elections. Political analysts have written that the young, progressive "drop out voters" the Ocasio-Cortez campaign targeted wanted someone that looked and thought like them representing them in Washington, DC. Many progressive Democratic candidates around the nation are hoping that what worked for Ocasio-Cortez in the primaries will not only help usher her to Congress this November, but themselves as well.
"What [Ocasio-Cortez's] victory has done is reaffirmed for us that there's a path to victory, that this is winnable and that it's going to come down to the field," Boston 7th district congressional candidate Ayanna Pressley told The New York Times. Months later, Pressley's stunning September  4, 2018 upset of 10-term Representative Michael Capuano  positions Pressley — whose campaign somewhat mirrors Ocasio-Cortez's —  to become the first African-American woman to represent the state of Massachusetts in Congress.
Debbie Walsh, director of the Center for American Women and Politics at Rutgers University, told The New York Times that Ocasio-Cortez's victory required "the right time, right place, right message and right candidate." Walsh said the Ocasio-Cortez's victory, though inspiring, would be difficult to replicate. "At most, it's a wake-up call to Democrats, and it's a wake-up call for incumbents of either party. Never take a re-election for granted."
Cynthia Busch, chairwoman of the Broward Democratic Party in South Florida, agreed. While Busch was thrilled that a fellow Bernie Sanders supporter is poised to be elected to Congress on November 6, 2018 she cautioned that what worked for Ocasio-Cortez in New York, would not necessarily work in Florida. "in 2016, Bernie Sanders received only 35% of the vote in the Florida primaries," said Busch, who pointed out that Sanders, a Democratic socialist, made older voters cautious and wary.
"In Florida and in other places where the label Democratic socialist strikes fear, progressives need to focus their strategy on running and getting people elected on the local level---the city commission, the school board --- because acceptance and success on the local level will create an acceptance for candidates running for state and federal office," Busch said.
Denise N. Velazquez-Lugo, president of the Broward Democratic Hispanic Caucus, is a campaign organizer who is inspired by fellow Puerto Rican Ocasio-Cortez. She says that it is important for young progressive candidates to call for unity, especially if they have won a race with a core of progressive, left leaning voters.
"Why? Because the Republicans have their own base of voters and as the winner of the Democratic primary, you want to go into the general election with a larger base than just the voters you won with," Velazquez-Lugo said. "This is a critically important lesson that Georgia 6th congressional district Democratic candidate Jon Ossoff learned the hard way in last year's special election runoff. He had an incredible base of progressive voters, but failed to embrace base voters like black women and moderate Democrats. In the end, he lost to now Republican Congresswoman Karen Handel."
Velazquez-Lugo continued: "Stacy Abrams' Democratic gubernatorial primary in Georgia is a perfect model of how to do this. She is unapologetically progressive, with tremendous credibility among local, regional and statewide grassroots organizations, but has also weaved together a network of Progressives, moderate Democrats and even 'establishment' Democrats together. Why have they been so successful, because they are clear that the biggest threat to their values lead coalition are regressive Republicans, their ideas and un-checked power to pass and enforce laws that serve to marginalize and hurt the very people we care about, not to mention how they have been decimating voting rights and the very fabric of our democracy."
The seemingly overnight success of Ocasio-Cortez was, of course. years in the making. She had been building the foundation of her campaign for the last two years, with the June 2018 primary election in her mind. "For two years all I have been thinking about is 8:59 pm on June 26, 2018," when the polls closed in New York City on Tuesday night," Ocasio-Cortez told The Intercept. Even as teenager, Ocasio-Cortez never hesitated to speak her mind during political conversations around the dinner table. "There was nobody who could shut her up," her mother, Blanca Ocasio-Cortez," told The Intercept. "I saw the political tendencies since she was very, very young." Ocasio-Cortez's mother, Blanca, was born in Puerto Rico. Her late father, Sergio Ocasio, an architect, also Puerto Rican, was born in the Bronx. The family lived in the Parkchester section of the Bronx until Alexandria was about five-years-old, when the family moved an hour north to a modest two-bedroom house on a quiet street in Yorktown Heights, a suburb in Westchester County, in search of better schools.
At Yorktown High School, Ocasio-Cortez was a serious science student and in 2007 won second place in the Intel International Science and Engineering Fair. She presented her project, on the anti-aging effect of antioxidants in roundworms, to the town board of education, according to her science teacher Michael Blueglass. "One of the administrators wasn't there at the beginning and came in after she started, and he said to the superintendent, 'What company is she from?'" Mr. Blueglass told The Intercept. "The superintendent said, 'She's a 17-year-old senior in our high school.' She presented herself, verbally, visually, everything, as if she was a 30-year-old professional presenter businesswoman even though she was 17 years old.
As a prize, the International Astronomical Union arranged to have an asteroid named in her honor: the asteroid, 23238 Ocasio-Cortez, is 1.44 miles wide and located 240 million miles from Earth.
After graduating from Yorktown High School, Ocasio-Cortez attended Boston University where in 2011 she graduated cum laude with a degree in economics and international relations. But while at Boston University, tragedy struck the Ocasio-Cortez family when her father died of cancer leaving the family struggling to stop foreclosure of their home. After graduation, Ocasio-Cortez returned to live in the Parkchester section of the Bronx, got a one bedroom apartment near Starling Avenue, and worked as a waitress and bartender to supplement her mother's income as a house cleaner and bus driver. The family was able to sell their Yorktown Heights home before the banks closed in, but her mother and grandmother had to move to Florida as they were unable to find affordable housing.
Back home in the Bronx, Ocasio-Cortez committed herself to progressive Democratic politics. She started working as educational director with the National Hispanic Institute, a nonprofit that aims to cultivate leadership in Latino youth. And she started a children's book publishing company, Brook Avenue Press, that sought to portray her home borough in a positive light.But to pay the bills and enable her to pursue progressive politics, bartending was still the answer. As recently as last November 14, 2017, while fully engaged in her upcoming primary election challenge, Ocasio-Cortez was tending bar at the Greenwich Village restaurant, Flats Fix, which proudly has a photo of their former employee on its website. And this November 6, 2018, a year later, this young Puerto Rican woman who was mixing margaritas in New York City will soon be proposing legislation in Washington, DC as the youngest Congresswoman in history.
"I'm most impressed by this sister Boricua who makes us proud because she's sharp, determined, understands the value of values, and selflessly supports others to build a stronger democracy," said Velazquez-Lugo.
Roberto Santiago