I am the daughter of a World War II veteran. As a child, there were many World War II veterans living in Belen, the Central New Mexico town where I grew up during the 1950s. My dad, several of my uncles, my best friend's dad – it seemed like everyone's dad had served in WW II.
It wasn't until I was in college that I began to appreciate the enormity and significance of dad's participation in World War II. "War is hell" was the conclusion reached by the generals, soldiers, and historians. So how did dad prepare for war? How did he survive combat? How did he manage to keep going in the face of hundreds of rounds of bullets, loud planes and tanks, and injured comrades screaming out in shock and excruciating pain? How did he navigate his re-entry into civilian life?
Dad grew up during the Great Depression. Things were hard for him and his family, but there was always someone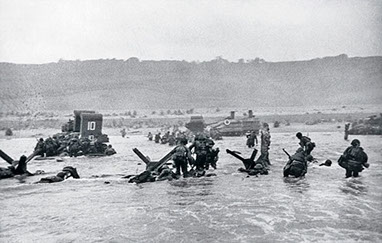 who had it worse. Fortunately, he grew up in a farming community and working together, the large family was able to get by. His parents lived to see all eight children marry and have families of their own. Education was a luxury however, dad was able to graduate from eighth grade. He grew up speaking Spanish as his first language, learning English in school. Like so many of his generation, he enjoyed the benefits and experience of the Civilian Conservation Corps.
Soldiers prepare for war by completing a 12-week Boot Camp known as Basic Training and receive specialized training in the area they will be assigned to. Dad was assigned to an infantry division. I suspect he did well. Working on the family farm prepared him for the rigors of the physical fitness program. His curiosity about the world likely served him well in learning military history and tactics, and the combination and intensity of the training program built his mental strength and loyalty to his comrades. What I've often wondered is how a shy, kind, country boy psychologically prepares to kill another human being. Yet, soldiers going to war must do just that.
Dad's first battle was the Normandy Invasion on Omaha Beach. It was an enormous effort which entailed 600 warships, 11,000 planes and 156,000 soldiers from the U.S., Great Britain, and Canada. We've all seen the sights and heard the sounds of this notorious battle. Dad was one of the fortunate ones, he made it out alive! After regrouping, they continued to the next battle and the next. What motivates a soldier in the face of such chaos and loss of life? Psychologists conclude it is the desire to protect their comrades.
After six weeks of combat and prolonged shelling, dad's luck ran out and he was severely injured. He was taken to an army hospital in England for treatment and when able to travel, he was brought back to the U.S. for the remainder of his tour. Over the years, very little was said or known about his re-entry into civilian life.
By the time of his discharge at age 20, dad's decorations and citations included the Combat Infantry Badge, the European-African-Middle Eastern Service Badge, the Good Conduct Badge, the Victory Medal, and the Purple Heart for injuries sustained in battle. In 2000, he and other WWII vets were awarded the Jubilee Medal of Liberty issued by the Governor of Normandy, publicly recognizing the sacrifice and service of veterans who served in the Normandy Invasion. When asked by Congresswoman Heather Wilson for his thoughts on that day. He said, "I am proud to receive this recognition and I am thinking about the young men who went to France and never returned."
I've often questioned whether the ghosts of war followed him or whether they showed up years later. What I do know is that the madness and tragedy of war showed their ugly faces in ways that we did not understand until many years later. Knowing that every agonizing second might be your last creates an inexplicable anxiety. Dad, like so many of his generation, suffered in silence, fearful of the social stigma. I believe that his family and work responsibilities preoccupied him and may have been the reason he suppressed the dark secrets of war even with other soldiers.
My husband Bill Manzanares, a Vietnam War veteran, and I had the privilege of visiting the Beaches of Normandy and participating in a ceremony for the families of the courageous young men and women who liberated France from the hands of the Nazis. It was a tremendous honor which I will treasure always. I took dad's military photo with me to this sacred place. Together we walked the Beaches of Normandy where he landed and helped turn the tides of World War II.
My dad is no longer with us, and many of the secrets of this part of his life were buried with him. I wish that he'd had the support to safely unlock his stories and find the peace he deserved. Like most of the men and women who make up the "Greatest Generation", their stories are sealed in their hearts and in their minds.
By Rita Jaramillo