Justin Bieber's remix of Luis Fonsi's and Daddy Yankee's pop hit, Despacito, blasts on the speakers of the AT&T Executive Education and Conference Center in Austin, Texas. Maria Arevalo looked around the room.
The venue had been playing empowering pop songs, especially by Latino artists such as Alex Sensation and Demi Lovato. As songs boomed from the speakers, young Latinos dressed in business casual filled the roundtables. Like Arevalo, they were all attending the Voto Latino Power Summit, a conference for emerging leaders seeking to educate, empower and engage their community.
"I first learned about the summit through Latinitas, whom I interned with in the past as their editorial intern. I was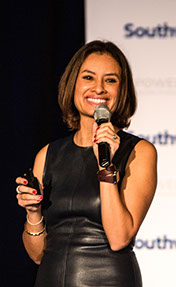 actually extremely nervous to attend because I had never been to a summit like Voto Latino before and I didn't know what to expect, especially since I was going alone," said Arevalo. "However, it was those nerves that pushed me to attend the summit. It was a chance for me to step outside of my comfort zone, grow, and learn."
Youth, ranging from high school students to young professionals, were inundated with information from leaders in media, technology, and advocacy to encourage the start of conversations on how to make changes in the Latino community. Attendees learned from industry experts through various trainings and workshops. They were encouraged to network with each other and meet with partner organizations accepting resumes at the summit.
"The jobs I often wanted were never published anywhere. It was all word of mouth. You can only get into those jobs if you had a network," said Maria Teresa Kumar, President and CEO of Voto Latino. "We want to share with folks… the importance of telling their story, sharing what they like to do professionally and making those networks."
Voto Latino was started in 2004 as a PSA project organized by co-founder Rosario Dawson. Since its founding, the organization's goal is to engage young Latinos in the civic process through media, technology and advocacy. By using digital campaigns, pop culture and grassroots activism, they can create programs and promote voter registration. Voto Latino has launched numerous campus chapters across the country that are committed to registering new voters and advocating for their communities. "The fact that all these chapters are self-organized; they call us and they say 'how can we do it?' is a testament that we are providing them the tools they need so that they can basically define their community," said Kumar.
Voto Latino has high school and college chapters in nine states, including Oklahoma, Texas, and California. With 803,000 Latinos turning 18 each year in the United States, these chapters work within their community to increase Latino voter participation. Currently, there are 27.3 million eligible Latino voters, according to Voto Latino.
The Power Summit had plenty of well-known speakers for their opening and lunch plenaries, including Austin Mayor Steve Adler, Emmy-winner Pili Montilla, former State Senator Wendy Davis, politician Julián Castro and actor Wilmer Valderrama. Speakers discussed a range of issues, including how youth can empower Latinos in Texas to become more civically engaged and create change in their communities.
"Texas is not a red state. Texas is not a blue state. Texas is a no vote state. If we can change that, we can literally change the world," said Adler.
Attendees participated in various workshops focused on technology, media and activism. Students sipped coffee while fully immersed in the workshops held in lecture hall style rooms. Arevalo's favorite workshop was "Artivism: Art as a Medium for Change."
"What I loved most about the panel was how we were all comfortable sharing our stories with fellow Latinos. We could all relate to each other, learn from each other, and it was a safe space for us to be vulnerable and talk about

our struggles and how we can use art to tell our stories," said Arevalo.
Students were encouraged to ask questions at the end of each workshop. During the "How Media Impacts Change" panel, Mia Villalpando, a marketing student from St. Mary's University in San Antonio, TX, talked about going to the high school where the Daily Mail picked up the story about seniors doing a Nazi salute during a panoramic photo. The source was a sophomore student from that high school that was not at the photo event.
She asked the panelists, "What do y'all's company do to get straight to the source instead of getting the facts from someone who heard about it?"
Araceli Cruz, Freelance Writer at Teen Vogue and Mitu, Andrea Gonzalez-Ramirez, News and Politics Reporter at Refinery29, and Alfredo Estrada, Editor at LATINO Magazine, described how they verify sources by making phone calls and researching Facebook profiles.
"Also, the Daily Mail is not a very reliable source just FYI," said Gonzalez-Ramirez. "Tabloids, in general, are good for anonymous sources occasionally, but in general, try to read more established publications."
Social media was used to engage the young tech-savvy attendees and encourage further discussion on the important issues impacting Latinos. Attendees helped promote the event by sharing event photos and utilizing Facebook Live during their favorite panels.
Social media is an essential part of Voto Latino's community outreach strategy. Kumar mentions that when Attorney General Jeff Sessions announced the termination of the Deferred Action for Childhood Arrivals program, or DACA, Voto Latino was able to have an immigration lawyer and DACA recipient on Facebook Live within hours of Sessions' announcement.
Kumar emphasized the important role social media plays in the organization's ability to communicate effectively and efficiently with the community, stating "Our folks at Voto Latino and supporters can get really clear information so that they can defend themselves and so they can fight."
By the end of the Power Summit, participants made it evident that they were motivated by the speakers and the workshops. "The summit absolutely inspired me," said Arevalo. "I connected with so many inspiring people and have made friendships grounded in success. I gained the confidence to put myself out there, apply for the jobs that I want, and to be the person I want to be."
Kimberly Cardona