This could be a pivotal year when it comes to Latino voters, who could decide key races in a number of states, and even help determine whether Congress remains in GOP hands or switches to the Democrats, with tremendous consequences for all Americans.
On November 6, there are a number of contests where Latino voters will have an impact, including the Florida gubernatorial contest between progressive Democrat Andrew Gillum and Republican Rep. Ron DeSantis, who is strongly backed by President Donald Trump. Other places to watch include Nevada's Senate race, where Republican Sen. Dean Heller has been challenged by Democratic Rep. Jacky Rosen, and Arizona, where Democratic Rep. Kyrsten Sinema is running against Republican Rep. Martha McSally for the seat of retiring Republican Sen. Jeff Flake
Both Senate races are considered toss-ups by political analysts, who say they are the best chance the Democratic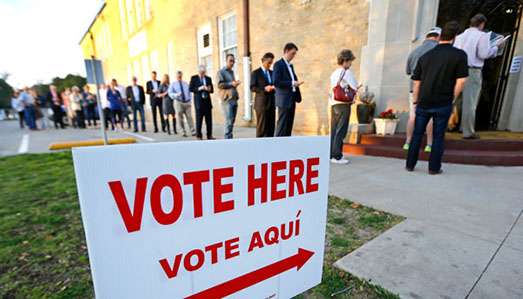 Party has to pick up a Senate seat or two in the mid-term elections. "Those two races are critical for Democrats if they have any hope of taking the U.S. Senate," said Mark Jones, a political science professor at Rice University.
California's Latinos may also make a difference in the race for lieutenant governor, where state Sen. Ed Hernandez is running against another Democrat, Eleni Kounalakis, thanks to a "jungle" primary system that sends the top two vote getters, regardless of party, to battle for the seat in the general election.
With the exception perhaps of Cuban-Americans, most Latino voters have historically favored Democrats. Polls show that Latinos are angered at the GOP this year for Trump's hardline immigration policies – which included separating immigrant families at the U.S.-Mexico border – and attempts to dismantle the Affordable Care Act.
But Democrats in tight races shouldn't take the Latino vote for granted. A July Latino Decisions poll showed Democrats leading Republicans 67 percent to 22 percent among Latinos. But only 44 percent of Latino respondents said they were "certain" they will vote for Democrats, and only 53 percent said they were certain to vote in November at all. Latinos are among the fastest-growing sectors of the population, with a population of 58 million. Many of them are young citizens, with 66,000 Latinos turning 18, which is the voting age, every month.
But Latino political clout in this election year is totally dependent how many bother to cast a ballot in November. According to the Pew Research Center, Latino turnout in 2014, the last midterm election, fell to a record low. While a high of 6.8 million Latinos voted that year, just 27 percent of the electorate showed up, compared with 31.2 percent in 2010. The biggest challenge, experts say, is to get Latinos registered to vote.
"When Latinos register, 80 percent of them vote," said María Teresa Kumar, president of Voto Latino, a non-partisan organization that encourages Hispanics to become more involved in the political process. Kumar said there's a need for political "infrastructure" in the Latino community. While Latinos, because of their large numbers, can make a difference in the Arizona race and in neighboring Texas where GOP Sen. Ted Cruz is facing a tough challenge from Democratic Rep. Beto O'Rourke -- Kumar said a lack of union organization in those states fails to provide the registration and get-out the-vote drives, what Kumar calls infrastructure, that exists in other states.
In Nevada, she says, organized labor is strong and helps register Latino voters."We don't have a history of electoral participation," Kumar said. "But Latinos will make a difference if there's an effort to franchise us."
The difference between the voting patterns of Latinos in Arizona and Nevada was apparent in the 2016 presidential election
While Hillary Clinton won Nevada in 2016, she lost in Arizona by just 3.5 percent—a margin of 91,000 votes in a state where 600,000 eligible Latinos did not cast ballots in that election. Florida is another place where Latino voters register and vote in large numbers. Evidence of the power or those voters can be seen in Republican gubernatorial candidate DeSantis' decision to pick Florida state Rep. Jeanette Nuñez to be his running mate. Nuñez is the first Cuban-American woman running for lieutenant governor in Florida.
Democrats are hoping Latinos add strength to a "blue wave" in November that wrests control of the U.S. House of Representatives from the GOP, and if that wave turns into a tsunami, also gives the party control of the U.S. Senate. Chances of a takeover are better in the House because of a growing number of competitive seats and a rash of Republican retirements that have resulted in many open seats.
Democrats need to flip at least 23 seats to take control of the House.
Latino votes could tip the scale in hot House races in California, Texas, Pennsylvania and a few other states. Jones said there are 15 to 20 House districts with competitive races where Latinos represent at least 10 percent of the population and their votes could make a difference. In Texas, all eyes are upon Beto O'Rourke's bid to send Ted Cruz packing, but according to Jones, one House race to watch is playing out in a huge Texas district that stretches from San Antonio to El Paso, where Hispanics make up more than 70 percent of the population. Rep. William Hurd, a Republican and one-time CIA agent who has criticized Trump on immigration, now holds the seat. He has been challenged by another veteran, Democrat Gina Ortiz Jones, a former Air Force intelligence officer.
Another key House race to watch is in San Diego, where 29 year-old Ammar Campa-Najjar, of Latino and Palestinian descent, is up against incumbent Duncan Hunter, recently indicted for campaign finance violations. Hunter was considered a shoo-in for this reliably Republican district once held by his father, but his legal woes combined with Campa-Najjar's telegenic grassroots campaign will make it a nail biter.
Ana Radelat