Leticia journeyed from Guatemala to the U.S for the same reason as thousands of others. She dreamed of a better life for herself and her young son. But her son was ripped from her arms at the border due to harsh U.S. immigration policies, and she was deported. Her son remained separated from her for two years, and now lives in foster care in the U.S. Leticia, with support from organizations like the American Civil Liberties Union (ACLU), Justice in Motion and the Asylum Seeker Advocacy Project (ASAP), is fighting to see him again.
To reunite the duo, ASAP filed a humanitarian parole application and secured a host family and a support network for Leticia's arrival in New York City. But the U.S. government denied Leticia's request to return to the U.S., along with other parents who were separated from their children and deported at the same time. ASAP next worked with the ACLU Immigrants' Rights Project and immigration lawyers to file a Motion to Return Deported Parents. ASAP detailed Leticia's separation from her son, her unlawful deportation and the hardship both endured as a result. On Sept. 4, 2019 a judge permitted Leticia's return to the United States, along with 11 other parents included in the motion. While reunification efforts are still in progress, Leticia told ASAP staff she is overwhelmed with the news.
"When I found out about the decision, I felt like I could almost hug my son," she reportedly told ASAP. "I feel that the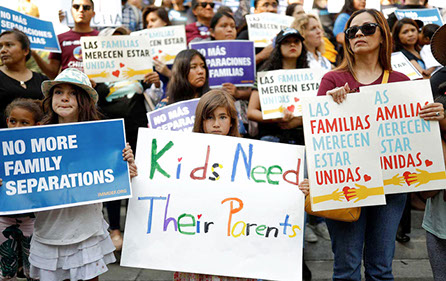 light at the end of the tunnel is getting brighter every day. I want to thank all of the people who are helping me; they are like angels for me and my son."
Meanwhile, ASAP has filed a complaint under the Federal Tort Claims Act on Leticia and her child's behalf seeking monetary compensation from the Department of Homeland Security for the "immeasurable harm they have suffered," and partnered with other organizations to offer Leticia legal representation.
Even if Leticia is reunited with her son, they will both have a difficult, albeit different, battle ahead. Her son will be taken away from the foster care he has likely grown to know as his home, and will have to reconnect with his mother. That's if they are one of the fortunate ones who succeed in the courts.
"Reunification for many families is only the first step in a long, long line of challenges they're facing in the U.S.," said Conchita Cruz, ASAP's co-founder and co-executive director.
Many of the families are dealing with the aftermath and trauma of separation as a result of Trump's "Zero Tolerance" policy announced April 6 2018 by then-Attorney General Jeff Sessions, who said that anyone who crossed the border illegally would be prosecuted. This was a drastic change for families with children seeking asylum and afraid to return to their home countries which could prove dangerous for various reasons. Before the policy was implemented, it was up to the discretion of prosecutors in border states to decide whether to charge people for crossing the border illegally, and in most cases, the migrants weren't charged. Before the change, asylum-seekers were generally held in U.S. detention for days or weeks and then released with a notice to appear in immigration court.
But under Zero Tolerance, the president prosecuted any migrant for improper entry or re-entry into the U.S. At the time, the Trump administration said separations were necessary because children can't be transferred with parents into custody of the U.S. Marshals Service, and instead ended up with the Department of Health and Human Services and were sent to shelters throughout the country.
By June 20, 2018, Trump was forced to reverse the policy amid mounting outrage and criticism from the public, including medical experts, who worried about the mental and physical ramifications of the separations on the children. "We're going to keep families together. I didn't like the sight, or the feeling of families being separated," Trump said at the time, as reported by CBS News.
On paper, the policy reversal seemed to put an end to family separation. But the reality is that hundreds if not thousands of more children have been separated from their families. Many parents were deported while their children remain in the U.S. and they are still working to locate them. Others are in the middle of their asylum cases awaiting to hear if they will get a chance at a better life like they had hoped in the U.S. Some are living with family in a different area of the U.S. from where their asylum hearing is taking place and need monetary help to get them to court. If they don't appear in court, they run the risk of deportation. In other cases, they must file an emergency motion to change the court hearing to a court in their current area.
Those who have been reunified are grappling with the trauma of the separation that took anywhere from days to years and affected children ranging from toddler age to children who turned 18 after separation. "Children are having a hard time integrating back into communities and into schools. Some children are being bullied. Some children are having discipline issues," said Nan Schivone, legal director at Justice in Motion, a nonprofit that protects migrants' rights. "Some children are still mad at their parents because they blame them for the separation, which is sad. Some parents are having marital problems. There's been some family strife for sure," she said. "There are children who report nightmares in the middle of the night. Their appetite has changed. They have issues with their siblings."
In cases where refugees have been deported back to their home countries, they often suffer feelings of despair and hopelessness. "We have heard the parents tell stories about being put on planes without their kids, without even knowing where they were. That's a very traumatic event. As a parent myself, I can't imagine not knowing where my kid is and being deported back home without my kid," Schivone said. "The cases of children that were non-verbal are particularly sad because it took a long time for the case workers, social workers and legal service providers to figure out who the parent was, where the parent was, and how to get in touch with the family back home."
The ACLU has filed several lawsuits to get migrant families justice and put a stop to family separations. In its latest, A.I.I.L. v. Sessions, the ACLU and its partners seek monetary compensation for affected families and a creation of a fund to pay for professional mental health services for them. The lawsuit cites violations of the Fourth and Fifth Amendment, and equal protection, including unreasonable seizure of children, the fundamental right to family integrity, right to a hearing, right to adequate health care and prohibiting discrimination on the basis of race, ethnicity or national origin. The plaintiffs in the suit include families from Guatemala and Honduras who were separated along the border in Arizona for up to 16 months.
The ACLU estimates that as many as 4,500 to 6,000 children may have been separated from their families at some point. But when a judge ordered an end to family separations on June 26, 2018, about 2,700 children who were separated from their families as part of the Zero Tolerance policy since April 6, 2018 were in government custody. Those were the families that ACLU staff focused on in a lawsuit that aimed to reunite them with their families. Of these 2700 children only an estimated 20 remain in government custody.
But according to the ACLU, more than 1,000 children were separated from their families after June 28, 2018, despite the end of Zero Tolerance. Their status is unclear, and we were unable to get any information as to their whereabouts. The government is still accounting for them.
"This very much continues to be an issue. Public outrage is an important part of stopping separations entirely. Folks need to remain engaged and outspoken about it and we hope they're paying close attention to something that should never have happened and we certainly hope to stop it in all its forms," said Daniel Galindo, a staff attorney at the ACLU Immigrants' Rights Project.
The American Immigration Council is also suing the government on behalf of five asylum-seeking mothers and their children who were separated at the border and suffered greatly as a result. The suit, C.M. vs United States, seeks monetary compensation for the families for the emotional distress and negligence caused on behalf of U.S. governmental agencies.
"These women are very courageous. They're coming forward and out of their shells to share their stories, their experiences, of the ordeal they went through which is so completely unacceptable," said Claudia Valenzuela, a Freedom of Information Act attorney at the American Immigration Council.
"Amongst our clients, we've seen very determined women, who despite all they've been through and being in vulnerable positions, have been very inspiring to our legal team. All of the mothers are speaking up because they would never want any mother to go through what they went through."
By Christine Bolaños