Midland County Commissioner Luis Sanchez recently announced he would be running for re-election in Precinct 3. This would be his fourth term, having served on the Commissioners' Court since 2009.
Sanchez graduated from Texas Tech University with a double degree in political science and Spanish and earned a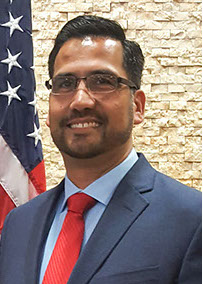 master's degree in public administration leadership from the University of Texas of the Permian Basin (UTPB). Before entering politics, he was a Spanish teacher at the same high school he attended. Today, he still lives in the same neighborhood he grew up in, near his tight-knit family. Announcing his campaign, Sanchez said he plans to focus on roads, housing, water and mental health. "Midland is growing, and I want to make sure Midland County is growing with Midland," he told the Houston Chronicle.
According to the Census, Midland is the 15th fastest growing city in the country. It's because of the massive energy boom, and at night the lights of countless oil wells illuminate the horizon. Sanchez believes the possibilities are limitless, particularly for Latinos. "There's so much work to be done, " says Sanchez. "This is the center of the energy industry and for Latinos, it's a great opportunity to work in oil and gas or start a business that can benefit from the activity that oil and gas brings to the region."
Sanchez notes that Latinos need to educate themselves and engage with the energy industry to take advantage of these opportunities. He encourages young people to study at local colleges such as Midland College, Odessa College, and his own alma mater, UTPB, which offers courses in petroleum engineering. Not only has Sanchez worked to improve educational opportunities, he has also contributed to improving the quality of life for his community as a board member and former president of the city's first Latino cultural center, the Hispanic Cultural Center of Midland.
Sanchez signaled that if re-elected as County Commissioner, he plans to get the county involved with housing and the public water crisis, as well as develop a mental health facility in partnership with Midland Memorial Hospital's behavioral health unit.