The President and CEO of Pepco Holdings has a bright and office in downtown Washington, D.C., reflecting his bright and sunny disposition. David Velazquez is one of the most successful Latinos in corporate America, but he credits his parents for his exito.
"I owe a great deal of thanks to them. My father was a Senior Master Sergeant in the Air Force and he brought a certain sense of discipline to the household. He grew up in Puerto Rico and as the first generation in the mainland, he made sure my two brothers and I got a good education," Velazquez tells LATINO Magazine. "My mother was also a dedicated teacher. My parents were very supportive of us and education was very important. I also learned the importance of community and the fact that you don't do it alone. You need to have the network both at home and at work to help you achieve whatever you want to achieve."
This deep sense of community extends to work beyond the hours spent at the energy company's headquarters, aptly named Edison Place. Velazquez serves on the boards of a number of local community and educational organizations, including the United Way of the National Capital Area, the Maryland Business Roundtable for Education, and the Smithsonian's National Zoo and Conservation Biology Institute Advisory Board.
Pepco Holdings has nearly 5,000 employees and close to $5 billion in yearly revenue. There are three local energy companies under its umbrella, Pepco, with two million customers, serving the nation's capital and suburban Maryland; Delmarva Power in Delaware and part of the Delmarva Peninsula; and Atlantic City Electric, serving southern New Jersey. Pepco Holdings is also a subsidiary of Exelon Corporation, one of the country's largest energy services companies, based in Chicago.
Velazquez graduated with an engineering degree from Widener University in Chester, Pennsylvania, and started out his career immersed in technology. He credits a "good mentor" with giving him some key advice when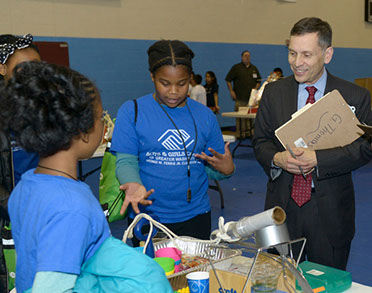 Velazquez turned down an opportunity to take his skills in a different direction.
"He told me, 'Why are you so afraid of trying something new?' If you don't like it you can always go back. It was great advice that nothing is forever, and you should be willing to try new things. Mentors help you see things that you can't or don't want to admit to yourself. I couldn't see that I might enjoy something else. If you take an opportunity that you don't feel a little bit scared about, you're probably not stretching yourself far enough," he says.
It's fitting that mentors play an important role at Pepco, according to Velazquez: "Every leader in the company has as many as two mentees. Just this fall, we launched a new mentoring program that allows employees to sign up as a mentee and get matched with a mentor in the company who has the skills and knowledge that they are looking to develop. The interest in this program is already high. Mentors can put you on a path to success by offering you very personalized feedback and they also encourage you to dream bigger and often change lives."
Velazquez was named President and CEO in 2016. Before that, he was executive vice president for the company's power delivery business.
Across Pepco Holdings, Velazquez has created a work culture that pays close attention to diversity, since diversity in the workplace makes a business more competitive and profitable, and a diverse company is able to attract a greater pool of talent. But Velazquez takes it a step further and says that the real measure of success is inclusion.
"The goal at the end of the day is that everyone feels that they can bring their whole selves to work, and that whatever they bring that they be included. What good does it do to have a bunch of talent and you don't use it? The real key is how do you make all that talent feel free to participate fully. That's the only way we're going to win as a company. It's the right thing to do and we want to access that full talent pool and give them opportunities to shine. We provide several resources for our employees, including the Diversity and Inclusion Council, and Employee Resource Groups," says Velazquez.
At parent company Exelon, 11,000 employees participate in Employee Resource Groups. The network for Latino employees is OLE (Organization of Latinos at Exelon.) Exelon has frequently been recognized for its commitment to diversity, making Forbes' Best Employers for Diversity list in 2019, and being one of Diversity, Inc.'s Top 50 Companies for Diversity in 2017-2019.
Inclusion also extends to working with Latino-owned businesses and other minority suppliers. "Since 2016, Pepco's spending with diversity-certified suppliers has grown 65 percent. Last year, Pepco spent $185 million with diverse, local businesses and 36 percent went to Latino-owned businesses," says Velazquez. These efforts, combined with a similar commitment across the Exelon family of companies, led to Exelon being named to the Billion Dollar Roundtable in 2017, an elite group of companies that achieved $1 billion or more in annual, direct spending with minority and women-owned businesses.
Velazquez wants to help ensure that Latino students are prepared to compete in the future economy. In conjunction with the Greater Washington Hispanic Chamber of Commerce, the Latin American Youth Center in Washington, D.C. and the Latino Student Fund, Pepco started the Hispanic Student Engineering Scholarship and Internship Program. Recipients are offered a paid summer internship in departments including IT and cybersecurity; 63 percent of those interns are students of color.
"There are sometimes cultural and financial barriers that come with being a Latino student, particularly one pursuing science, technology, engineering, or math. On a personal and professional level, I have long believed those barriers have to come down," says Velazquez. "And we are building on that record (of diversity and inclusion) by requiring that diverse suppliers be included in every procurement bid and continuing our 'Target 25' program to maximize the participation of local and minority-owned businesses in contracting opportunity across the company."
Target 25 was established in 2016 to expand Pepco Holding's contracting efforts to include a wider number of companies from underrepresented communities.
Velazquez adds that the company is committed to inclusion not just because it makes good business sense, but because it's deeply rooted in the community: "We serve some very diverse communities and it's important that we reflect those diverse communities, and 52 percent of the Pepco Holdings workforce is diverse. We're a part of this community, many of our senior leaders live right in Washington, D.C." Velazquez himself is a resident of the nation's capital. An avid runner, he enjoys that Pepco lights the way on his path through the city. "As a company we have a responsibility and an obligation to do work in the communities that we serve and that sense of community is how I approach things."
Pepco Holdings supports a range of nonprofits across the company's footprint, from Washington's Gala Hispanic Theater's Paso Nuevo program for low-income and at-risk youth, the only program in the capital region that provides free bilingual theater training, to Mary's Center, which provides healthcare and job training to participants who are 70 percent Hispanic.
Velazquez advises young Latinos just beginning their professional lives that in addition to a willingness to work hard and a good sense of self-discipline, it's important to do something you like.
"You're going to be at your job eight to 12 hours a day, and if you enjoy it you will put your heart and soul into it. If you don't enjoy it, it'll show in the results," he says, adding that it's a good idea to be ready for whatever may come. "Being in the right place at the right time and having the opportunity to show key people what you can do makes a huge difference. You cannot plan for it, but you can be prepared so when the opportunity arises, you can grab it."
In his own job, Velazquez considers it important to be a constant learner, always open to new ideas. He has recently taken to Twitter to share his leadership insights (@DaveVelazquez). "To be a successful leader, there is no prototype or personality type, but you have to know yourself, and self-reflection is important. And you have to be honest with yourself. If you're honest about what you don't do well, you're much more likely to find people who will fill in those holes. I tell people all the time that you never stop learning," he says.
By Patricia Guadalupe